Samadhi Mandir:
If a devotee wants to visit Samadhi Mandir he has to enter through the Gate which is present just beside Gate No.2 on the Pimpalwadi Road. Samadhi Mandir is the place where Baba's Samadhi & Padukas are present.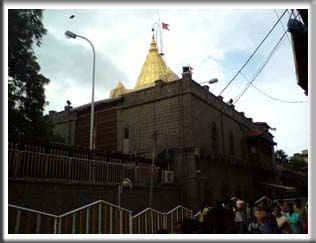 Samadhi Mandir Outer View
All formal worship of Shri Sai like Mangal Snan (Holy bath), Abhishek and Aarti are performed in the Samadhi temple only. The temple opens at 4:00 am. But the devotees form the darshan queue before 4:00 am. The Temple closes at 11:15 pm after Shej Aarti.
No offerings like garlands, flowers, coconuts, cloth etc. are accepted during Mangal Snan (Holy bath), ceremonial worship (Shodashopachaar) and aartis (all four aartis).
The first 'darshan' of the day, begins after the morning programme of worship (Morning aarti, Mangal Snan, Shodashopachar). Offerings are accepted only during
'Darshan' hours.
In the Samadhi temple, for standing in the main hall the arrangement of queue for ladies and gents is separate. This should be particularly borne in mind while taking along small children.
On the main day of celebration on important occasions like Ram Navami, Dussehra and Guru Poornima the temple is open throughout the night for darshan. On such occasions special programmes of devotional songs are organized by the Trust. On the days when the temple is open throughout the night, the 'Shej aarti' (Night aarti) is not performed and the programme of the following day begins without the morning aarti (from Mangal Snan onwards).