SRI SAI BABA SAMADHI MANDIR OR DADGI WADA ALIAS BUTTI WADA
Gopalrao Mukundrao Butti was born in Bardi, Nagpur in 1876. He was wealthy, cultured and educated (part of his education was in Manchester, Britain). He had a great love for poetry, fine arts and saints. It was Sakaram B. Dhumal who brought Butti to Shirdi around 1907. Both were friends and devoted to Gajanan Maharaj of Shegoan. Butti on meeting Baba was changed for life. He was a very humble person. He had great devotion and love for Baba. He often visited Shirdi with his family. Finally, he decided to build a 'small wada' for himself in Shirdi.
The land adjacent to the Dwarakamai on its western side was vacant i.e. between Gurusthan and Dwarakamai. This land Baba turned into a beautiful flower garden. When He went to Rahata He brought with him saplings of Mari Gold, Jai and Jui. After cleaning and scoring the land, He planted them. He lovingly watered them daily. A devotee named Vaman Tatya supplied Him with two earthen pitchers, with these Baba Himself watered, tendered and nourished the plants. This went on for three years and thus grew a fragrant luscious beautiful garden (Ref. Sai Satcharithra Ch. V). This land was bought by Butti who wanted to build a wada for himself and his family. One day he and Shyama both had the same dream vision in which Baba clearly instructed him to build a Wada. So this mansion was built which Baba called 'Dagdi Wada' and at Baba's Mahasamadhi He instructed His devotees to take Him to Dagdi Wada. Thus, the beautiful garden became Dagdi Wada or Butti Wada and during the later years named aptly as Samadhi Mandir. This Samadhi Mandir now used by devotees of all castes and creed, rich and poor, able and feeble and devotees from all over the world.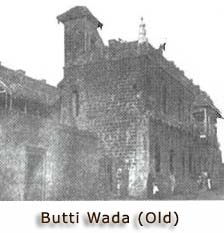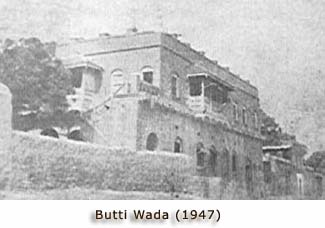 Butti Wada (1947)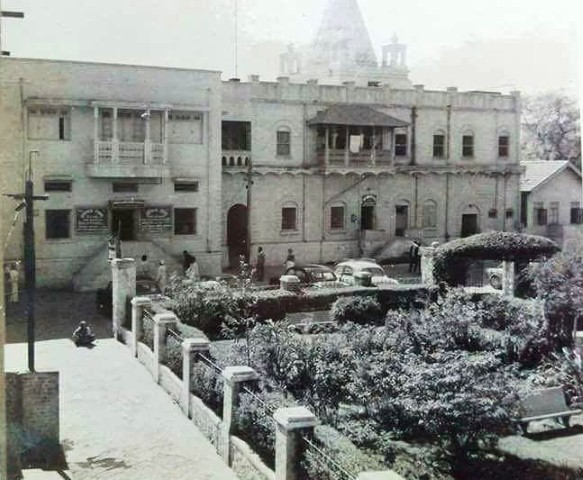 Samadhi Mandir Outerview around 1960 (Photo Courtesy:Shri.Nagaraj Anvekar)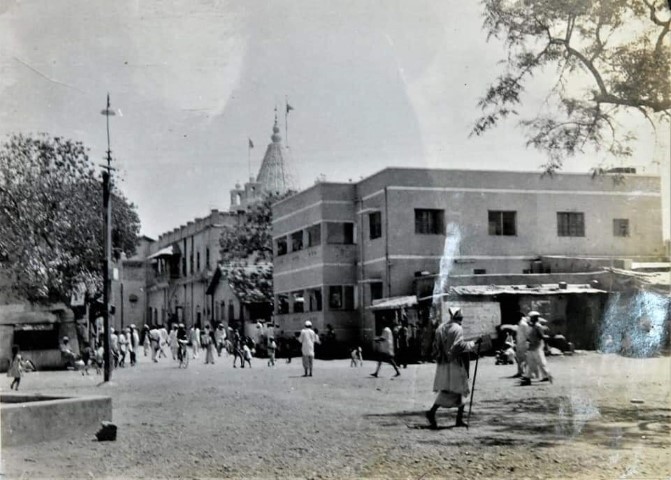 Old Picture of Samadhi Mandir Outerview -Courtesy: Shri.Nandakumar Revannath Deshpande Nimonkar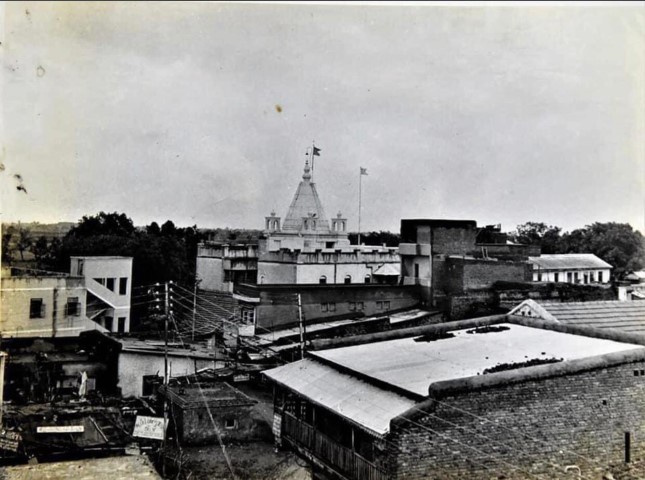 Old Shirdi Arial View - Photo Courtesy: Shri.Vinesh, Bangalore
The rest is history. One day Butti and Shyama were sleeping in the upper storey of Dixit Wada. Butti had a dream vision in which Baba clearly said "build your waada most certainly including in it a temple". Simultaneously Shyama too had the same dream vision. He was filled with intense love and was choked with emotion and was weeping in his sleep. Butti questioned him regarding this. Shyama said Baba came close to me and said "let the Wada and temple take a concrete shape. I shall fulfil the wishes of all". Both were astonished to find that their dreams tallied. They went to Kaka Saheb and together they made a general outline of the project. Early next morning they went to Baba with the plan. Shyama said "Oh Deva, you don't even let us sleep peacefully". On hearing this Baba put His hands on His ears and said "Whatever anyone may say we have been in our own place." Of course, the plan was immediately sanctioned. Shyama got the basement, ground floor and well constructed. Baba watched the progress of the Wada on His daily rounds to Lendi Bagh.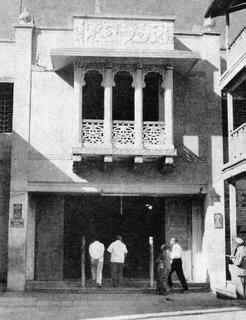 The Beautiful Wooden Doors and the Plaques Behind them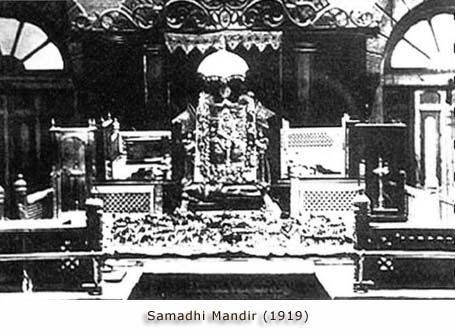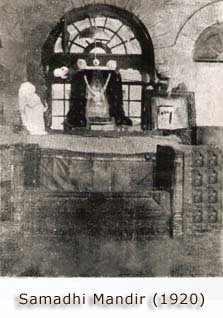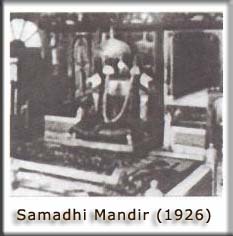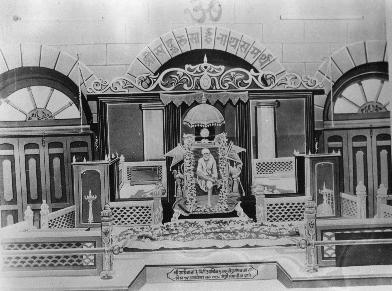 Samadhi Mandir (1952)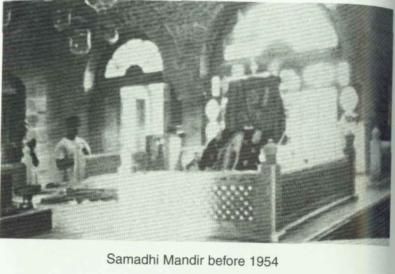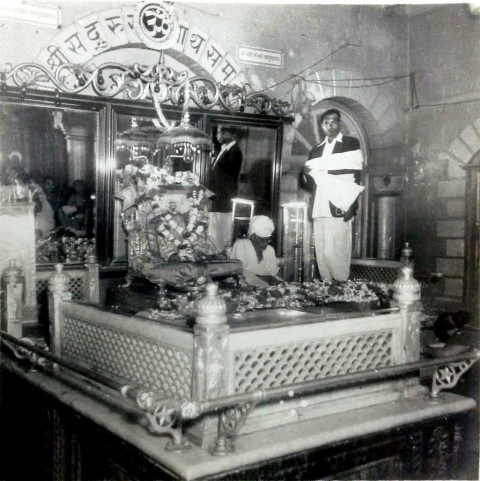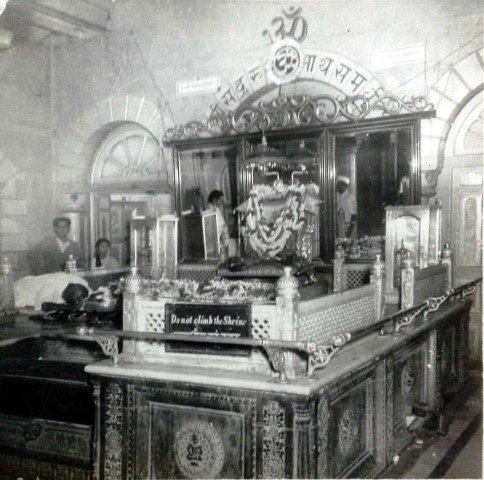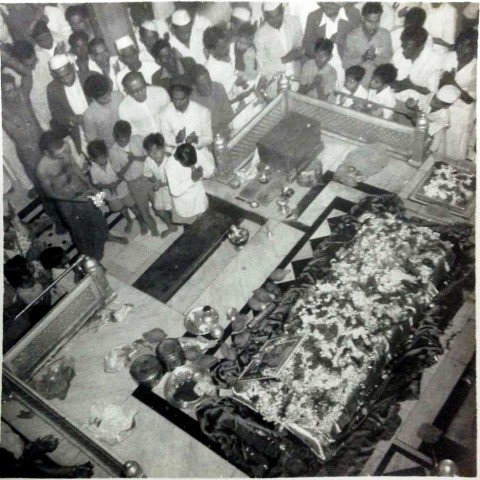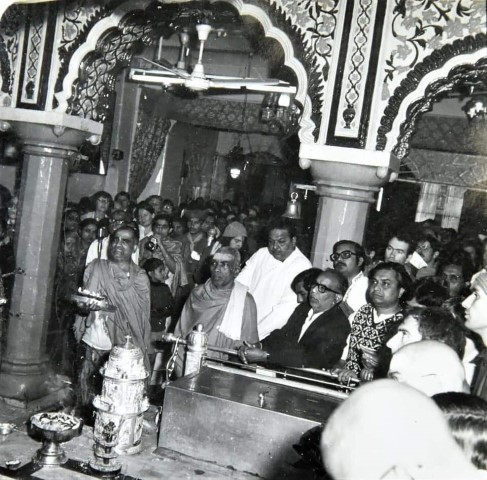 Photo Courtesy: Shri.Nandakumar Revannath Deshpande Nimonkar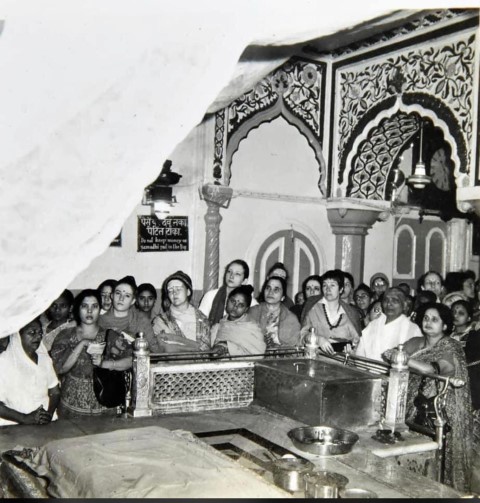 Photo Courtesy: Shri.Vinesh, Bangalore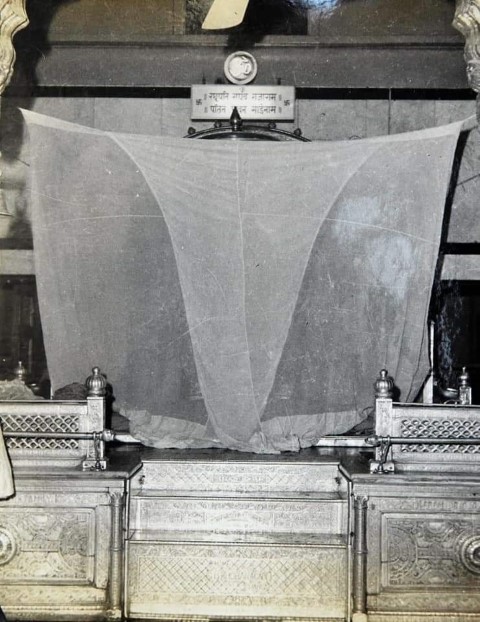 Photo Courtesy: Shri.Nandakumar Revannath Deshpande Nimonkar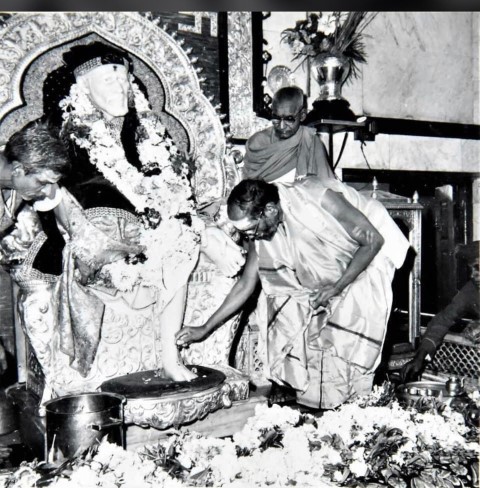 Photo Courtesy: Shri.Vinesh, Bangalore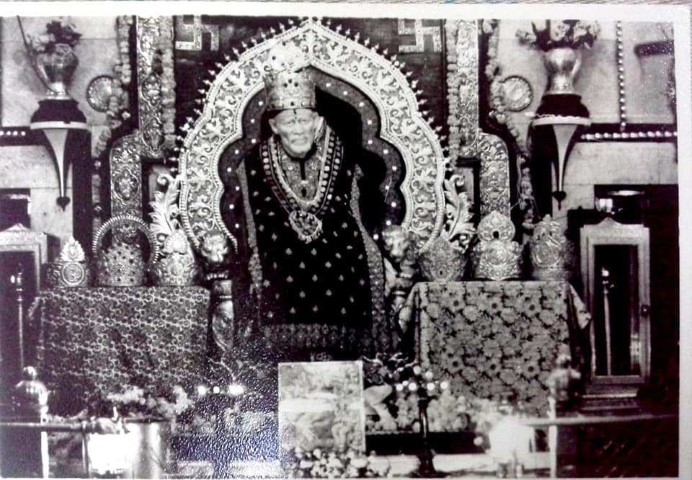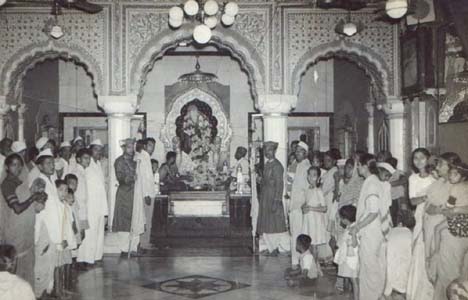 Devotees standing for Aarti (Old)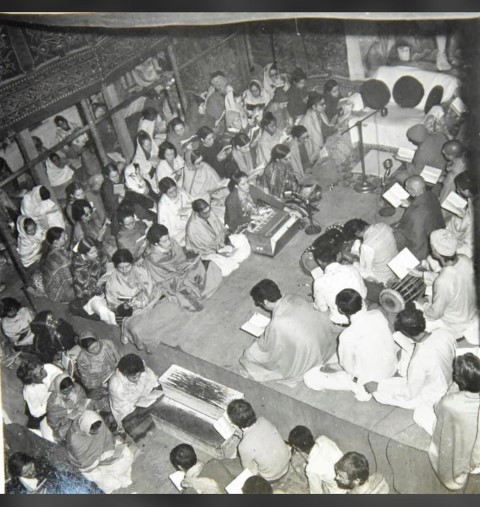 Annual Function inside Samadhi Mandir Stage -Photo Courtesy: Shri.Vinesh, Bangalore
"Put a door here, a window there. Here to the east take out a gallery. It will enhance the beauty of the Wada" Baba suggested. Butti too eagerly watched the progress and he yearned to have a sanctum sanctorum, with an idol of Muralidhar, his Ishta Devata. Butti would never begin any work without Baba's consent and blessings. So he informed Shyama of his wish. Shyama asked Baba while He was going to Lendi Bagh "O Deva, Babu Saheb here says we should pull down both the walls dividing the hall and install an idol of Muralidhar. But your permission is necessary". On hearing this Baba readily gave His consent. Shyama quickly brought a coconut and asking Baba if the time was auspicious, broke it. Thus the sanctum sanctorum was built (Ref: Sai Satcharithra Chapter XXXIX).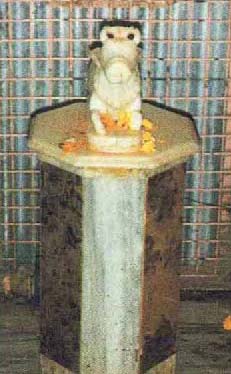 Nandi in Front of Baba's Idol in Samadhi Mandir
Butti afer spending lakhs of rupees to build this Wada in the year 1917, finally gave it to Sai Baba Sansthan. The Buti Wada in Shirdi is identical to his Wada in Nagpur.
There is no plaque, sign board, or name plate proclaiming his name. However, the Sansthan put up a plaque of his name at the entrance of the Samadhi Mandir. As the wooden doors are kept open for the devotees to enter this plaque is hidden from view. This speaks volumes about the character and humility of this great devotee.
The inscription behind the door to your left reads:
"Shri Sai Babachya adnana Kailash vasi Shrimanth Gopalrao Mukundrao Butti rahnar Nagpur swa kharchani sun 1917 te 1918 madhye bandhalae. Vijaya Dashami Shake 1840 Mangalwar divishi aparan vyapini Ekadishi cha 9 Dink 15 October Isvi sun. Tariq 9 Mohrrum Hegri sun 1825 dupai teen vajnacha somaras Shri Sai Baba ne Dwarka Mai yethun deh tevela. Thethun tho samararambha purvak anun thyancha itche anusar yah Wadyath thevnyat aala".
When translated into English it means:
"According to the command of Shri Sai Baba the late Shrimanth Gopalrao Mukundrao Butti living in Nagpur built this wada with his own money between 1917-1918. On Vijayadashami Shake 1840, a Tuesday which was Ekadashi, the 15th of October by the Hindu Calendar. And it was Mohurrum, the 9th of Hegri Sun 1825 (Muslim Calendar). In the afternoon at about three o'clock Shri Sai Baba left His mortal body in the Dwarka Mai. From there with full ritual, and according to His wish His body was placed in this Wada".
The inscription behind the door on your right reads:
"Yeha Sabhamandap karetha lagnelele jagha he khale theghene dile ahayeh. "Aum Sai"
Kailashvasi Shriyuth Damodar Savalram Rasne, Ahmednagar

Kailashvasi Shriyuth Anna Saheb Chinchinikar, Trust Chinchni.

Kailashvasi Shriyuth Rao Sahib Yashwanthrao Galvankar, Bandra, Mumbai Yaha Sabhamandap bandh kaam. Vijaya Dashami 1871 (Isvi sun 1949) ya deveshi shuru ho-un Shri Rama Navami Shake 1873 (Isvi sun 1951) yeha deveshi purna zale. Sabhamandap cha baandhya keemath Rs.65,000 kharcha aala. Sabhamandap che yogana va bandh kaam sanstha yogana sansthapak samathi tharf Pune yethil Da.Pu.Nagarkar ani Company yene kela".
When translated into English it means:
"The land for the Sabhamandap was donated by these three devotees.
Late Shri.Damodar Savalram Rasne, Ahmednagar, Late Shri.Anna Sahib Chinchinikar Trust, Chinchni, Late Shri Rao Sahib Yashwanthrao Galvankar, Bandra, Mumbai. The construction of the Sabhamandap started on Vijaya Dashami Shake 1871 (A.D.1949), and was completed on Rama Navami, Shake 1873 (A.D.1951). The cost of the Sabhamandap was 65,000 rupees. The Sabhamandap yogna and construction Sanstha Samithi hired D P Nagarkar and Company, Pune for this work".
Shri Sai Baba cha 34th vaya punya thithi cha utsav prasanghi Is 1952 Sansthan vasasthapak Shamithi tarffae Shri Santh Parnekar Maharaj yancha hasthe ya Mandir avere suvarna kalasha basavayan aath aala va 36th vya punatyhya thithi utsav prasangi samaier (1954) Shri Sai Babacha sangamraure purna kruthu Murty chi Vidhi purvak sthapan sanasth vasathapakak, samethi tharafath aale"
The plaque when translated into English means:
"On the 34th Punyathithi Utsav of Shri Sai Baba in the year 1952, the Managing Samithi Trust, asked Shri Santh Parnekar Maharaj to install the Suvarna (golden) kalasha atop this Mandir. On the 36th Punyathithi Utsav of 1954, the 'purna' (from head to toe) marble idol of Shri Sai Baba was installed with all the rituals and vidhis by the Sthapana Sanstha Vasthapak Samaath".
Many devotees used to argue with Baba, but Butti never used to speak in front of him. If he wanted to ask Baba something he asked Shama to do so. He had so much of respect for Baba that he never looked at Baba directly.
Baba's word was law for him. Once an astrologer came to Shirdi and handed a book on astrology to him. He hoped that Baba would return it with his blessings and he could benefit from it. However, Baba gave the book to Butti. Butti studied it and became quite a proficient astrologer.
Because it was a Wada turned into a Mandir, the building has gone through many changes over the years i.e., first the Survarna Kalasha was installed. Later Baba's Murthy was sculpted and installed.
The installation of the Suvarna (Golden) Kalasha
The Samadhi Mandir had a terrace roof. Later, a Gopuram and Kalash were added (Ref. Sai Leela Ank 4 year 29 issue October, November and December 1952). A glorious description of the Sthapana of the Golden Kalash is given in this issue. The Magazine says "34 years ago Baba took Mahasamadhi (15-10-1918) and that day was Dashami (Vijaya Dashami was just finishing and Ekadashi was starting). That same Muhurth came again on 29-9-1952 at this auspicious muhurth Sthapana of this Kalash was done".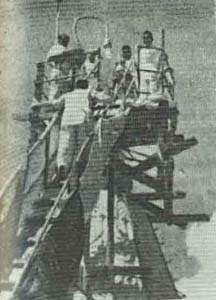 The Suvarna Kalasha Staphana (1952)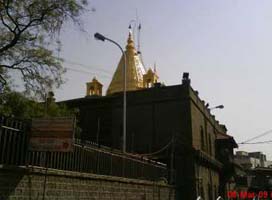 Golden Kalasha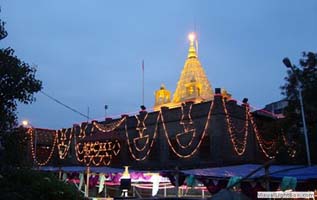 Golden Kalasha decorated on the occasion of Vijayadashmi
Sai Baba's 34th Punyathithi was on Mithi, Ashwin Shudh 9 Shake 1874 dinank 29th September 1952 when the golden kalasha was installed. It was celebrated from 28th to 30th. The whole of the temple complex was illuminated with numerous coloured light bulbs and it looked like heaven on earth.
The sthapana was on the 29th and this day has to be written in gold. In 1918 when Baba took Mahasamadhi, Dashmi was over and Ekadashi had dawned about two hours earlier. This same constellation occurred again exactly after 34 years.
Dr.Ramachandra Prahlad Paranerakar Maharaj, a Satpurush, learned and well versed with Puranas, conducted this 'Shubh karya'. To perform the Vidhi of Kalasha Sthapana many pundits and scholars from Pune, Alandi and Nasik were inivited. At 6:30 a.m. the Yagna started; this was followed by various rituals and pujas. At about 8 a.m. the three and half foot long golden Kalasha was taken in procession through the village. A multitude of devotees got a chance to do namaskar, to touch it and pray to it. Married ladies performed Pancharati at various places during the procession. The devotees chanted Baba's name and loudly proclaimed "Sainath Maharaj ki Jai".
Simultaneously Vedic chants and religious rituals were being performed. This swarn Kalash is 3 1/2foot in height and was taken up at 10.45 AM to the top of the Samadhi Mandir with chanting and praying. There was a crane on which a special Vyas peeth or platform was constructed. On this Platform Dr.Ramachandra Prahlad Parnekar and the members of the Sansthan were hoised to the top of the Gopuram. The Sthapana was done at 11.00 AM by Dr.Parnekar who fixed the golden Kalasha on the Gopuram, exactly at the constellation of Dashami and Ekadashi as took place 34 years before.
The devotees who were standing below joyously proclaimed salutations and victory to Sainath Maharaj. The Sansthan had got a special device that gave a 25 gun salute. A huge ochre coloured silk flag was brought by N.A.Savant, and that was fixed next to the Kalasha. Thus ceremony of the sthapana of the golden kalasha was concluded.
Baba's Murthy (Idol)
In 1952 there was only a photograph of Baba on top of the Samadhi. The Sansthan realized that devotees were flocking to Shirdi and soon the crowds would increase manifold. So they decided to install an Idol of Sai Baba. The Sansthan selected and met five famous sculptors from Maharashtra and B.V.Talim was one of them. Each of the sculptors was given a small black and white photograph of Baba.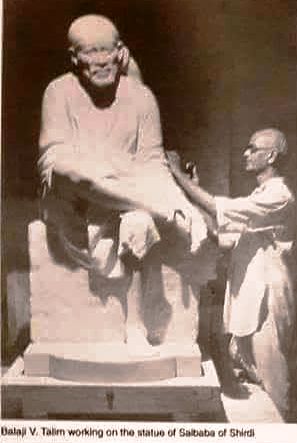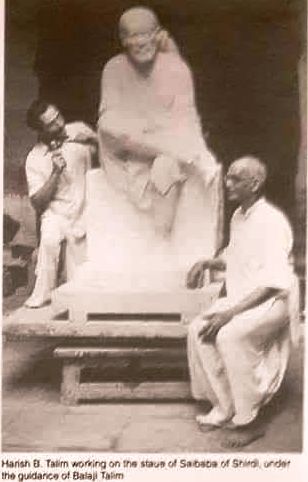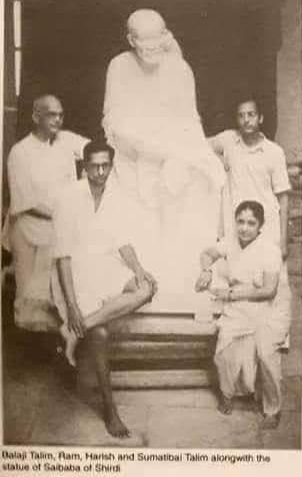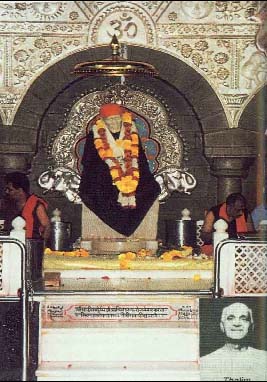 The procedure to make the model was a long and complicated one. The model is kept in a 'wet state' for two months, so that the final facial features can be made. Following this the model is draped with a transparent film. Talim took all the necessary steps. Talim used to get up early in the morning at Brahma Muhurth, he went and did namaskar to Baba in the model. He prayed earnestly saying "Baba give me darshan once. Let me look at you intently and to my hearts' content. Baba give me the strength and courage to make this murthy resemble you". Talim was doing this prayer every moment of the day. Days rolled by but Talim did not have Baba's darshan. Nor had he sculpted Baba's face. The deadline for the completion of the model was about 10 days away. He received a call from the Sansthan asking him if the model was completed, as they would be coming to see the model.
Talim continued praying day and night as he early awaited Baba's darshan. Talim was a very devout and disciplined man. Every morning he got up before dawn, had his bath, and performed Puja to his Ista Deva Vitthal. Then he went downstairs to his studio, and performed Puja to the deities there and only then did he start his work.
One day he went to the studio at the crack of dawn. His studio consisted of two rooms; the model was in the rear room; so was the switchboard for the lights of both the rooms. He made his way in the darkness to the room in the back. The room was engulfed in darkness. He stepped into the room and suddenly Baba's model lit up like a myriad suns. So brilliant was the light that he closed his eyes. Then he heard "Bagh. Mala Bagh" (Look! Look at me) and there stood Baba in front of him. Their eyes met and he became oblivious of everything except Baba's eyes. In a trance, Talim worked day and night and completed the model.
The Sansthan committee informed him that they had seen the other models and were coming to see his model. Talim took them to the rear room. They stood before the model and Talim unveiled it. As he did this, the committee silently looked at the model; soon their eyes filled with tears of wonder, they came to Talim and held his hand and said "You, and only you can carve Baba's murthy". (As narrated by Harish B Talim in Sai Anubhav).
Please find below the images of original Plaster of Paris Sai Baba Statue available in Talim Studio in Mumbai which Late Shri.Balaji Vasant Talim used as Master Piece while doing the Samadhi Mandir Statue.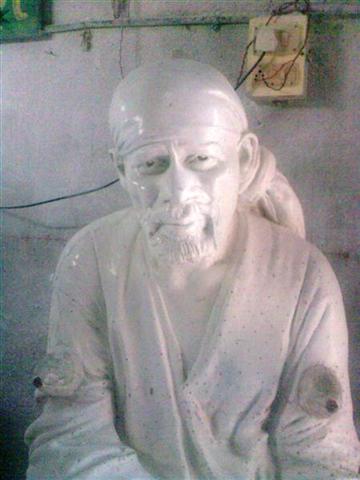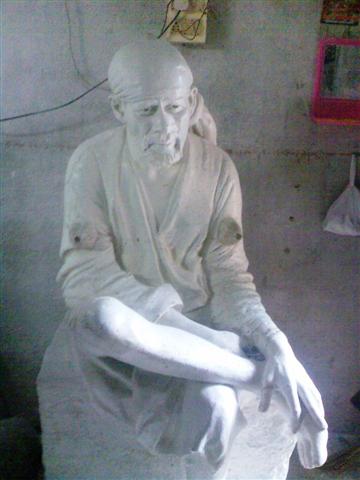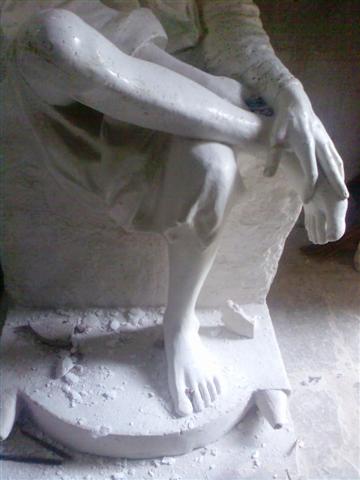 On Dasara (7th October 1954), the life-like marble statue was installed next to the western wall on the platform, behind Baba's Samadhi. Sai Baba's Idol is installed in the South-West corner inside the sanctum sanctorum of the Samadhi Mandir and the idol is tilted a little in such way so as to make the Idol faces the North-East corner. This idol is made of Italian marble by Balaji Vasant Thalim. The Italian Marble used for Sculpting the Idol of Sai Baba was ordered by Shri Sai Baba Sansthan itself and not found outside the Samadhi Mandir as it has been published in many Websites and Blogs. This Thalim made this idol in a befitting manner, at the time of preparation of this idol, one day Baba gave him Darshan and said "Finish the work and you will not do any other idol in future". In due course Baba gave him Sadgati. So Thalim did not prepare any other idol. This was a benevolent reward for his service. This idol was taken through the village with pomp and ceremony and with due formalities the Pratistha was done.
There is an interesting story behind the installation of the Marble Idol of Shri Sai Baba. A controversy arose as to who should perform the Prana Pratishtapan of the Idol as Swami Sharananand was a Sanyasi and he was not eligible to do the Prana Pratishta. Then chit was put before Baba. In the chit the name Dr.Kehsav Gawankar came. However, since Dr.Gawankar and family had not arrived in Shirdi, it was decided that Dev Saheb andand his wife would perform the Prana Pratishta. In the meantime, the bus in which Dr.Keshav Gawankar and his family were travelling along with 16 other Brahmin Pundits got punctured and came to halt near Atgaon village situated between Shahpur and Katara. As the driver of the bus took the wheal to get the puncture rectified, Dr.Gawankar's family members and 16 others took bath in the nearby river. Later, the driver of the bus came back and they started again towards Shirdi. But, somehow, one Brahmin Pundit did not board the bus and nobody took notice of him. Later the Brahmin Pundit caught hold of another truck and joined these people an hour later. The family along with Brahmin Pundits reached Shirdi late in the evening. By that time Dev Saheb and his wife were about to perform the Prana Pratishta of the Idol. Seeing Dr.Gawankar and his family had arrived and in accordance with the verdict that came in the chit, Dr. Keshav Gawankar couple did the Prana Pratishta of the Idol. Since Swami Sharananad was a Sanyasi, he was not to perform the Prana Pratishta of the Idol. Hence, Swami Sharananad was given the honours of opening the curtain that was put in front of the Idol.
Baba's Murthy is sculpted from a single block of marble. It cost 22,000 rupees during that time. The murthy faces east and the face is tilted towards Ishanya (North East). Every devotee who goes to the Samadhi Mandir feels that Baba is looking only at him or her, no matter where they stand. In fact Baba is not just looking at them but he is searching for them with his benevolent gaze.
The Interview of Sri. Rajiv Talim grand son of late Shri.B.V.Talim regarding the making of Sai Baba Idol at Shirdi has been displayed below for the benefit of Sai devotees.
The Brick
This brick was Baba's constant companion. Mhalsapati, Kashiram Shimpi and Madhu Fasle performed Mangal Snan and worshipped it every day. One day, accidentally the brick broke. The breaking of the brick is symbolic of death. Baba was distraught and said "It's not the brick, but my fortune that is broken. She was my constant companion! Now that she has gone, so I tool will leave". Thereafter Baba's health started deteriorating and on the 5th day he took Mahasamadhi. Mention of this incident is made in Shri Sai Satcharitha, Chapter 44.
The Samadhi
The Samadhi is 6' long and 2' wide. Surrounding it is an altar 9' by 9' with a height of 3'. Three steps lead to this altar; on the third step these words are inscribed.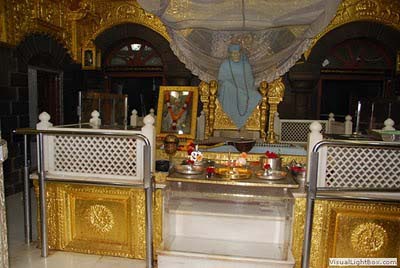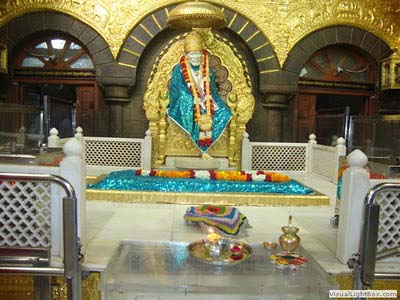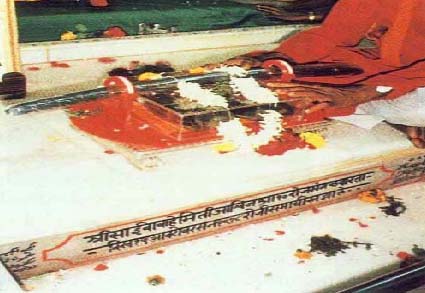 Padukas and Satka on Samadhi before Palki Procession
"Shri Sai Baba hey mithi Ashwin Sudh 10 roji mangalwar dinak, 15 October, 1918 roji samadhisth zale"
Meaning:
"In the month of Ashwin Shudh 10th day on Tuesday the 15th of October 1918 Shri Sai Baba took Samadhi". This is inscribed in Marathi on the central portion of the step.
On either side there are Urdu inscriptions. On the left is the Islamic Tariq. The inscription reads:
"Tariq vafat Sai Baba 9 Mohorrum 1339 Sun higari nanil".
Meaning:
"It was the 9th Day of Hegri Sun 1825" (Muslim Calendar).
On the right side it is inscribed as:
"Likhe ek jaane majmun khali aur Sikander Mohib dar duniya dono haath khale"
When roughly translated into English it means:
"It is written in a well-known article that both the learned philosopher and Sikhander (Alexander) entered this world empty-handed and left this world with both their hands empty".
Everyday Mangal Snan is performed to Baba's Murthy and the Samadhi, and then Alankar is done with ashtagandh. Then the Samadhi is covered with a beautiful shawl. Care is taken to cover the Samadhi, and the Murthy with a warm shawl during the winter months, while a cotton shawl is used in summer. Meticulous care is taken to give Baba a warm shawl starting from Diwali Padava i.e., Karthik (October-November) through the winter. The use of the warm shawl is discontinued now by the Sansthan.
A Kerosene lantern is kept next to Baba's Murthy through out the night. A copper Zaari (container with a spout used for water) filled with water is placed next to the lantern. Radha Krishna Mai, lovingly did this during Baba's sojourn in Shirdi.
Ater Shej Arati a mosquito net covers the Murthy and the Samadhi. It is removed just before Kakad Arati in the next morning. Baba's Murthy is offered butter sweetened with sugar at Kakad Arati. The significance of butter is that it is present in milk in the invisible form. After certain irrevocable process it becomes visible. Once the butter is formed it floats and does not dissolve either in milk or water. Baba wants us to offer ourselves as butter sweetened with sugar of "total surrender" to him.
Breakfast is given before the Laghu Arati; "Shirdi Majhe Pandharpur". Lunch is given before the noon Arati. Dinner is given before Dhup Arati. It is usually "Jhunka Bhakar" with raw onions. On Ekadashi , Baba is offered "Upavas" food.
Baba's food is cooked in the Naivedya Koti which was earlier situated in the rear of the Samadhi Mandir but is now moved to first floor of the Samadhi Mandir.
Story of Sai Baba's Samadhi in Butti Wada
The daily routine at the Samadhi Mandir (w.e.f. 01.03.2022) is given below for the benefit of Sai Devotees.
| | |
| --- | --- |
| 4:45 AM | Samadhi Mandir Opens |
| 5:00 AM | Bhupali |
| 5:15 AM | Kakad Arati (Butter and Sugar Naivedya is offered to Baba after Arati and the same is distributed to the devotees after Arati). |
| 5:50 AM | Holy Bath of Shri Sai Baba (Mangal Snaan) in Samadhi Mandir. (The holy tirth is made available to the public outside the Samadhi Mandir after Mangal Snaan). |
| 6:20 AM | Chote Aarti "Shirdi Majhe Pandharpur". |
| 6:25 AM | Darshan begins in Samadhi Mandir. |
| 12:00 PM | Afternoon Arati |
| Sunset | Dhoop Arati. (Cleaning of the Samadhi Mandir and offering of Loban is done before Evening Arati. Jhunka Bakar i.e., Roti with Onions is given after Evening Arati). |
| 10:00 PM | Shej (night) Aarti, after this, a shawl is wrapped around the statue in the Samadhi Mandir, a Rudraksha mala is put around baba's neck, Mosquito net is hung, and a glass of water kept there. |
| 10:45 PM | Samadhi Mandir closes after night Arati. |
This Wada was just behind the Gurusthan and adjacent to one of the exit gates of the Samadhi Mandir. Baba told Hari Vinayak Sathe: "Pull down the village wall and build", meaning to build a residential building there, and to include the village wall. So Sathe bought the land and built the Wada. This Wada was very useful as it was the sole resting place for the pilgrims who flocked to Shirdi from far off places (Refer Sai Satcharitra Chapter 4).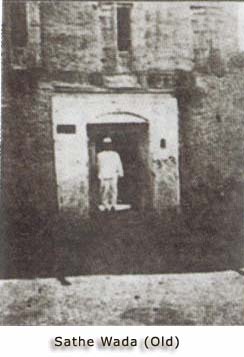 Then Dixit Wada was built, and then Butti Wada. Of these, Sathe Wada was most useful to all in the early days. Sathe states in Devotees' Experiences that he built this Wada in 1908 or so at Baba's bidding. The construction of Sathe Wada began on an auspicious Full Moon Day. When the construction was going on, the walls had to be raised, and some of the branches of the Neem tree had to be cut off. No one dared to touch it, but Baba said "Cut off so much as interferes with the construction. Even if our own foetus lies athwart, the womb must be cut". Still none dared, then Baba came Himself and cut the obstructing branches.
This Wada is replete with history as it housed many staunch devotees, who were worth their weight in gold. Baba gave Tatya Sahib Nulkar sadgati ini this Wada. At that time, his childhood friend Neelkant Sahasrabuddhe was with him. Neelkant stayed in this Wada, of and on whenever he came to Shirdi. Dada Kelkar and Hari Vinayak Sathe stayed here with their families.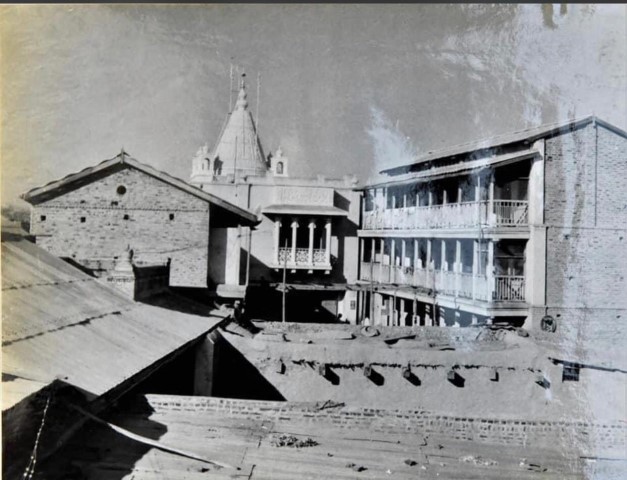 Old Sathewada building which was later Demolished - Courtesy: Shri.Vinesh, Bangalore
Most importantly Megha and Dada Sahib Khaparde stayed for long periods. The story of Mega is given in Sai Satcharitra Chapter 28 under the heading "A Gujarati Brahmin named Megha". Megha loved Baba whom he considered to be Shiva. Megha worshipped Baba in the Masjid and in this Wada. He prayed to a big picture of Baba given to him by Dixit. Once Baba gave him a dream vision, Baba said "Megha, draw a trident"and disappeared. Megha could not believe that Baba appeared in his room as the door was locked and bolted. Then Baba said "No door is necessary for my entry as I have neither shape nor size. I am omnipresent and in everything that has a name". Following this Baba presented him with a Pindi (Shiv Linga) that was offered to Baba by a Ramdasi Devotee.
Kapardhe stayed in this Wada and wrote the memorable "Shirdi Diary". K.J.Bhishma wrote the "Shri Sainath Sagunopasana" (Arati book). Baba Sahib Tarkad and his family stayed there as did Jyotindra whenever he visited Shirdi. The devotees who stayed there were like minded and they had set a daily routine. They got up early in the morning for Kakad Arati. After the Arati they returned to the Wada and waited for Baba to go to Lendi Bagh. As Baba's procession reached the Wada they came and had darshan. When he returned from Lendi Bagh, they had darshan again. They also attended all the Aratis.
There were regular reading sessions in the evenings when they read Ramayan, Eknath's Bhagvat, and Yoga Vasistha and discussed it. They also had Bhajans usually sung by Bhishma at night.
The great devotee Swami Sharananand regularly stayed in this Wada whenever he visited Shirdi till his demise in 1983 at the age of 94.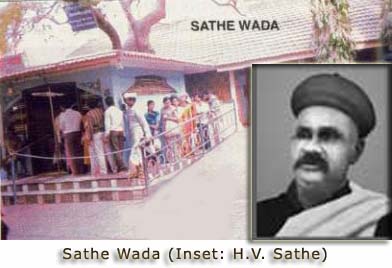 These are just a few devotees that stayed in this Wada. This Wada was bought by bought by R.S.Navalkar on 30th September 1924. Then V.N. Gorakshkar with a great deal of persuasion advised the heirs of Navalkar to gift the Wada to the Sansthan. This Wada was gifted in 1939 to the Sansthan. In 1941, the Sansthan added four double rooms for the devotees to stay in. The devotees used to stay in this Wada till 1980. Then it was used as the Public Relations Office. Shri Shirdi Sai Baba Sansthan broke this Wada when the Sansthan beautification plan was undertaken during 1998-1999.
This Wada is the double storey building facing south and is adjacent to Gurusthan. It has a huge hall where Shyama stayed and lovingly took care of it. When the Sansthan was formed he moved back to his residence and later in the 1950's this Wada was used as "Prasadalaya" that thoughtfully catered to the needs of the devotees just as Dixit lovingly fed many devotees earlier. Later this same Wada was used as a Tea Canteen for some years. Now it's the Museum. The rooms adjacent to this hall were used as reading rooms, now they are used as "First Aid centre" and "Blood Donation Centre".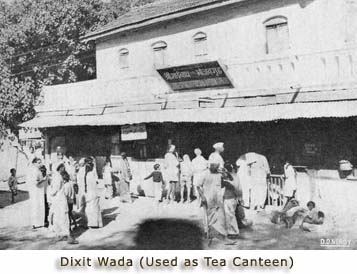 Kaka Dixit first visited Shirdi on 2nd November 1909. He was so overwhelmed by Baba's divinity and compassion that it changed his life forever. He visited Shirdi again in December and at that time he was quite sure that he wanted to be at Baba's feet for the rest of his life.
He thought he would sell about 25 shares of his company and build a tin shed with a corrugated roof. But later on he resolved in his mind to build a Wada instead, that could be used by the devotees. He got permission from Baba on 9th December 1910 and the foundation stone was laid on 10th December 1910 and the construction work began. His elder brother Baiji from Nagpur also happened to be there, and both of them worked day and night and the Wada was completed in six months. On the ground floor, rooms were constructed for the famiy members as well as devotees visiting Shirdi. At the backside, an arrangement was made for their meals. Another floor was constructed above where Kaka Saheb Dixit had placed a huge photo frame of Sai Baba. This photo was painted by Shyam Rao Jaykar. Holy Padukas were also kept in front of this photograph to which they had regular congregational worship used to take place and hence this Wada became very sacred.On the right side of this photo, there was a room where Kaka Saheb Dixit would sit and also sleep. He used to spend most of his time in this room in first floor. Every night, Kaka used to sing hymns and perform the ritual worship of Sai Baba. Many devotees who used to visit Shirdi, stayed in the first floor with Kaka Saheb Dixit and got benefitted from the Satsang that they had with with him everyday.
On Rama Navami day of 1911, the Griha Pravesha (the ceremony of occupying a newly built house) was performed with all the rituals.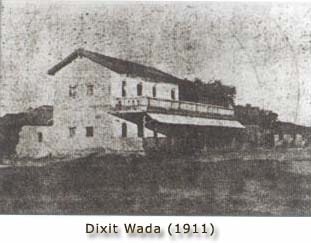 Dixit was highly educated; was a famous solicitor in Mumbai. He was very affluent and owned a property in Mumbai and Lonavala. Politically, he was in the Indian National Congress and an elected member of the Bombay Legislative Council and his list of achievements are long. It would suffice to say that he had everything any human being would desire. Dixit had name, fame and wealth, yet he gave it all up to stay in Shirdi. Several people said, "A Fakir called Sai Baba has cast a spell on him, and pulled him to Shirdi. He has gone crazy". Indeed, Dixit had gone grazy, but with divine intoxication for his Sadguru.
Kaka Dixit stayed in Shirdi and read and studied the scriptures that Baba had advised. Baba sent those devotees who had doubts to Dixit, and they would find the answer in the portion being read by Dixit.
Because of his absence from his law firm his income started dwindling, but this fact neither saddened nor disappointed him. Dixit had given his Tan, Man and Dhan (Body, Mind and Wealth) to Baba, and had surrendered totally. He had developed total Vairagya.
In this Wada, a small room upstairs was used by Dixit for "Ekanta Dhyana" (solitude and meditation). Baba said "Kaka remain in your Wada, upstairs, do not go here and there, do not come even to Dwarakamai",so for nine months Kaka strictly obeyed Baba's orders. He did regular study of the 10th Skanda of the Bhagvat. On Baba's orders the 11th Skanda of Eknath Bhagvat which Baba called "Brindavan Pothi". He also did study of various other books after which he and the other devotees had discussions on them. Kaka Dixit was given only nine months of Sadhana while others were prescribed many years of Sadhana. Baba like a mother after nine months gave birth to a "new Dixit". He was endowed with vivek, vairagya, calmness, kindness, compassion and unshakable devotion to Baba.
Dixit was a gracious host and asked Upasani to come and have meals at the Wada and Upasani willingly became his guest. Baba had told Dhabolkar "Dixit is a good man, be with him". So Dhabolkar stayed in this Wada whenever he came to Shirdi. On one occasion he along with some people were sitting in the upper floor of the Wada, when a serpent came through a hole in the window frame and sat coiled up. Soon it was noticed and the people ran to bring sticks to beat it but before it was beaten it made a hasty retreat and slithered away. When they asked Baba the following day whether it should have been put to death, Baba said "God lives in all beings and creatures, whether they be serpents or scorpions. No creature will act without his command, so love and have compassion towards all living beings"(Refer Sai Satcharitra Chapter 22).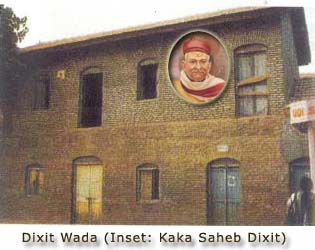 Baba from the very beginning said, "I will take my Kaka in a Vimana". On 5th July 1926, Ekadashi Day, Dixit was in a train with Dabholkar when he said, "Anna Sahib, just how merciful Baba is. He has sent us the train, without making us wait even for a minute. This is Sai's grace". Having said this, he slipped into the sleep of death. There was no fear, struggle, or anxiety, only eternal peace.