Sri.Sunil Shegaonkar is an artist doing paintings in realistic way of style and he is a specialist in Saibaba's Paintings and is popularly known today worldwide as "Sai Blessed Painter".
He was born on 30th September 1964 at Umred village, Nagpur District of Maharashtra. His parents are Sri.Babu Rao and Late Smt.Tara Bai. He is married to Smt.Sunita and having one lovely daughter Kum.Suneera. At present he is leading a happy life with his wife and daughter at his Pune residence.
It is not simple to paint Saibaba paintings in realistic forms. Because of the blessings of Saibaba and different Guru's of Art with different way of teaching, he is able to paint realistic paintings. Observing nature and his imagination have also helped him in painting realistic paintings.
His paintings are displayed at Parayan Hall, Sathyanarayana Pooja Hall, Samadhi Mandir and Prasadalaya of Shirdi Saibaba Sansthan, Shirdi.
His painting of Replica of Dwarakamai Sai Baba of Shirdi is on display at Florida Sai Baba Temple in United States of America.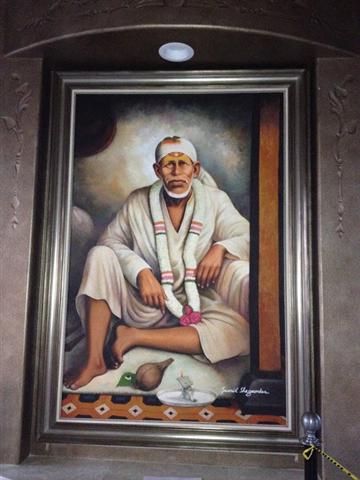 He is the first artist in the world who is doing Paintings of Shri Sai Satcharitra chapter wise (all 51 Chapters, Event wise) in realistic way. He believes that Sainath Maharaj is himself doing the paintings in a magical way and he does not know what is happening.
In future, he would like to do more paintings of Shri Shirdi Saibaba with the blessings and support of all Sai Devotees around the world.
He is grateful to Shri Shirdi Saibaba Sansthan Trust, Shirdi for supporting him by giving its helping hand and encouraging him to do his work in a big way.
Shri Jayant Sasane, Chairman of Shri Shirdi Saibaba Sansthan Trust, Shirdi has showered praises on Sri.Sunil Shegaonkar as below:
"Sunil Shegaonkar Is the First creative artist to paint Portraits on canvas of Shri Sai Baba's All Events Happened In Shri Saibaba's Life. He Is Having Unique Style to Handle Modern Art & Nature drawing. He Is Having A Unique Style to Sketch Event Based Portraits. He Has Drawn Event Based Pictures Of Shri Saibaba On Canvases, Which Are Displayed At Shirdi Temple. These Paintings resemble the scenes As Drawn 100 Years Before. Presently He is painting The Event Based Pictures on Sai Charitra, Which Is Having 51 Chapters. On Every Event He Is Painting A Picture on Each Chapter. For This Project-He Needs Co Operation from All Sai Devotees and Expects To Have Generous Donation for This Holy Cause"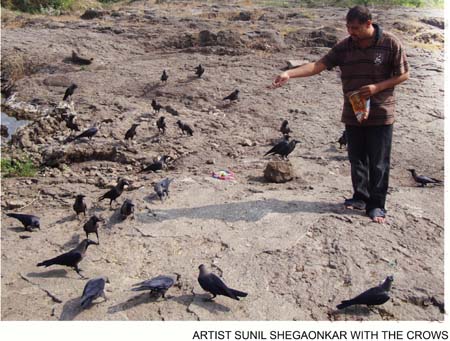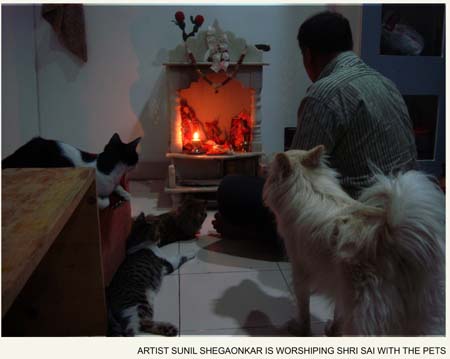 His Contact details are mentioned below for the benefit of Sai Devotees:
Contact Details
(As per the information provided by Shri.Sunil Shegaonkar)