Smt.M.B.Jayashree popularly known as "Jayashree Amma" is a versatile Sai Bhajan Singer, Lyricist, Music Composer and a household name in Bangalore, Karnataka. She was born on 27th July 1954 in Mysore Town of Karnataka. Her Parents are Late Smt. Lakshmidevamma and Late Shri.Balakrishna.
She has completed Bachelor of Arts from Bangalore University. She has also completed Karnatak Classicial Music Junior from Mysore University.
She came to Saibaba fold in the year 2003. She has formed a Bhajan Group known as "Shri Sai Chaithanya Bhajana Mandali" and has been singing Sai Bhajans along with the group in various Saibaba Temples and Devotee Houses all over Karnataka. Till now she has given over 1008 Sai Bhajan Programmes at various Saibaba Temples and Devotee Houses of Bangalore, Mysore, Kolar, Ghati, Chitradurga, Vellore Mahalakshmi Temple and Shirdi Saibaba Sansthan, Shirdi.
She is regularly taking many Sai Devotees on Shirdi Yatra three times in a year.
She has brought out two Audio MP3 CD's in Kannada on Saibaba titled "Shri Sai Nivedana" and "Shri Sai Samarpana" for which she has composed the lyrics, music and also lent her voice.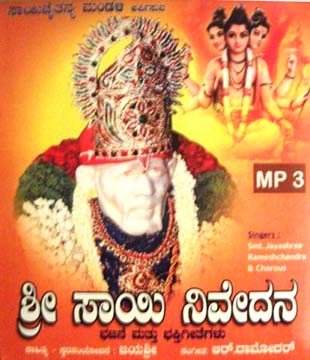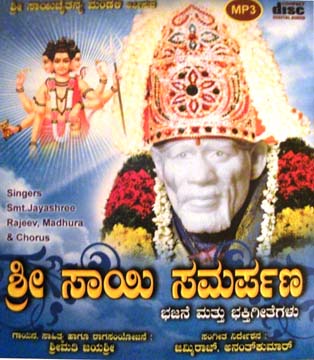 She has brought out a book on Sai Bhajans in Kannada titled "Shri Sai Bhakti Sudha".
She has also constructed a Saibaba Temple at Hulimavu in Bangalore and taking care of day to day activities and overall development of the Temple.
She is blessed with a daughter by name Smt.K.Divyashree who is married and a lovely grand daughter Kum.Druthy Rao.
Smt.M.B.Jayashree's contact details are mentioned below for the benefit of Sai Devotees.
Contact Details:
Address:

Smt.M.B.Jayashree
Sri Chowdeshwari Nilaya,
No.1093/6, 10th Cross,
Muthurayaswamy Layout,
Hulimavu, Bannerghatta Road,
Bangalore-560 076,
Karnataka,India.

Contact Numbers:

+91 98861 24547/ +91 97386 88731

E-Mail ID:
natarajnagaraj.nn@gmail.com

Albums:

Shri Sai Nivedana, Shri Sai Samarpana

Books:

Shri Sai Bhakti Sudha
(Courtesy: Personal Interview with Smt.M.B.Jayashree, Bangalore)