Well known Sai Personality Dr.Amol Manohar Pitale is the Son of Shri.Manohar Ghanshyam Pitale and Grandson of Sai Mahabhakta Shri.Vishnupant Balawant Pitale. He was on born on 25th September 1973 to Smt.Shaila Manohar Pitale and Late Shri.Manohar Ghanshyam Pitale.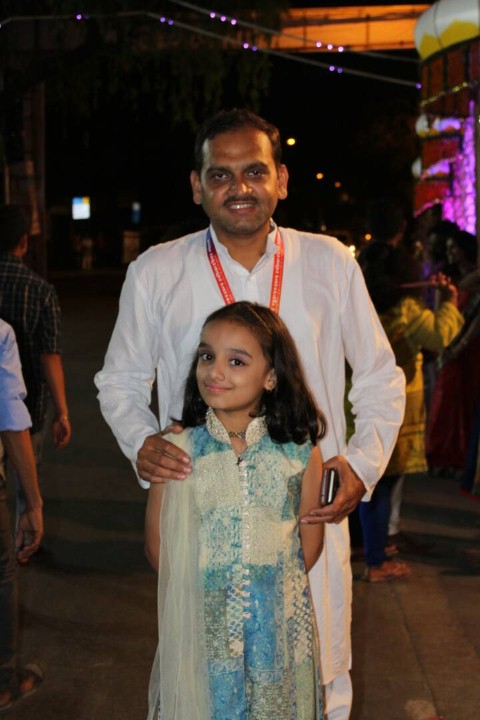 Dr.Amol Pitale with daughter Kum.Nishtha
Late Shri.Vishnupant Balawant Pitale got opportunity to meet Shri Sai Baba in the year 1916. After meeting Shri Sai Baba, he realized that Baba is not an ordinary person but he is an incarnation of God. Shri Sai Baba tested the strength and devotion of Shri. Vishnu Balawant Pitale by taking his money, which was mere Rs. 15 and asked him to go back empty handed. However, Shri.Vishnu Balawant Pitale received blessings from Baba in the form of Udhi and Baba's Photograph. Shri.Vishnu Balawant Pitale did not lose heart and kept going and he could reach safely back to Mumbai without having the money for the ticket. This could happen because of his strong faith in the Baba which stood by him throughout the journey in the form of different persons who helped him at every step during his journey back to Mumbai. So much so that even the Ticket checker, who met him in the train, spoke with him on different topics but just did not ask him about the ticket. That was nothing less than a miracle. From that time onwards, his financial and spiritual growth began. It was his unflinching devotion to Shri Sai Baba that made him give all his money without blinking his eyelid and without a single doubt. And this selfless love and faith for the Baba and his noble teachings remained with him throughout his life. And so did the blessings of Shri Sai Baba that followed him. Just next day after coming back from Shirdi, the owner of the great Tata Company, Shri. Ratan Tata, himself, came to the house of Shri.Vishnu Balawant Pitale and offered him a nice job in his company which was most apt for Shri. Vishnu Balawant Pitale as Shri. Ratan Tata was in need of a person to translate the papers related to the land from the local language into English which was required for the development of the present day airport in Santacruz. From that time onwards, Pitale family has been strong followers of Shri Sai Baba. Log on to: http://saiamrithadhara.com/mahabhakthas/vishnu_balwant_pitale.html for more information on Late Vishnupant Balwant Pitale.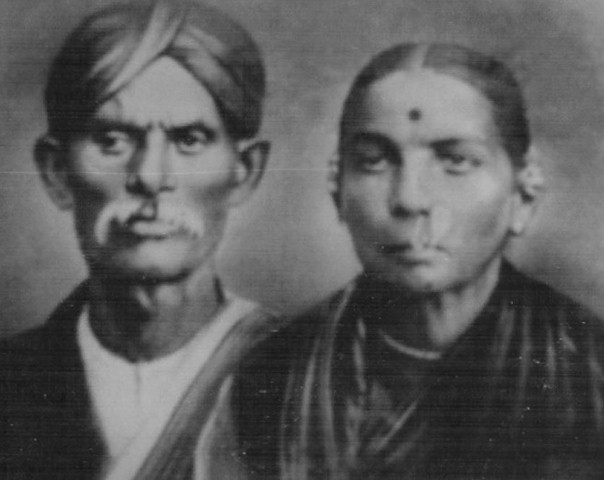 Vishnupant Balwant Pitale & Radha Bai Pitale
Dr.Amol Manohar Pitale's father Late Shri. Manohar Pitale was staunch believer of Baba since his childhood. Shri.Manohar Pitale imbibed Baba's teachings since his childhood.
One can say that there was Baba in his every breath. He took UDI before he left for heavenly abode and as he passed away, Dr.Amol could see "Tears in Baba's Eyes" from the statue in Gurusthan Sai Baba Mandir owned by the family trust.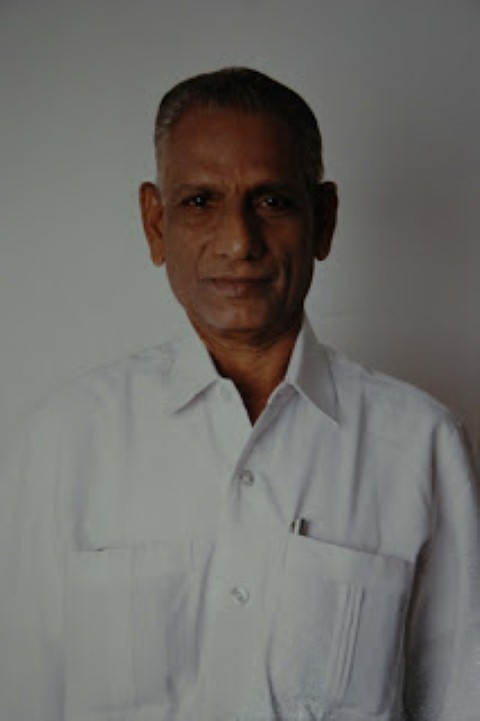 Late Shri.Manohar Pitale
Shri.Manohar Pitale had an artistic instincts which made him make Sai Baba's Pancha Dhatu Idols of Shri Sai Baba and sell it to Baba devotees at cost to cost basis. He made more than 100 Idols and gave it to various Baba devotees and Sai Baba Temples. The Idols made by him are in Europe, Sweden, West Germany, Canada, Australia apart from various places in India like Punjab, Bengal and off course Mumbai.
Late Shri.Manohar Ghanshyam Pitale's interview got published in Shri Sai Leela Magazine, 1982 published by Shri Sai Baba Sansthan. The first and he last Idols of Sai Baba made by Late Shri.Manohar Ghanshyam Pitale can still be seen in the ancestral home of Pitale at Vile Parle.
In the year 1994, when Dr.Amol Pitale was still studying his MBBS, Baba started showing His Leelas. Knowing about his skills, once a person from Chennai (then Madras Presidency) Sai Baba Mandir came to meet him and asked him to make an idol of Shri Sai Baba of two feet height. Initially Shri. Manohar Pitale was hesitant to accept the order for the big idol but he gave in to the persistent demand of that person and agreed to do it without accepting any advance. Shri.Manohar Pitale being a very principled man, never used to take any advance from anybody and used to say "if you like the Idol then only you pay". After continuously working for 6 months with highest zeal and dedication, Shri.Manohar Pitale finally could make one very gracious idol of Shri Sai Baba as desired by that person. When that person from Chennai came to see the Idol he was also very much impressed and obliged. But when he told about the total expenses involved (Rs.6,750/-) without taking any profit for his hard work, to the person who had ordered it, that person just lost his temper saying that how can you charge Rs. 6,750/-for such a simple idol. And he started abusing Shri.Manohar Pitale. He said you are making money out of Shri Sai Baba's Grace. You are misusing His name. He also said "you are taking advantage and grabbing money from me and you are a lier that you take the amount as per actual with no profit". He also added he would get idol of marble for Rs.5, 000 from Jaipur and so on. In this way, he just poured all bad words that one could think of. But Shri. Manohar Pitale was unmoved because he knew that he had not done anything wrong and he had not asked for a single penny extra. In spite of the disappointing response by that person, Shri.Manohar Pitale was hospitable to him and did not lose his temper. Shri. Manohar Pitale said "if you liked the idol you can pay me any amount you want even one rupee is fine with me. Then, he started getting hyper and said "I am not a beggar that I would take idol free from you". Shri.Manohar Pitale had no option than to listen to him quietly as Baba says "don't abuse any one" "Vada vadi nahi bari". Shri.Manohar Pitale not only maintained his cool but also offered him Tea and snacks.
Seeing all this happening to his father, Shri.Amol Manohar Pitale, the son of Shri. Manohar Pitale, was very upset. But kept quiet so as not to insult the guest even though the guest was in the worst mood. And after the guest left the house without taking the idol made for him, Amol asked his father as to what to do with the Idol. His father just smiled and said : "Baba want to be with us". Amol told his father and made him promise not to sell this gracious idol in any condition in future. Three years passed. The idol of Shri Sai Baba was there on the table in the house. Amol completed his medical education by this time and started his internship. Baba had different plans for the Idol. One night Baba gave intuition to Shri.Manohar Pitale to keep the Idol in one small room at the ground floor and make that room into his office. Accordingly, next morning Shri.Manohar Pitale took the idol and placed it in his small office at the ground floor and started worshipping Sai Baba.
But once it was kept there, the idol started attracting and people passing by would look at the idol and would come in and pray and would offer some Prasad or Dakshina. Shri.Manohar Pitale never intended to earn money like that and so he was in bit of tension not knowing what to do with the money offered as Dakshina. Young Amol and his father, Shri. Manohar Pitale, contacted a famous Lawyer at Vile Parle when he was having his routine walk. The Lawyer suggested to him to form a trust and keep the money under that trust in a dedicated Bank Account. He also suggested that money can be utilized for Social Cause. Taking a clue from it, Shri.Manohar Pitale formed a small trust which was named as 'Gurusthan Trust'. This was Baba's next step. Firstly, Baba made young Amol to complete his MBBS degree and at the same time, He made Amol's father Shri.Manohar form a Trust!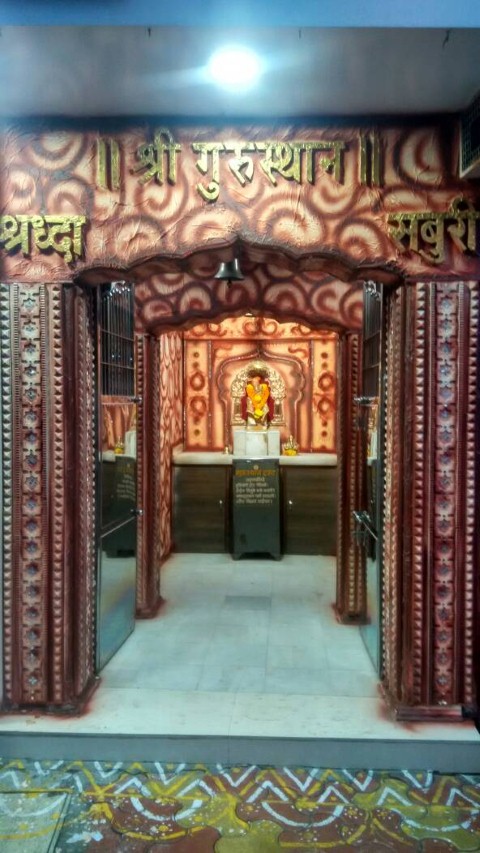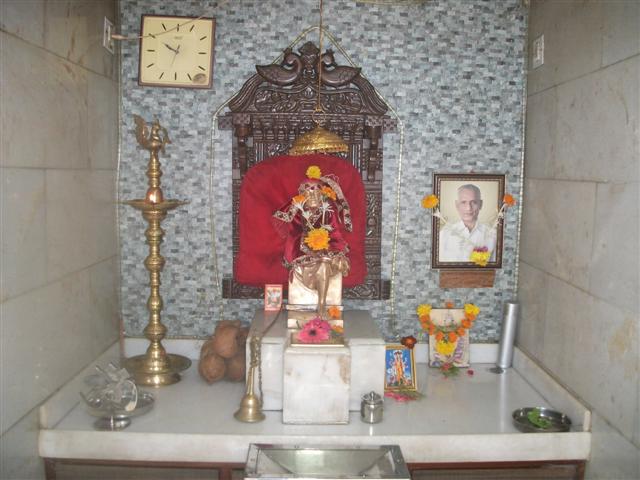 Shri.Manohar Pitale did not stop with this but converted the ground floor office in to a small temple and set up that idol of Shri Sai Baba there. This must have been the wish of Shri Sai Baba only as without His inspiration the things would not have happened this way. It was just a coincidence which led to another and culminated in the formation of this Gurusthan Trust.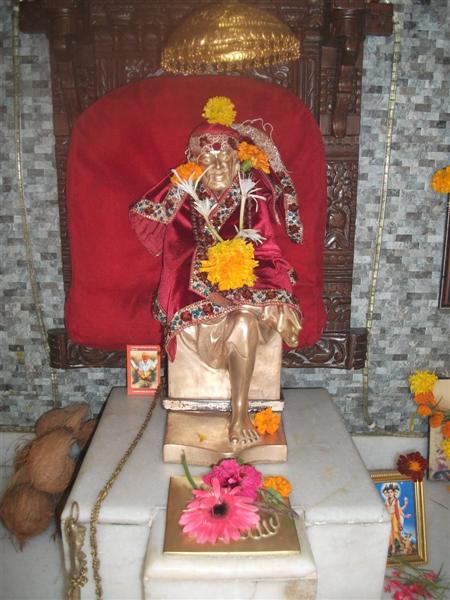 On completion of internship, Amol Pitale's family members thought of going to Shirdi and take Babas blessing for his further success in his career . Accordingly, the family planned to start the next day day after Gudi Padwa Festival. Again this is also Baba's planning as he wanted us to know that there were thousands of Sai Devotees who walk down to Shirdi for the festival of Ram Navami. As they started towards Shirdi from home, they took halt for tea near Bhiwandi where they saw few Sai Padayatris from Shraddha Saburi Mandal, Mumbai. One of the Padayatris, was vomiting and looked very weak. So, they went there and asked if they need some medicines. While speaking to them the Chairman of that particular group came and started asking them lot many questions like "who are you?","What is a proof that you are a doctor?".Why you want to give medicines and all?". Shri.Manohar Pitale just told the Chairman of that particular group that they were also Sai Devotees going to Shirdi for Shri Sai Baba's darshan and as they just happen to see his group member vomiting, felt like offering medicine. After much hesitancy, that person somehow got convinced and took medicines from Shri.Manohar Pitale. After the Pitale family members went further ahead about 10 km, they saw another group. The family again stopped there and gave medicines to few group members. A few kilometers further, they could see one more group and the family stopped there and gave away some medicines. By that time, the small first aid box that Dr.Amol Pitale was carrying with him came to almost Nil Stock. The family later went to Shirdi. Had wonderful darshan of Baba and while returning back from Shirdi, they purchased medicines for Rs.3000 and again gave it to few more Padayatris on the way.
While returning back, Pitale family met same Chairman of that Palanquin group whom they met in the beginning and came to know from him that the medicines given by them were very much effective and that Sai Padayatri is perfectly fine and walking. Hearing his words, the Pitale family members felt very happy. When they came back home, Shri.Manohar Pitale told young Amol Pitale "Amol, now you have become doctor and will start your practice and earn money.
Money is fine but what about GURUDAKSHINA to Baba as just because of him you have become a Doctor?". Young Amol Pitale was bit confused and asked his father: "what you want me to give as Gurudakshina? To which Shri.Manohar Pitale replied: "you have to dedicate these 9 days (Ramanavami Period) to Baba where you will go to Shirdi with these Sai Devotees and do seva by giving medicines and serving them". Dr.Amol Pitale was thrilled to say "yes" and thus the Mission of Gurusthan Trust stated on a wonderful note.
Then the question of how to raise funds for medicines as Dr.Pitale always used good branded medicines which were costlier than generic drugs. Then the trust started using the money offered by devotees to "Dakshina Hundi" kept at Gurusthan Temple. Also few Devotees started helping Dr.Amol Pitale in form of money for purchasing medicines Dr.Amol Pitale never forgets to take few names and first and foremost name is that of Vinny Maa and Sada Ghode who helped a lot and are still extending their help towards this noble cause. He also thanks Shri.Ashok and Smt.Geeta yadav, Shri.Mohan Bangera, Shri.Sopan Kaka and all members of Gurusthan Lokseva Mandal for extending unconditional support towards this noble cause. Dr.Amol Manohar Pitale gives full credit of all his Seva activities to his father.
There is a photograph of Baba in Dr.Amol Pitale's house, where his Daughter Kum.Nishtha is giving a kiss to Baba's Statue and it looks Baba too is responding to her. Actually speaking, in the statue, Baba's lips are closed; but in the photograph they are together as if about to kiss! Recalling the incident, Dr. Pitale says: "It was her first birthday, as usual I lifted Nishtha in my arm and she kissed Baba, in that moment the picture was taken. That day we didn't notice anything unusual, nor did we when the photo prints came and we hung it in the hall. It was only when a friend of mine who was visiting us, brought it to our notice." . Feeling overwhelmed, Dr.Pitale says: "Shri Sai has blessed five generations of the Pitale family, and this is a clear sign of it." (Pointing out towards Nishtha).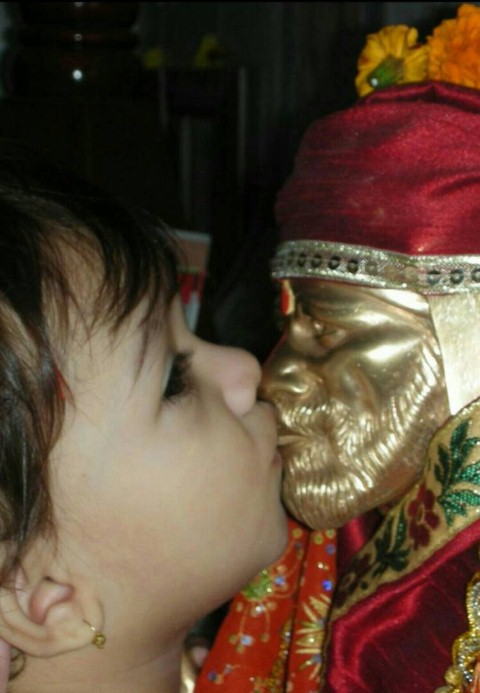 Kum.Nishtha Pitale kissing the Idol of Sai Baba
Family Tree of Vishnupant Balwant Pitale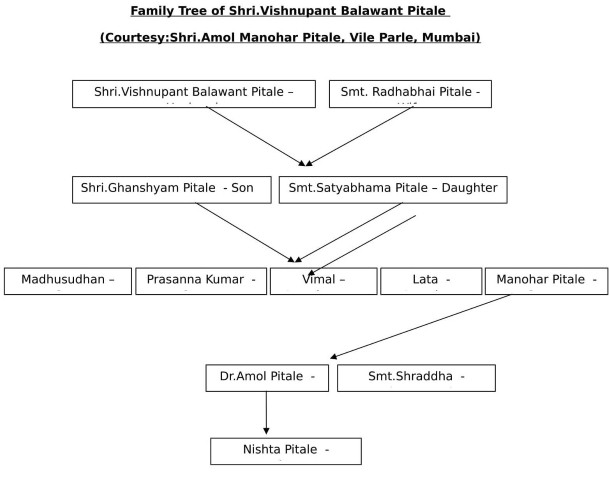 Social Service Activities of Gurusthan Trust

Gurusthan Trust has team of volunteers which was just 14 people in the beginning has now 72 and is still increasing day by day.
'Free Mobile Dispensary' has been set up by Gurusthan Trust to serve needy and poor patients. A team of doctors goes to villages to provide basic medical help. This team also serves the devotees who walk down to Shirdi from Mumbai for the festival of Ram Navami. This free mobile dispensary takes care of the medical needs of these devotees. Lakhs of devotees throng to Shirdi for the festival of Ram Navami. Thousands of devotees walk this distance of nearly 250 km with complete devotion. It takes around 8 to 9 days for this journey. Every year on an average 20,000 to 25,000 people go on this pilgrimage. They face lot of medical problems while walking. Loose motions, swelling of legs, bruises, dehydration, cough, cold, pain in abdomen, high blood pressure, exhaustion, body ache are some of the ailments that trouble these devotees. Gurusthan Trust's 'free mobile dispensary' tries to serve these people in a best possible way and tries to make their journey easy.
The Trust provides free medical consultation to the poor in their trust office every Thursday. The Trust collects clothes and text books from people and provides it to the students in rural areas. The Trust provided free medical help to the victims of floods during 26th July 2005, in Vile Parle, Mumbai. The Trust provided help in the form of clothes and medicines to the victims of earthquake in Bhuj (Gujrat) and also to the victims of Tsunami. The Trust is also providing medical assistance to the chronically ill patients and also helps them with small amount of funds for their surgery. The trust is regularly conducting Annadanam at Old Age Homes. The Trust is regularly distributing Blankets and Clothes at Adivasi Villages. The Trust Medical Camp regularly at Vile Parle, Mumbai. The Trust is also helping Adivasi Villages by providing Solar Lights to Adivasi Homes.
Trustees of Gurusthan Trust:
Late Dr.Manohar Pitale was the founder Chief Trustee of the Gurusthan Trust. He passed away on 26th February 2009. Now the Pitale family is continuing the legacy of Late Dr.Manohar Pitale. Below are the list of trustees:
Dr.Amol Manohar Pitale - Trustee
Dr. Shraddha Bhure - Trustee
Dr.Anita Pitale - Trustee
Dr.Ujwal Bhure - Trustee
Shri.Manoj Patgaonkar - Member
Shri.Vivek Kolhatkar - Member
Shri.Nitin Shah - Member
Shri.Uttam Kadulkar - Member
Smt.Shaila Pitale - Member
The first four named Trustees are also heading the panel of Doctors and serving the needy patients.
Awards & Recognition:
Considering his outstanding contribution to Sai Devotees, Dr.Amol Manohar Pitale was recently honoured with "Sai Ratna Award 2017" by Shiladhi Pratishtan, Shirdi.
Donation Appeal:

Gurusthan Trust solicits donations in however small amount from philanthropic donors towards the noble social service initiatives conducted by the Trust. The trust promptly sends receipt for each and every donation made to the Trust. Donations can be in the form of money order, DD or Cheque or Bank Transfer to the below mentioned Bank Account:
| | |
| --- | --- |
| Name of The Account | Gurusthan Trust |
| Account Number | 520101047249478 |
| Bank Name | Corporation Bank |
| Branch | Vile Parle East, Hanuman Road Branch |
| IFSC Code | CORP0000495 |
The contact details of the trust is as below for the benefit of Sai Devotees:
(Source: Ambrosia in Shirdi by Sai Bhakta Vinny Chitluri, , Shri Sai Leela Magazine May -June 2010 compiled by Kum.Shamshaad Ali Baig & Personal Interview Dr.Amol Manohar Pitale on 20th June 2017 Family Tree & Photograph Courtesy: Dr.Amol Manohar Pitale)