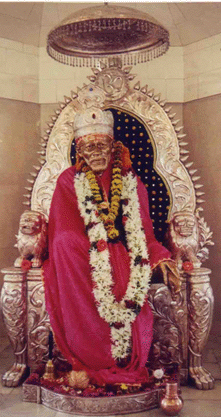 Shirdi Saibaba is believed to have born in a small village in the Marathwada District of Maharashtra known as Pathri to a Brahmin family.
Shri V.B. Kher, a Sai devotee and researcher, conducted extensive research in 1975 to discover the birthplace of Sai Baba. Sai baba had referred to his family and birthplace in conversations with Mhalsapati and Swami Sai Sharan Anand, two of his close disciples. The well known saints Madhavnath and Satya Sai Baba of Puttaparthi have also indicated Pathri to be the birthplace of Sai Baba.
Kher decided to visit Pathri and conduct further research. He made contact with Shri Dinkarrao Chaudhari, a lawyer and farmer from the respected Chaudhari family of Pathri. In one of his conversations with Kher, Dinkarrao recalled how his late father had once pointed to one Bhau Bhusari and remarked at the sad plight of a descendant of Sai Baba! Later, some Muslim clients who came to see Dinkarrao stated that Sai Baba had been born in a Brahmin family in Pathri and had been taken away by a fakir when he was a child. Kher then visited numerous residents of Pathri and made lists of all the Brahmin families, with details about their sects, family deities etc. From all the information garnered, one very interesting fact emerged; only one Brahmin family had Hanuman as the family deity and that was the Bhusari family, a Yajurvedi Deshastha Brahmin family. Knowing Baba's special fondness for Hanuman, it was an exciting piece of information. He began correspondence with Prof. Raghunath Bhusari, the only direct living descendant of the Bhusari family who provided information about the family tree. The circumstantial evidence indicated that Sai Baba was Haribhau Bhusari, who left home at the age of 8 in search of God. "The theory advanced is probable. I leave the matter to the readers to judge for themselves," says Kher.
Directions
By Train from Mumbai:Devagiri Express via Aurangabad from CS Terminus. Alight at Manvat Road Railway Station, 16 km from Pathri. Further transport to Pathri by bus or jeep.
By Train from Hyderabad: Kachiguda Express via Parali. Alight at Parabhani Junction. Further travel of approx 45 km by bus or jeep to Pathri.
By air: Flights available to Aurangabad. Further travel to Pathri by road, approx. 3 ½ hrs.
By Bus: State Transport buses ply to Pathri.
Accomodation
At Pathri: Basic accommodation available at Sai Lodge, Sant Sai Baba Marg, Pathri.
At Aurangabad: Aurangabad offers a wide choice of accommodation including 5 star hotels.
Daily Worship
Kakad Arati - 05.15 am
Mangal Snana & Arati - 07.00 am
Madhyanha Arati - 12.00 noon
Sanj Arati - At sunset
Shejarati - 10.00 pm
THREE DAY FESTIVALS:
1.Shri Ram Navami - Chaitra Shuddha Navami (March/April)
2.Shri Vyas - Guru Purnima - Ashadh (July)
3.Sai Baba Mahasamadhi - Vijayadashami (Dassera) - Ashwin Shuddha Dashami
(October )
ONE DAY FESTIVALS:
1.Hanuman Jayanti - Chaitra Purnima (April)
2.Swami Sai Sharan Anand Jayanti - 5th April
3.Shrikrishna Jayanti - Gokul Ashtami - Shravan Vadya (August)
4.Swami Sharan Anand Punyatithi - 26th August
5.Shri Bulb Baba Punyatithi - 7th October
6.Shri Dattatreya Jayanti - Margashirsha Purnima (December)
For more information please visit http://www.saijanmasthan.com/