.
Tatya had a unique relationship with the Baba and was under his wing from the age of about seven. As a child, Tatya addressed Baba as "Mama" or "Uncle" and they would play and romp together, with Tatya climbing on Baba's back and sitting in his lap.

Being so close to Baba afforded him privileges that few had. Only he and Mhalsapati were allowed to sleep with Baba in the mosque and this he did for 14 years until his father died and family responsibilities compelled him to go home.
Tatya was childless for a long time after his marriage, but felt that he could have children if he married a second time. But as he remained childless for a long time with his second wife, he married yet again.
His third wife, too, did not bear him any children. He was disappointed, and thought that he was not fated to have children so made preparations to adopt the son of his friend, Ramachandra Patil. He arranged for the adoption ceremony and taking the adoption papers went to Sri Sai Baba for his blessings. When Baba saw the papers he said, "Why do you need to adopt anyone? You will get children yourself." Tatya had an unshakeable belief in Baba's words and immediately stopped the adoption ceremony. But he did not get any children for a long time even after this. Finally he went to Baba and said "My God! You said that I would get children and hence I had stopped the adoption ceremony. But a long time has passed since then and I am still childless. What do you want me to do now?" Baba replied, "Tatya, if you get children you will lose your wealth. Choose whether you want riches or children." Tatya, who was yearning day and night for children, replied "Let the riches go. I want children." Baba smiled and said, "Alright then, you want children rather than wealth. You will get as many children as the litters of a sow. Go now!" Later, when Tatya was 55 years old, all his wives started bearing children and he ultimately produced a large family. Today his family, including grandchildren and greatgrandchildren, number over a hundred. But as Baba had stated, his prosperity vanished and Tatya had to face many financial problems. However, by the grace of Sri Sai Baba, he passed away without a care in 1945, without being in debt to anyone. (These details were given to personally by Sri Tatya's son by his second wife, Sri Uttamrao Kote Patil).
Sri Tatya Kote Patil's Samadhi is located between the entrance gate to Lendi garden and the power-house of Sri Sai Baba Sansthan. Tatya was widely regarded as the light in the eyes of Sri Sai Baba. Perhaps his Samadhi being adjacent to the power-house giving light to the whole of Shirdi is the divine will of Sri Sai Baba and not entirely a coincidence.
THE SAMADHI OF TATYA KOTE PATIL
This is the last Samadhi and is next to the compound wall of Lendi Baugh. Tatya, the beloved son of Baijama, died on 12th March 1945. He was enveloped by Baba's grace right from birth. He and Baba had a very loving relationship. Although outwardly they had a playful relationship, Tatya let his home to sleep in Dwarakamai with Baba for fourteen years. Baba on the other hand is said to have "given up his life for Tatya" on the day of Vijayadashami in the year 1918. Tatya recovered from his illness and led a peaceful and fruitful life till his Samadhi.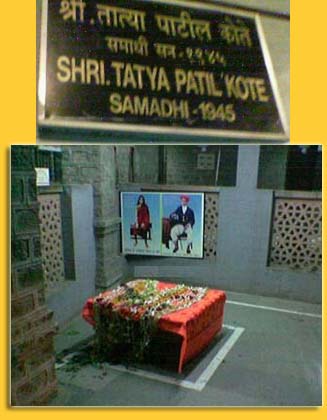 Unfortunately, his date of birth and other details of his life are not known. His descendants are leading a fruitful life at Shirdi.
THE BLESSED HOUSE THAT BABA TOOK BHIKSHA FROM:
This blessed house of Tatya is situated adjacent to "Sai Kutir". Bayaja Maa came to Shirdi after she married an affluent landowner, Ganapath Kote Patil. She was a dutiful, loving wife, who did all the household chores. But most of all she loved to cook and feed various guests and relatives that came to her home. "Food is Brahma" she knew and was the first lady to feed Baba when he came to Shirdi in the early days. In Chapter 8 of the Sri Sai Satcharitra her love, devotion and caring is beautifully described. Bayaja Maa recognizing His divinity would roam about in search of the Fakir and feed Him daily. She then returned home to eat. Her trouble ended when Baba came to live in the Dwarakamai Masjid.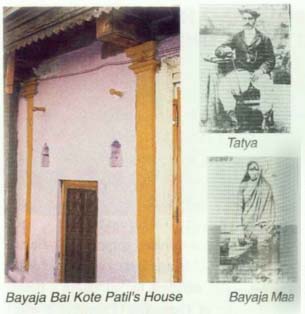 Daily Baba took Biksha from her house. As soon as she heard Baba's voice she left whatever she was doing. Whether it was attending to the cattle or horses went inside and prepared fresh Bhakri and curried vegetables for him. Baba was very pleased with her love and devotion.
Baba asked her once what she wanted? "Do you want Sampathi (wealth) or Santhathi (welfare of your family)"? Unhesitatingly she asked for the welfare of Tatya, who had no children, though he had three wives. With Baba's blessings he had three sons and two daughters. True to His promise Baba looked after Tatya and his family, and even took 'niryan' for him.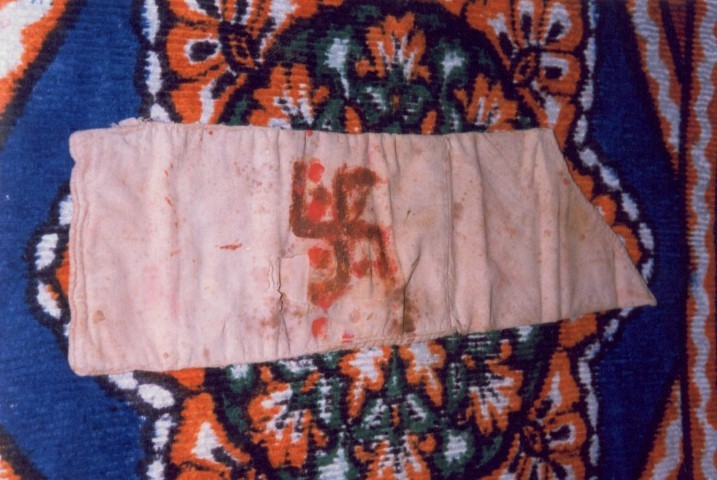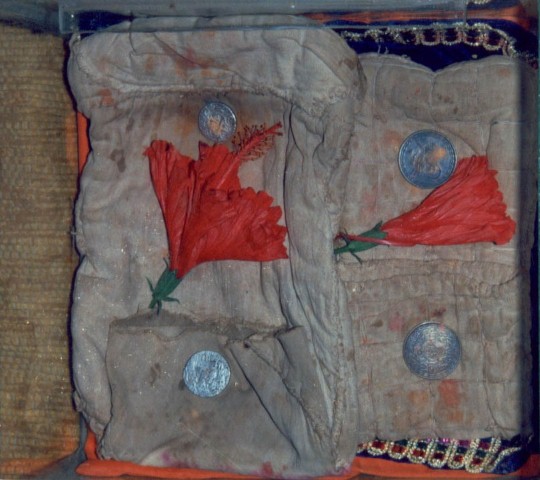 Pockets given to Tatya Kote Patil
When Baba was in his physical form, Aarti was performed to him. Usually during Madhav Adkar's Aarti "Aarti Sai Baba Sowkya Dathaara Jeeva" he was offered the Chillim. Baba would take a puff or two and then pass it around.
The Shirdi Saibaba Sansthan has bestowed the honor of carrying Baba's photograph during the Palkhi procession on their descendants. The details of Chavadi Procession are as follows:
Viju Kote Patil who is Tatya's grandson and Gopinath Kote who is Bayyaji's grandson goes to the Samadhi Mandir just before the Palkhi procession commences. The Pujari gives Baba's photograph to Viju and the case containing the Padukas to Gopinath. (Earlier, they would ascend the steps of the Samadhi to pick them up. But this process has been stopped about four years ago). They then carry them to the waiting Palkhi and place them inside. Then the Palkhi proceeds to the Dwarakamai. Viju then takes Baba's photograph and places it on the stone for a short while. After Baba has sat on the stone for sometime, he's taken to the sanctum sanctorum. The photograph is then placed in the Mandap for sometime. Then it is brought to the Palkhi and placed in it.
Until Viju signals to the Palkhi bearers to lift the Palkhi, it is not lifted. Just as Baba would not get up until Tatya came and lifted him and asked him to go for the Palkhi procession. The Palkhi then goes to the Chavadi, and Aarti is performed there. At that time Baba is offered a lighted Chillim by Viju.
(Source: www.shirdisaitrust.org, Ambrosia in Shirdi & Baba's Gurukul by Vinny Chitluri)