.
Balaji Vasant Talim is Sculpture of Sai Baba statue now in Shirdi, where millions take darshan of Sai Baba.
His father Vasanth Rao was a building contractor for the Nizam of Hyderabad. Balaji was born in 1888 in Hyderabad. His father died early, leaving behind his wife Saraswathi and three small children who migrated to Mumbai.
After primary education Balaji joined the J. J. School of Art to learn sculpture. He won the "Dolly Khurshatjee" scholarship thus enabling him to complete his education. Balaji was a brilliant sculptor and painter, portraits being his specialty. In 1918 'Talim's Art Studio' was established. He won many prestigious awards, gold medals, and accolades. The committee for 'Beautification of Mumbai' chose him to sculpt the statues. Mumbai is dotted by his sculpture from Flora Fountain to the High Court and everywhere else. The British appreciated his work and gave him assignments. Balaji was a highly spiritual, religious, philosophical and a man of principles.
Shirdi Sai Baba Sansthan gave him the humungous task of sculpting Baba's idol. Meticulously he got his tools 'made to order' from iron-smiths and carpenters. He looked at different photographs of Sai Baba to get the idea of the physical features of Sai Baba; however he got confused because of different physical features appearing in different photographs. Since it was difficult to get the idea of the physical characteristic of the face of Sai Baba from the original pictures of Sai Baba available, he had some doubts about the appearance of the face of the murti (idol). So he prayed to Sai Baba to help him regarding how the face should look. Sai Baba got him out of the confusion by one of his characteristic ways of guiding his devotees, those through dreams. Sai Baba appeared him in his dreams and asked him to have a look at his face and physical characteristics from all angles. This impression of dream remained strong in his mind and could easily carve out Sai Baba's form with his grace. And thus through dream to the artist Sai Baba gave the details of his physical characteristics for the devotees who love him and would like to know how he looked in physical form. In various books it is stated that Sai Baba had appeared in the dream of B. V. Talim. However, grandson of B. V. Talim says that Sai Baba appeared in the form of light, one morning, and that he could see the divine face of Sai Baba and accordingly with Sai Baba's grace and help, the face was sculptured. Thus, zealously and full of religious fervor he carved Baba's Murthy. The height of the idol is 5.5 feet. The work was commissioned in 1952 and Prathista took place in 1954.
The below photograph is the original photograph of Sai Baba which was used by Late Shri.B.V.Talim to sculpt the idol of Sai Baba for installing in Samadhi Mandir in Shirdi (Source:Baba's Rinanubandh by Vinny Chitluri).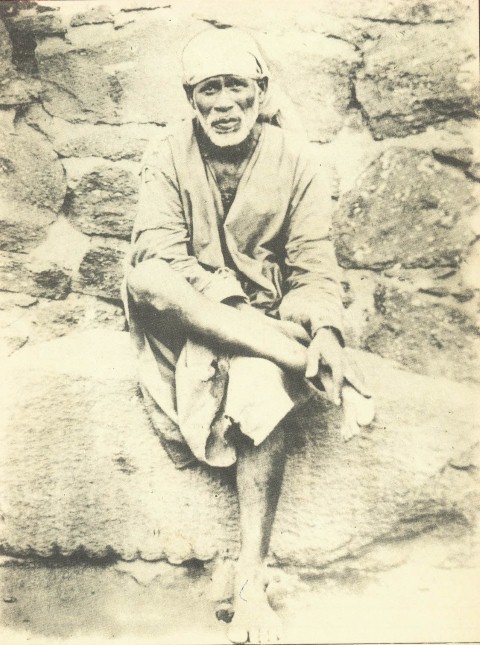 Photograph based on which Baba's Idol got sculpted
Also in the dream Sai Baba had said "Finish the work and you will not do any other idol in future." Also this came true.
Late Shri.B.V.Talim's son Shri.Harish B.Talim followed his father's footsteps and was an eminent sculptors of India. His son Shri.Rajiv H Talim was born on 14th July, 1963, in Mumbai. He took to sculpture as his profession under the guidance of his grandfather late Shri B.V. Talim and his father late shri Harish B. Talim, an eminent sculptors of India. At present Shri.Rajiv H Talim is executing statues of great personalities of India in Bronze, marble and plaster.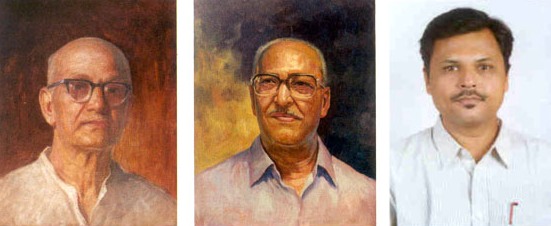 Left to Right:Late Shri.B.V.Talim,Late Shri.Harish B.Talim and Shri.Rajiv H Talim
Please find below the images of original Plaster of Paris Saibaba Statue available in Talim Studio in Mumbai which Late Shri.Balaji Vasant Talim used as Master Piece while doing the Samadhi Mandir Statue.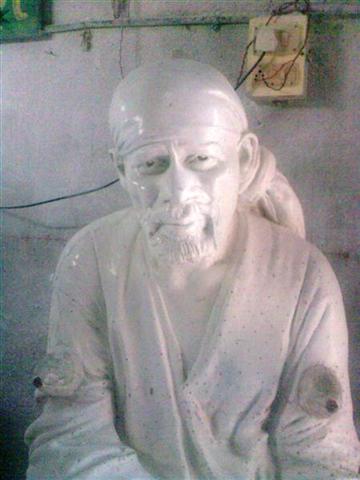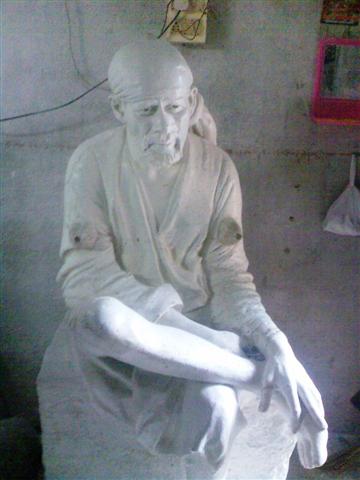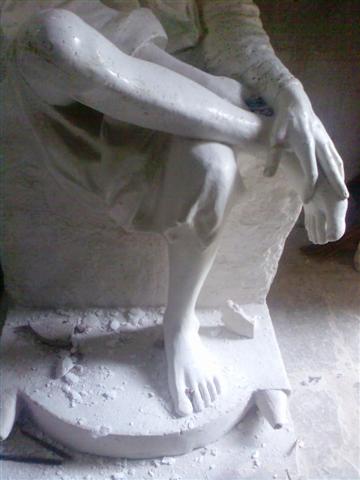 The Interview of Sri. Rajiv Talim grand son of late Shri.B.V.Talim regarding the making of Saibaba Idol at Shirdi has been displayed below for the benefit of Sai devotees.
We have given below the contact details of Shri.Rajiv H Talim for the benefit of Sai Devotees:
Name:
Shri.Rajiv H Talim
Address:

No.381-C,Near Congress House,
V.P.Road,
Mumbai-400 004,
Maharastra,India.


Contact Number:
022-2386 9395/+91 98208 33051
Email Address:
talimart85@rediffmail.com
Website Address:
http://snsvo4.seekandsource.com/talimartstudio/
(Photo Courtesy: Shri.Nagaraj Anvekar, Bangalore)