.
Shri.Balavant Haribhau Nachane and Smt.Ramabai Balavant Nachane hailed from a village named Dahanu in the District of Thane. One unique thing about Shri.Balvant Haribhau Nachane is that he was born on the auspicious day of Vijayadashmi in the year 1850 and passed away also on auspicious Thursday in the year 1929.
Shri.Balavant Haribhau Nachane was an expert in diagnosing health by just checking the pulse of the person. Whenever he used to go to his farm he used to collect various types of medicinal herbs and used in paste, syrups prepared by himself. He had a lot of interest in herbal medicine. He used to offer it to one and all for treatment irrespective of whether they were rich or poor and never accepted any money from them for dispensing the medicines. His medicines were very effective and he was famous as Anaji Vaidya (meaning a village doctor) not only in Dahanu but also in the villages surrounding Dahanu.
Shri.Balavant's wife Smt.Ramabai was also helpful to the poor and needy people and used to enjoy helping people. She was also busy in prayers, welcoming saints visiting their home and used to serve them. The couple had 5 sons namely Anand, Shantaram, Janardhan, Raghunath and Balachandra and 2 daughters namely Gulab and Baiji.
Late Shantaram Balavant Nachane was born approximately in the year 1889. He started getting involved in good deeds and spiritual activities like his parents. After he grew up, he got a job in a Mamaltedar office at Dahanu even before he completed his graduation. Everyone including his family members used to address him as NANA.
Much before Shri Sai Baba took Samadhi, Shantaram Balavant Nachane used to narrate to his family members the actual conversation he had with Sai Baba and his experiences with the people visiting him.
In 1909, Shantaram Balavant Nachane had amazing experiencesd which at that time he did not relate to Shri Sai Baba. In fact, his contact with Sai Baba began in the year 1909. In the same year, Nachane's elder brother was undergoing an operation very near his throat in Bajekar's Hospital at Mumbai and his father had accompanied him. While in Dahanu, Shantharam Nachane and his entire family were all anxious about it. Nachane was at Dahanu then and a Sadhu approached and asked him if he could get a crumb or two of Roti. The family members invited him inside and gave him a full meal. Howwever, the vegetable prepared from Okra was not served as Nana's sister in law thought it was very simple vegetable to give to such a great saint. Surprisingly, the Sadhu himself said "I want Okra vegetable" and then only it was served to him. The Sadhu then blessed them all and told them that the operation at the hospital in Mumbai that day had been safely performed and there was no life threat to the patient. On tThe same day Nachane's friend, Haribhau Moreswar Phanse came to their house and told him that he hoped that the operation by the grace of "Sri Sai Baba" would be a success. That was the first mention of "Sai Baba" to Shantaram Balavant Nachane. In the evening the family learnt from Nachane's father who returned from the hospital that the operation had been performed and that there was no trouble or danger. He also told the family that after the operation a Sadhu had appeared there and approaching the patient passed his hands over the operated part of the body, and said all would go on well. The operation proved quite safe and Nachane's brother completely recovered.
In the same year Shantaram Nachane's father Balvant Haribhau Nachane attended Shri.Das Ganu's Kirtan wherein Das Ganu gave a detailed account of Shri Sai Baba and described Him as Dattavatar having wonderful powers and great kindness.
In 1911, Nana went to Shri.Anna Sahib Dabholkar at Bandra for a work regarding his son Ravindra's Job. There Nana saw a lovely photo of Shri Sai Baba. The picture was very captivating. When Nana asked the person who was accompanying him about that photo, he told him that that was the photo of Shri Sai Baba. After this incident, Shantaram Balavant Nachane took photo of Shri Sai Baba and started praying daily in front of that photo with an incense stick.
Before going to Shirdi in the year 1912, Nana paid a visit to Mumbai. There at the neighbour's house (Chaubal's) in Mohan Building, Haribhau Phanase had come. He was punished for six months regarding one case and had come there to appeal for release on bail. When he came to know that Nana was going to Shirdi, he requested him to tell about his problem to Shri Sai Baba. He also told Nana that he was innocent and was unnecessarily punished for no fault of his. Nana had decided to tell Sai Baba in the morning. However, after the morning Aarti, Baba himself told Nana without any provocation "tell him that he will be released on the appeal and not to worry about it!". By the time, Nana went back to Mumbai to convey the message of Baba, he was already released on the appeal.
In 1912 Nachane visited Shirdi for the first time. During that time, he had appeared for Revenue Subordinates Examination and before the results were announced, he went to Shirdi along with two friends, Sankar Balakrishna Vaidya and Achyuta Date. At the Kopergaon Railway Station, the Station Master heard about their proposed visit to Shirdi and started abusing Baba saying that unnecessary honour was given to a person who was supposed to be only a Magician. He also commented that good people are following Him without any gain. Listening to his remarks, Nana was a bit hesitant to go and started thinking "Is it worth going to see Him? Is He really great?". He had his doubts about Baba. Finally, somehow the trio reached Shirdi. The first sight that Nachane caught of Sai Baba was when Baba was walking from the Lendi Garden to the Dwarakamai Masjid. All of them including Nachane bowed infront of Baba. Baba looked straight in the eyes of Nachane and asked him "What? Have you come here without taking permission from the Mamaltedar?". To this Nana replied in the affirmative. Then Baba told him "Do not repeat this mistake". Nana was taken aback by Baba's reply and was really surprised about how did Baba came to know about his coming to Shirdi without the permission of Mamaltedar. In this way, Baba cleared all the doubts that had arisen in the mind of Nachane. He realized that Baba is an Antaryami and He knows everything. This was just a beginning of a series of similar experiences during his 3 days of stay at Shirdi. Each experience was convincing about Baba's Super Natural Powers and Kindness. Finally, at the end of 3 days, Nachane was fully assured and confident that Babas was indeed Dattavatar and not a magician.
In 1912, Baba proved His blessings on the entire family of Nachane. Once when Kaka Saheb Dixit, Bapusaheb Jog and Anna Saheb Dabholkar and Nachane were sitting with Baba, He pointed finger towards Nachane and said "I visited this man's home for a meal but he did not give me Okra vegetable". Then, suddenly, Nachane remembered about the Sadhu who came for meals 3 years ago and the related entire episode. Then he understood that it was Baba who came in the form of that Sadhu to help the entire family and reassured them of the safety of operation performed on his brother. Nachane then asked Baba about the outcome of the departmental examination that he had taken recently. Baba said "Allah Malik Hai" and placed His palm on Nachane's head. And with the blessings of Baba, Nachane passed in that examination.
On the 3rd day, when Nana and his friends were about to leave Shirdi, Baba was in furious mood. Nobody could comprehend as to why Baba was in such an angry state. Baba was jumping on the floor of the mosque. His eyes were red. Everyone present in the mosque ran away. Nobody dared to go near Him. After 15 minutes, He cooled down and after that, Nana and his friends asked His permission to leave Shirdi. Baba applied Udi to them and gave them permission to go. Nana experienced another blessings from Baba at that time. He wanted transfer from Dahanu to Mumbai very badly Baba Himself said, "Come to Mumbai for service". This was prophecy of Baba and took six years for its fulfilment.
Sai Baba advised Nana to keep Udi from Dhuni and He Himself applied to his forehead. Very few devotees were lucky enough to have such favour from Baba. At different occasion, Baba used to give proper advise to Nana and used to utter "Allah will help you" and bless him.
One day there was Aarti going on in Dwarakamai Masjid and Nana went there without his meals as it was Ekadashi Day - a holy day when many people observe fasting. Baba never believed in fasting. He asked Nana to go and have his meals. Generally, Nana was not used to keep fast on that day but because his friends were fasting, he also decided to do the same. Baba told him they are mad people and he better go and have his meal before Aarti. When Nana went for meal to the wada, the cook began to grumble as it was Ekadashi day and Aarti was not over yet. Hence, Nana quickly returned to the Masjid without food. Again Baba asked him "Did you finish your meal?". To which Nana replied "No Baba, I will take meal after the Aarti". However, Baba insisted that Aarti can wait and it will begin only after Nana's meal is over! Baba also told Nana "You do not meet God by fasting". So, Nana was forcibly returned to the Wada and told the cook of Baba's words. The cook then had to give him meals. When he went back for Aarti, Mavasi Bai had brought Vida (a rolled beetle leaf preparation which is often taken after the meals) for Sai Baba and He gave half of that Vida to Nachane. He was hesitant to eat that on Ekadashi day. However, Baba insisted and so he ate and then only the Aarti began.
Once Baba had stomach pain and Mavasi Bai was putting a hot brick on his stomach to get rid of that pain. Nana interefered and told her to do it slowly as otherwise Baba would get burnt! However Baba was angry on Nana for this and asked him to go out! This experience has been mentioned in the holy Shri Sai Satcharitra. However, Nana's name has not been mentioned in that incidence. Instead it has been described as one of the Sai devotees. However, His Holiness Shri.B.V.Narasimha Swamiji has mentioned the name of Nana in his work "Life of Sai Baba". The advise given here by Baba is that "Nobody should interfere in relationship between a Holy Teacher and His Student".
After the Aarti, Baba asked Nana for Rs.4 as Dakshina and He asked Rs.16 from Shri.Vaidya. Shri.Date was not keen to give any Dakshina to Baba and Baba also did not demand any Dakshina from him. However, one little girl wanted orange and was very stubborn about this. Baba knew that Mr.Date had kept some oranges fro himself in the Wada and He asked him to bring them. Shri.Date refused saying that he had kept them for eating during fast and hence Baba did not insist him again on bringing the fruits.
After Nana returned from his first visit to Shirdi, one of his friend Gopal Keshav Vaidya also visited Shirdi. He told his elder brother named Atmaram Keshav Vaidya to visit Shirdi. His brother was 42 years old and his wife was 38. Due to some trouble, she had not seen her husband's face yet! Both the family's were trying their level best to bring peace between the couple but wihtout any success. She was not ready to leave her mother's house. After Nana gave some offerings from Shirdi, on the same day, she returned home. She told her younger brother-in-law that this was her real home and there was no happiness in her mother's house! He was amazed after listening to her. The couple are leading a happy life and even have children!.
In 1913, when Nana was leaving for Shirdi, his friend H M Phanse, met him. He said he had been convicted and sentenced to imprisonment but was let out on bail and he was planning to appeal. He wanted Nachane to ask Baba to help him as he was innocent and in trouble. When Nana reached Shirdi, the early morning Kakad Aarti was going on in Chavadi. Baba was then in an angry mood. Yet, when He saw Nana and before any words had been spoken, He said, "Tell that fellow that he need not worry and he will be acquitted on appeal". Same thing happened later and Shri.H.M.Phanse was acquitted on appeal.
While in Shirdi Baba had told Nana "Do not trust any mad man". This simple parable of Baba had such a deep meaning but Nana did not realize at that point of time that the remark applied to him.
However, in the year 1914, Nana realized that Baba had told him this with some purpose. He was then posted as Treasury Master. He was at home busy doing his prayers in front of Baba's photo. A man named Ramakrishna Balwant Phanase, who was mentally ill, was standing at the door some distance away from the Prayer Room. He was considered to be harmless but he suddenly came and strangled Nana's throat saying: "I will drink your Blood". Nana was thunderstruck for a moment! But a thought entered his mind, evidently by Baba's grace and he thrust the spoon used for the prayers in his throat. That insane man however, bit Nana's hand and fingers which was in his mouth and injured him very badly but his life was saved. when Nana with his other hand was trying to remove the bitten hand, his mother and other members of the family ran to help and pushed the insane man away. Nana had lost consciousness for some time but then recovered from the shock. But the nails of that insane man had dug into flesh of his neck and had left marks of injuries which were healed after a long time. He had almost been strangled to death but luckily escaped on account of Baba's blessings.
Immediately after this incident, when Nana went to Shirdi, Baba called Anna Chichinikar and pointing His fingers towards Nana said, "Anna, If I had delayed even for a second, this man would have indeed perished. The mad man had seized his throat but I saved him. Afterall, If I do not save my own children, who else will?". This statement showed Baba's extreme kindness and love towards His devotees. This power of having His vigilance on al those who loved Him had been established by Him.
In the year 1914, Nana met Dr.Samant in Shirdi. They were both Sai devotees and enjoyed each other's company. Until the family stayed in Kurla, Nana's family members used to visit Dr.Samant's house regularly. Everyone used to address him as Dr.Bhau. He was an ardent devotee of Lord Ganesha as well. In his house, there were two photos, one of Lord Ganesh and another of Shri Sai Baba. Every Thursday there were prayers conducted in his house. Entire Nana's family members used to go on that day and enjoy praying to Lord Sai Baba. Dr.Anna Saheb Gawankar, Shri.Madhava Rao Deshpande, Devi Dr.Bhau and Nana used to sit and chat with each other and get delighted to be together. Bhau used to call Nana by the name of Nanasaheb with respect. Nachane's son Ravindra has learnt from Anna Saheb Gawankar's book that Shri.Madhavarao Deshpande, Shri.Nanasaheb Nachane, Prof.Narke, Tatya Kote Patil and Purandare were direct witnesses to Baba's cleansing of bowels or intestines.
Nana's neighbour Chaubal's mother had also gone to visit Shirdi. She was a very clever lady at that time. She asked her son to give change for Rs.1 so that she can give 50 paise to Baba. Her son gave 1 coin of 50 paise and 2 coins of 25 paise to her as change for 1 rupee. She kept 1 coin of 25 paise in front of Baba but He immediately reminded her that she was suppose to keep 50 paise and where is His another 25 paise! She was embarassed and gave Him another 25 paise.
Nana's friend Shankarrao's mother was about to go to Pandharpur. She decided to go via Shirdi and hence visited Baba. He gave her Udi and told her to return home. So she cancelled her visit to Pandharpur and returned home. When she started looking of Udi instead of that she found a powder same like that regularly given in Pandharpur. She was amazed to see that powder. Then Nana told her that she wanted to visit Pandharpur and hence Baba gave her the correct offering.
On 31st March 1915 there was another incident showing Baba's grace and protection to Nana. During night time Nachane, Santaram Moreswar Panse and some others were traveling in a bullock cart in a dense jungle near Ranshnet Pass. It was known to be infested with tigers. Suddenly the bulls were frightened and started going backwards. Luckily they were not dragging the cart sideways because it was a narrow road. If that would have happened, probably all of them would have died soon. They came to know the reason why the bulls got scared. Suddenly in front of their carriage they saw the gleaming eyes of a tiger on the road. Phanase wished to save the cart from being pushed into the ravine and so wanted to get down and place big stones as a brake to the wheels. So he asked Nana to hold the reins of the bulls. As he held them, he started praying "Help Sai Baba, Please Save Us!". All the other inmates of the Bullock Cart also stared praying to Sai Baba for help. The Tiger which got frightened with this noise of prayers ran away by the side of the cart. Thus Sai Baba saved all of them from being attacked by the tiger. It was faith that they had in Baba saved them from the tragedy.
In 1915, when Nana was visiting Shirdi again, his friend named Shri.Samant gave him a holy coconut and 2 annas to buy sugar candy to be presented to Baba. Nana gave the coconut to Sai Baba but forgot all about the 2 annas and the sugar candy. He asked Baba's permission to leave. Baba said, "Yes, you may go via Chitali but why keep poor Brahmin's 2 annas with you?". Immediately, Nana remembered the 2 annas given by Samant and he gave them to Baba. Baba said, "Whatever responsibility you undertake, either do it properly or do not take any". This was a very valuable advise applicable to everyone and to all aspects of life.
Another incident of Baba's prophecy was when Nana went to Shirdi with Shankar Rao Vaidya (Balkrishna Vaidya). Baba asked him for Rs.64 dakshina. He pleaded that he did not have money. After sometime Baba asked him for Rs.32 but his answer was the same. After a while, Baba again asked him for Rs.64 but he gave the same answer that he did not have that much money and he was not a rich man. Then Baba asked him to collect the amount and pay. This proved to be a prophecy.
Sometime later, in the year 1916, Baba fell ill. A big sapthaha was celebrated and it had to be followed by a grand feast to be given to all comers on a large scale.. Shankar Rao Vaidya and Nachane started collecting amount for the same. The collection then made by them totalled exactly Rs.64 and it was sent to Sai Baba later.
Once Nana's friend Ravaji Sakharam Vaidya's son "Moru" was sick with plague in a village called Rai. Nachane gave Baba's Udi to Ravji Sakharam Vaidya to apply to his son "Moru" and he was completely recovered.
In Dahanu, Parasharam Appaji Nachane used to stay as a Talathi. Once he fell ill. He has been to Shirdi before. He was suffering from Arthritis. Doctors and even Nana had given up hopes. However, Parasharam asked his mother for constantly praying to Baba and to keep lighting a lamp in front of His photo as well as to keep praying with Incense sticks. His mother also prayed to Baba whole heartedly and told Him to cure her son and promised Baba that he will definitely come to Shirdi after his recovery. He was completely cured.
Once Nana was talking with Shri.Ganesh Vaidya about Sai Baba's stories. He was telling his own experiences. When they were looking for a husband for their younger daughter, Baba came in his dreams and told him that there is a son of Shri.Keshav Dixit. He did not of any such person but when he got up, he started looking for Keshav Dixit. After enquiring few places, his younger son realised there is a man with same name working in his office. It was exactly same as described in his dream. Finally, Keshav Dixit son and Vaidya's daughter got married as prophecied by Baba.
Nana's father Balvant had some medical knowledge. Parashuram Appaji Nachane was the Chief of Dahanu village at that time and he fell ill. Doctors had given up hopes of his survival. However, he prayed daily in front of Baba's photo and kept constant burning light of Nandadeep. After a few days, he was completely cured.
In 1916, by Baba's grace, Nachane was saved from a watery grave. There was Plague at Dahanu and Nachane had daily to cross a creek between his house and his office. One day he returned from the office very late and there was no ferry boat. He then took a toni (Tamil "thoni" or Canoe) with a boy to paddle, and it got upset in the middle of the creek and both of them fell in the water. Nana started praying Sai Baba to save him. The boy was a good swimmer. He asked Nana to hold on to a rope of that canoe so he could float with his head above the water. Then, after taking help from a few others, he brought Nana out of that water and his life was once again saved by Baba's blessings.
Approximately in the year 1915-1916, Nana got married with Late Smt.Janaki Bai daughter of Shri.Vaidya. He went to Shirdi with his wife and mother in law and offered a coconut to Shri Sai Baba. Baba returned the coconut to the wife with His blessings. While giving that He had tears in His eyes. The reason for these tears was not understood at that time but Nana realized this reason during the years 1922-1927.
In 1917, Baba had blessed Nana and his wife by giving holy coconut to them on their visit to Shirdi. After Baba's Maha Samadhi Nana got his first son Kaluram in the year 1919.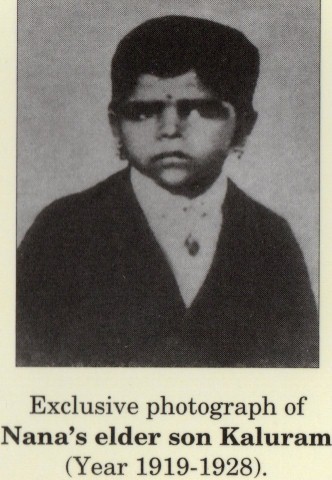 In 1918, Nana was transferred to Bandra a suburb of Mumbai. Nana left office without permission to Shirdi and this was noticed by Mamaltedar Shri.B.V.Dev. During that visit Nana indirectly received advise and teaching from Baba who asked him "Do not take any leave without permission of your Line Manager". He merely gave him warning and no punishment. After that Nana visited Shirdi regularly but with permission of seniors.
The daughter of Shri.Kelkar had constant tears in her eyes. When they took her to Baba for remedy he advised to use juice from onions into ther eyes. While he was worried about how to get onions he was told by Baba to get them from Nana's mother in law. But the same morning while Nana's mother in law was cooking with onions, Shri.Kelkar had abused her with words as he could not tolerate the onions. So he was embarrassed to ask her onions for the remedy. However, he asked and used them which cured his daughter's eyes. He learnt a lesson from Shri Sai Baba that one should not hate or criticise other just because they are eating onions.
In 1919, Nachane was blessed with a son after Baba gave his wife the coconut (during their visit in 1917), with blessings from his mouth and with tears in his eyes. They named him Kaluram. He was born during "Moola Nakshatra" (supposed to be unfavorable stars) and this was seen first when he had completed 2 years and started 3rd year of his life. Sai Baba wept while blessing indicating that Kaluram had a short life span of eight years. Kaluram breathed his last in the year 1927.
From 3rd year, Kaluram started chanting "Ram Hari Ram" the name of God. He was amazingly intelligent and a great devotee of God. It seemed that mother died after giving birth to a great devotee. Mr.Hegde, a neighbour, considered him as an Avatar of one of the playmates of Lord Krishna in the Dwapara Yuga. Hegde used to read a holy book called Harivijaya and Kaluram used to predict exactly what would be read by him next.
One day, Nana saw Kaluram sitting motionless in one corner of the room with cloth cover over his head and his eyeballs upturned. He was sitting peacefully like a saint. When Nana asked him the reason for covering his head, he said "this is our usual course of sadhana" and when he asked why you are doing this sadhana then Kaluram just laughed but Nana was astonished after seeing his expressions of a great devotee.
From a magazine called Sandesh Kaluram cut the pranavakshara 'OM' and from an advertisement he cut the picture of "His Masters Voice" and stuck both of them on the wall next to him. Then Kaluram had a short conversation with Nana as follows:
Kaluram: What is this ? (showing the picture)
Nana: It is the advertisement of a gramophone.
Kaluram: No this is a special message from Krishna.
Nana: What is the message?
Kaluram: What is dog in the picture is hearing?
Nana: He is listening to his Master's Voice.
Kaluram: Look at the dog intensely concentrated and intensely lisening. We must be like him equally firm and concentrated and sit like him. See how I sit. You should also sit like that and listen. Then you will hear Baba's voice.
Nana: How do you know Baba's voice? You were born after he passed away.
Kaluram: I know it but I will not tell you. You experience it yourself.
Kaluram used to chant "Hari Hari Ram" and used to write this on various pieces of paper. When Upasani Baba came to Andheri all these pieces were given to him. Even famous Gadge Baba came to see Kaluram. So the readers can imagine how great Kaluram was!
Sai Baba in his 11 Sayings has mentioned that He will always exist in spite of His Body passing away and this advise of Baba was experienced by Nana through his young son Kaluram.
In 1920, Nana met Saint Panchalegaonkar Maharaj in Shirdi. Nana felt through him Baba suggested Nana to go to Devpur. Even before this Baba had advised Nana to go to Devpur and said to him that your four generations are worshipping the stone there in Devpur. Panchalegaonkar did not know Nana. However, when they met, he immediately asked him whether he had been to Devpur?. Nana was surprised by his question and said he still has not gone there. Then he asked him "Why?". Nana answered that in his family there is no one elder than him for that Guru family in Devpur. Maharaj said to him "So what? My Guru is younger than me. His name is Doifode and your Guru's name is Bhagavat". Then he promised Nana that he will arrange for him to see his Guru. Considering this as Baba's wish Nana went to Devpur. As promised, Maharaj came to the station and pointing finger to one 8 year old boy said, "That is my Guru and his name is Sripad Ramakrishna Doifode".
In 1922, i.e., one year after Kaluram's mother died, Nachane's parents were arranging for his second marriage. Two types of girls were chosen. A choice had to be made between a girl that would bring some wealth or pecuniary contribution with her and a poor girl. Father of the rich girl was about give good money to Nana for the wedding and so Nana's father was in favour of that girl. However, Baba appeared in Nana's mother's dream and said to her to get Nachane married to the poor girl she saw in her dream. Accordingly, the poor girl was married to Nachane in 1922. Her name was Late Smt.Indirabai.
On 3rd December 1923 Nachane was seated in his house at Andheri, facing the road watching traffic. One Mr. Noel was driving his car along the road. A little girl, daughter of Vittal, was knocked down by the car. As Nachane saw it he just prayed, "Baba, save her". The car stopped, Nachane went down and picked up the child and took her to the hospital. The stopping of the car before the child was crushed was a miracle. The break in the car was not working. Then on examination it was found, though the break was not put on, a stone had somehow got into the gear and that was how the car suddenly stopped in time. Looking at the injuries to the girl, the Sub-Assistant Surgeon feared they would prove fatal. But Nachane told him, "Sai Baba would save her". She continued as an inpatient in the hospital for fifteen days and she recovered her health; but her power of speech was not restored. That continued to be her condition for nine months. Then Das Ganu came to Andheri and Nachane told him the facts. He told Nachane to give her Baba's Udi again for restoring her speech. Nachane again gave her Udi. The next day she began to speak!!.
In 1926, Nachane's son, Sainath alias Hareswar, was eight or nine months old. Kaluram had crackers and Bengal matches. One of the children threw away a lighted match. It fell on Sainath and his bed and clothes caught fire. Nachane's wife was outside the house people were engaged with something. Suddenly a Fakir appeared before her and pointing his arm and finger towards the terrace on which the children were playing, said "See what is going on there." Nachane's wife at once went inside and noticed the fire on the child's clothes. With great presence of mind and resourcefulness, she ran to the child, seized the clothes and rolled them between her palms and thus boldly extinguished the fire. Thus the child (Sainath) came off entirely scatheless. When she came out to thank that Fakir, she could not see anyone. The Fakir had suddenly disappeared. However, Nana was convinced that Sai Baba came as Fakir and saved his son.
In the same year 1926, Kaluram fell very ill. He also started getting fever and his condition worsened. He called Nana and asked him to bring Dyaneshwari. It was Kartik Shuddha Ekadashi day - a day celebrated by thousands of pilgrims at Pandharpur. Nanas' hands were shaking and he could not open the book. Then, Kaluram himself opened the book and asked his father to read Chapter 13. At that time, Nana was feeling very sad of the approaching end of Kaluram. But, Kaluram cheered him up and said "What is there to cry for? Read this chapter to me. I am saying goodbye to you now". Due to extreme sadness, Nana was unable to read that. Then Kaluram kept the book in front of him and took his last breath. Such a pure soul was bound to die on such an auspicious day. Nana now realized why Sai Baba had tears in His eyes.
In the same year 1926, Baba came in Nana's dream and asked him to tell Barrister Kothare that he should not be doing what he intended to do. Nana did not understand what He meant but gave the message from Baba to Barrister Kothare. He thanked Nana for the message and told him that he was about leave his family and take sanyas. Due to this message from Baba, he cancelled his plan!
Nana used to always telll his offsprings that his parents were devotees of Sai Baba. Nana's mother died at the age of 70 years in the year 1926. Untill her death, she was holding Sai Baba's photo in her hands. When her end was near she called Nana and asked him to chant thousand names of lord Vishnu known as Vishnu Sahasranamam. After the chanting of Vishnu Sahasranamam was completed, she said "Ram Ram" and passed away.
In 1928, Sainath, then two years old, had an accident. As usual he was running about; and one day he fell down the stairs. There was a heap of the debris at the bottom, Nachane ran up and was surprised to see his son standing without any injury at all. He told Nachane, "Do not fear. Baba bore me up."
In 1929, Nana's second wife died. For all religious rites he had to got to Nasik. He did not have any idea about the expenses. He kept his son who was 3 and half years old at home and went with Rs.80 to V.T.Station from there he could go to Nasik. In the train another passenger was sitting next to him. He did show sympathy and wished to help him and started asking him some questions:
Passenger: Where are you going?
Nana: To Nasik.
Passenger: The weather at this time of year is cold there. Have you taken any blanket with you?
Nana: I am not in a condition of thinking about blanket. Eight days ago my wife expired leaving three and half year old son behind.
After hearing these words, the passenger went out and got a blanket for Nana.
Nana: How did you get this so quickly?
Passenger: I am staying in Bombay Art School which was very near from this railway station.
Nana: What is your name? What do you do for living?
Passenger: I am peon in that school. My name is Ganapati Shankar. Please do not worry. I will wake you up when Nasik comes as I am also going there.
Nana: What are you doing in Nasik?
Passenger: Nothing much. As my boss has gone to Shimla, I am talking the opportunity to see Nasik.
When Nana was about to lay down over the bench, the passenger said: "Please take care of your money. Otherwise, give them to me and I will keep in my trunk". Nana gave money to him and slept. When Ghoti Station came he woke him up. After brushing his teeth, Nana had some tea brought by him. The money for the tea was given by him. When Nasik came, they both got down and went to Nasik town by bus. He told Nana not to go to priest by himself and said he will sort that out. For 12 days, he got all the religious rites performed by the priest. He told the priest to start the rites after doing Ganesh Puja first. Priest said that it wasn't necessary but he took him to another priest for opinion and the second priest agreed to the programme explained by Ganapati Shankar. It seemed as if he knew all about it. He told the priest to take the Pinda (a lump ball made of Rice, Til etc..) to Ramkund first and told to immerse the ashes in the river holding in both hands. They immediately dissolved in water. After that ceremony, he took Nana to the main temple there. The priest from that temple knew Ganapati Shankar. After finishing, he gave account of all the money used to each and every penny spent. Then he went back to Mumbai. He gave his address to Nana and promised to come to his place in Andheri to meet him. Many days passed but he did not come. Hence, Nana went searching for him. However, there was no peon named Ganapati Shankar in that Art School. Nana even went to the Principal but he also did not know anyone working by that name! Now Nana was sure that Shri Sai Baba came to help him in his difficult times!!!
After Nana's second wife expired in 1929, there was nobody to look after his 3 year old son Sainath. So in 1930, the elders in the family got Nana married with the daughter of Shri.Govindarao Dixit named Smt.Gulabbai (born in the year 1912). Her name after marriage was Smt.Indirabai.Several children were born of this marriage and with Baba's blessings are getting on well. Their First Son Vasudev was born in 1932.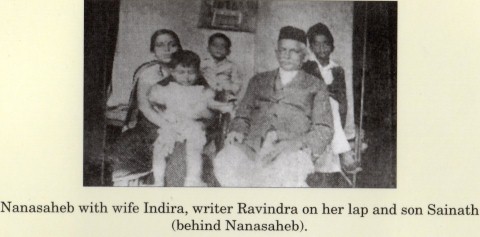 In 1932, Sainath gave his younger brother Vasudev a ring and the latter stuffed it into his mouth instinctively. The ring went into the throat and stuck there. Everyone was scared. Doctor gave him medicine but nothing happened. At last Nachane took Sai Baba's Udi and put it in the child's mouth. Then inserting his finger deep within his mouth, he felt the ring and pulled it out.
In 1934, the same child Vasudev had measles, pneumonia and an abscess on the chest. As he was very weak, Doctor Adhye did not want to operate on him for that cyst. The cyst burst and then there was an open wound. So Nachane relied upon Sai Baba, and trusting in him put a bit of his Udi into the wound. Nachane's friend Deputy Collector Shri.Vasantrao Jadhav, asked him whether Udi can cure this and how long will it take? Nachane asnwered "24 Hours". Sai Baba came in his dream and said, "You should have told immediately, why 24 Hours?". Nana apologized to Baba for that. Next morning, the wound was healed up. Vasudev still has fingerprint of Nachane's thumb on the affected area. Jadhav wondered and wanted Baba's Udi and blessing for his own daughter aged 4 1/2 years who was down with pneumonia. Nachane gave him the Udi on the sixth day of that child's fever. The very next day the fever stopped, though the attendant doctor stated that the fever would run its course for 9 days (i.e., that it would last 3 days after Nachane gave the Udi). Jadhav sent up his thanks offering of Rs.7 to be sent to Sri Sai Baba's Sansthan.
A Cashier from Nana's office was short of Rs.3500 and could not make out his mistake. He was very worried. Then his friend sent him to Nana. The cashier thought that Baba was a Muslim and so was not ready to accept Him as a Saint. Nana told him to go to Shirdi and pray. He went to Shirdi and took Baba's photo from Shri.Sagunrao Naik and prayed on His Samadhi. To his utter surprise, he found the difference when he came back from Shirdi. He got some time to pay the money and did not lose his job.
Another person called Chitnis was sacked from his job and he came to Nana for help. He gave similar advice to him as well and after doing that he was called back on his post.
In 1935, Sai Baba saved Nachane's two-year-old son Anand from hot boiling milk when it accidentally fell on him. This year, i.e., 1936, Vasudev and his younger brother rummaged among the contents of an almyrah and found a box full of what they thought to be peppermint lozenges. Vasudev ate some and gave some to his younger brother. It was "Pharoah's snakes" - the piece of fireworks that burn out forming ashes that lengthen and wind about in the form of snakes. Then Nachane gave Baba's Udi and Tirtha - which acted at once and resulted in his vomiting out all the poisonous stuff he had swallowed. Nachane administered baba's emetic, viz., Udi and water with Baba's name to him and he had a good vomit too.
Ravindra was born in 1936 and followed by Vijay and Shrikant. Sainath and Vasudev came to Mumbai for jobs and Ravindra stayed with his uncle at Dadar and continued his education. Ravindra's younger brothers, Nana and mother stayed in Umbargaon. Since Nana's family was large, they needed a bigger place for all them to stay together. Hence, the family shifted to a residence in Mahul near Chambur in the year 1950. Nana started working at Khot's place in Mahul. Nana used to say all this conicidence is brought about only the grace of Shri Sai Baba.
During Nana's family's stay at Mahul, there was an Umbar Tree near Nana's house where Nana had kept Shri Datta and Shri Sai Baba's photo under the tree. Twice daily he used to light a lamp, put an incense stick in front of it and used to do Pradakshina around it. He used to say that Baba has arranged this for him.
During their stay at Mahul, Nana's children used to listen to the stories and experiences of Sai Baba from Manikrao who was Chief of the Village of Mahul. When Manikrao used to narrate the experiences of Sai Baba, Shri.Kasam who was in Customs, a Villager by name Krishna Patil, Peon of Khot Shri.Janu Mhatre, Shri.Dayanand Shaligram Maharaj who was disciple of Nityananda Swami also used to join them. Shri.Dayanand Shaligram Maharaj had comitted some mistakes for which he had taken a vow not to speak for 3 years. After 3 years, he requested Nana go go to his Guru and when Nana went there his Guru said he has completed his punishment and gave him his "Holy Padukas" which were worshipped on Guru Poornima Day. Even today, every year on 30th November, prayers are performed in remembrance of this occasion.
Shri.Dayanand Swami gave Nana a Holy Cow, a ring displaying photo of Shri Sai Baba and small statues of Goddess Laxmi, Vishnu and Shivalinga. These articles are still preserved in the pooja room of Shri.Ravindra Shantaram Nachane. When the Cow was about to give birth to a calf, she got stuck in mud. She fell ill and the calf died in 3-4 days. She came near Nana and caressed him had tears in her eyes. Nana caressed consoled her that he has realized both of them are not likely to live longer. Exactly, as predicted by Nana the cow died within a month and after that he surrendred to Sai Baba.
Around the year 1940, when Nana's family were staying in Kurla, there was a Pathan who was punished for his crimes. Nana had to explain his punishment to him. He misunderstood Nana thinking that he is the one to punish him. After his punishment was over, he followed Nana with his sharp knife. Nana was walking towards home from his office. He was about to stab Nana from behind but luckily one police constable was sitting near the shop in front and he saw this. He immediately held his hand and shouted "Nanasaheb Beware!". Nana was thus saved by Baba's blessings. Baba really loved Nana. He was very dear to Him and so He saved him from the mad man, the tiger, at Dahanu while crossing the river and from Pathan. There are many more examples like these!
This incident happened in the year 1940. Whenever there was any auspicious ceremony in the family, Nana used to first give invitation cards to his 'Family Goddess' and then to Shri Sai Baba and after that only used to distribute to his relatives and friends. He did the same thing during the Thread Ceremony of his son Vasudev. Nana went to Shirdi for giving invitation to Baba. Nana had a dream vision wherein Baba had indicated to him that He would attend the thread ceremony. On the day of Thread Ceremony, when everybody started eating food, one Fakir came.Nana's Elder brother Anandrao was angry and told Nana that Baba has passed away and that he is making a Fakir to sit with all the family members unnecessarily considering him to be Baba. After food, the Fakir called Vasudev and gave him a Rs.2 coin made up of silver and with the king's head emborsed on it and went quickly to dispose the plates. Nana noticed that and immediately went looking for the Fakir. However, He had disappeared. At Night, Nana had a dream vision. Sai Baba came and told him that He attended the Thread Ceremony and had His food as well!
After Nana retired Nana and his family came to Umbargaon where Nana's wife's brother was staying. It was a big family living on a small pension of Nana. So, he was worried and was praying to Baba for help. At that time India became independent and Nana got the job again. This way Sai Baba again helped Nana's family.
Nachane's 2nd son Sainath was married in the year 1956 with Late Smt.Sunanda. They had one son Shri.Subash who was born in 1957and 2 daughters namely Smt.Shubangi and Smt.Nandini Rajesh Shrungarpure. Shri.Subash is married to Smt. Charu. They have two siblings namely Master Kunal and Kumari Ankita. Smt.Shubangi was married to Late Shri.Anil Subnis. They have two siblings: Son Shri.Ankit Anil and Daughter Smt.Amruta. Smt.Nandini is married to Shri.Rajesh Shrungarpure. They have one son namely Shri.Rohit Rajesh.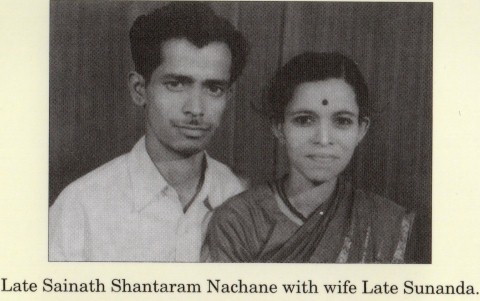 Ravindra Nachane's wife had come to Umbargaon before their marriage. At that time Nana had told her that she will get a Government Job. After their wedding, when they were staying at Thane, there was a call for interview for her from Collector's office. Out of 20 ladies, 3 were chosen and she was one of them. Thus, by Baba's blessings again, Nana's prediction had come true.
Shantaram Balavant Nachane alias Nana passed away in the early morning on 26th June 1958, Thursday at Mahul Village, Chembur, Mumbai. It was raining heavily on that day. Nachane's relatives who started in the morning reached late in the evening due to heavy rainfall. Nana had told the peon Shri.Janu Mhatre to cut the Mango tree in front of the house for his last rituals. The family members objected to removing the mango tree. But Shri.Janu Mhatre insisted that Nana had told him and he will do as per his last wishes. Finally, he got that tree cut with the help of others. Due to heavy rain, the tree was wet. Inspite of this, it burnt properly during the cremation. The rain had stopped when the cremation took place. Everyone realized that all was happening due to the blessings of Shri Sai Baba.
Nachane's second wife Gulabbai alias Indirabai passed away peacefully on 30th December 1989.
Nachane's second son Sainath (alias Hareshwar) passed away in the Chaitra Masa of 2000.
Due to constant companionship with Shri Sai Baba, Nana was able to predict the future of a person by just looking at him. One example of this is as follows: Once a girl by name Tara who was the daughter of Shri.Prabhakar Chaubal came to Nana's house and prostrated to Nana's feet. Looking at her Nana said: "You will get a husband who has his own Bungalow" and the same thing happened. She became daughter in law of Shri.Rao Bahadur Chitre. She lived until the age of 86 and expired on 21st February 2010. Her name was Sulbha Jayant Chitre.
Even after Nana passed away, Shri Sai Baba is still taking care of his entire family members. When Nana was alive and after that as well, Baba has always protected Nana's family members and always taken care of the family. The family members have cultivate the practice of putting Udi of Baba whenever they go out for any type of work and are getting successful in their work. Shri Sai Baba has saved Nana's family members at difficult times. In a letter written by Shantaram Balvant Nachane to Shri Anna Sahib Gawankar, Nachane has written about how he and his friends discussed about Udi and also experienced the power of Udi on the same day at a function which they attended and the same has been published in Sai Leela Magazine of Shri Sai Baba Sansthan in the year 1926.
Nana and Indirabai had in total six children from the marriage. They were: Shri.Vasudev, Shri.Ravindra, Shri.Vijay, Shri.Shrikant, Shri.Prakash and Shri.Satish. They had no female issues from the marriage. Except for Shri.Vasudev, Shri.Ravindra and Shri.Shrikant, other 3 sons of Nana are not alive now.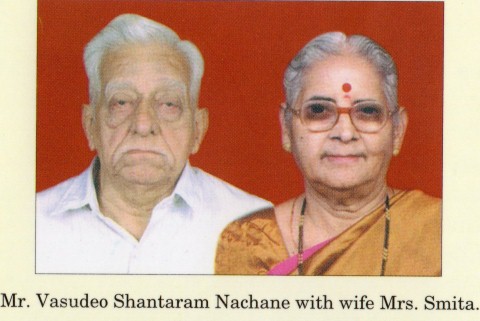 Shri.Vasudev was born on 9th July 1932. He is married to Smt.Sunita. They have one Daugher Smt.Sadhana and one Son Shri.Sachin who is married to Smt.Snehal.
Shri.Ravindra was born on 3rd May 1936. He is married to Smt.R.Usha (born on 20th July 1937). They have 3 sons namely Late Shri.Sandeep (4th August 1916 to 9th December 2014), Shri Atul (25th November 1962), Shri.Manoj (8th November 1964) and one daugher Smt.Swati R.Karnil (10th December 1967).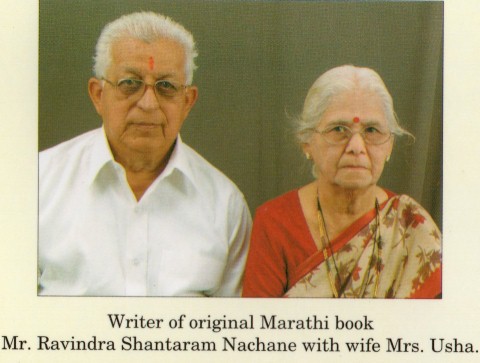 Shri.Ravindra Shantaram Nachane shares some of his experiences with Shri Sai Baba as follows:
During Ganesh Jayanti every year, the Nachane family will always hold a family get together. In the year 1988, the family had brought Ganesh statue for praying in the house. There was still time for placing the Ganesh statue and doing Prana Pratishta for pooja purposes. Ravindra Nachane's wife and his sister-in-law were frying puris. Ravindra's elder daughter-in-law Smt.Shamika Sandeep was cooking the rest of the food. Ravindra's younger brother Shrikant's daughter was 9 years old and had a learning disability. She was trying to get something from the shelf. Suddenly, the shelf fell on Shamika's shoulder. Only one bottle on the shelf fell down and the rest stayed on the shelf itself. Even that bottle fell and broke near the stove. If the bottle would have fallen on the fryer, there would have been a terrible accident! However, fortunately, Sai Baba saved the entire family members from that accident and no one was hurt! It was indeed a strange experience of Baba's blessing on the family!
On 21st May 1991, Ravindra Nachane's daughter Swati (now Swati Nitin Karnik, Badalapur) was getting married. The family members decided to give first invitation to Shri Sai Baba and went to Shirdi for that. Ravindra Nachane wanted Shri Sai Baba's photo from Dwarakamai. When the family members came out of the temple, the same photo was for sale on the stall run by the Sansthan. Ravindra's daughter Swati, also wanted one photo. So they bought two photos from Sansthan stall. One was kept in the house and one was kept on the wedding day with the offering material. Everything on the wedding day went on smoothly, the wedding procession reached Badalapur and then the news of the sudden death of then Prime Minister Rajiv Gandhi came. If the news would have come before the wedding then it would have been a big disaster for the wedding. However, Baba Himself, through His photo, attended the wedding and so the wedding ceremony was safely and happily completed without any problem.
Ravindra Nachane's family members have the practice of applying Udi on the forehead before they step out of the house. One day, Sandeep, Ravindra's son, forgot to do it as he was late for work. Half way to work, he realized his mistake so he went back home and applied Udi and then went to work. On the same day, he felt like going early for lunch by 2 minutes only. As soon as he left, the ceiling fell on the place where he was sitting. Everybody thought he was injured! But he came out wiping his hands from the kitchen. Friends were happy to see him safe! Of course, it was Sai Baba who saved him!
The Priest who works for Shirdi Sansthan Shri.Uday Valunjkar visits Ravindra's house whenever he comes to Mumbai. However, the family had not seen him since last 4 years. Ravindra's wife had a heart attack 2nd time. Doctors told the family members that she will need Angiography. Ravindra's son Sandeep requested doctors to do the test on Thursday if possible. They agreed and gave appointment at 9 am. To the utter surprise of all family members, on Wednesday, Shri.Uday Valunjkar came with Udi and offerings from Shirdi to our home and then went to Mumbai. On Thursday, Ravindra's wife was applied that Udi. The report of Angiography was completely normal, thereby she was saved from undergoing a Heart Bypass Surgery.
In 1996, once Ravindra was visiting his brother in Dombivali. On his return journey, the train did not halt at the usual platform at Thane station. Instead it halted at the opposite side. There was a lot of rush for getting down and so Ravindra started getting down on opposite side of platform. Suddenly, Ravindra realised that there was a hole and gutter on that side. Ravindra was unable to climb on the platform. On top of that another train came from opposite side and people started shouting at Ravindra to come quickly on the platform as the train was fast approaching! Ravindra was very scared and suddenly realized that somebody was pushing him over the platform and the train entered afterwards. Ravindra was very much certain that there was no one else but Shri Sai Baba who saved him!
Ravindra's daughter Swati's father-in-law had a flat in Badalapur but far away from the station and attempts to buy another one near station was unsuccessful. One day, her brother-in-law's friend, who could predict the future came to their house. When he saw Swati he said she has got blessings of Shri Sai Baba and everything will be alright with them. In a few days, they purchased a flat near the station. Due to increasing number of buildings built around and the trees, that flat had darkness even during daylight. So they decided to sell it and buy another big one. However, they were unable to sell it. Many buyers came but nobody was ready to buy. Then Swati prayed to Baba and vowed that she will fast for 5 Thursdays but requested Baba to get a buyer for the flat. On first Thursday only while she was about to do Aarti, one buyer came. He liked the house. Next Thursday, he gave some deposit. Baba appeared in Swati's dream and told her not to worry. On 3rd Thursday, the remaining amount was paid and the next Thursday, she was in the new house. this incident also shows clearly that Nachane's family has Baba's blessings and He was still with their family.
Ravindra has assimilated the nectar of knowlede from Sai Baba in the year 2000 when he had gone to his son's house in Reliance Colony at a place called Rasayani. Ravindra used to love Sardines (a variety of fish) and so his son bought them for Ravindra and Ravindra was busy cleaning them. When Ravindra returned to Thane at midnight and he was fast asleep, he saw Sai Baba asking him for an explanation when he said: "who had given you the right to kill those Sardines?". Ravindra apologized for it and mentioned to Baba that he will not repeat the same mistake again by which time he suddenly wokeup from sleep. After that incident, Ravindra has stopped eating live fish like Crab, Sardines et....

Shantaram Balavant Nachane never publicised the fact that he had met Sai Baba. He had purchased the first edition of Shri Sai Autobiography which was published in 1930 for just 2-1/2 rupees. The family has kept the copy in their pooja room, prayed and read it regularly. In the year 2006, Ravindra decided to read 2-3 chapters daily and complete it by Shravan month. On Shravana Ekadashi, Shri.Arun Vishwanath Joglekar who was staying in the next building, asked Ravindra whether he has the 1st edition of Shri Sai Autobiography. Ravindra replied "Yes. I have got it. But I do not touch it after I have done my prayers. I can show it to you after Shravan month". When he saw it, he informed Shri.Madhukarrao Joshi of Poona who was a freedom fighter who was aged around 81 years at that time. He phoned Ravindra to let me know that even Shirdi Sai Baba Sansthan has not got that edition of Shri Sai Autobiography! He was trying for the last 40 years to get hold on this holy book of Sai Baba and still was unable to find the first edition. He then asked Ravindra he will permit him to get a xerox copy of the first edition. Considering his age, Ravindra agreed for it. Then he sent Shri.Vivek Gupta - Marketing Manager of Bharat Petroleum to fetch the xerox copy. Ravindra requested him to return the book before Ganesh Pooja which was just 4 days away from then and that before bringing the Idol of Ganesha the family members have the practice of offering prayers to Shri Sai Autobiography. He promptly returned it on time. He also gave one extra copy to Ravindra and another to Shri.Joglekar. Vivek Gupta also gave one copy to his Guru Shri.Chandrabhanu Satpathy. Sathpathy's disciple and editor of Sai Anand Magazine (which was published by Kaka Saheb Dixit Trust) Smt.Shubangi Jawale came to pray this holy book and the holy Silver Padukas. Shri.Madhukar Joshi also sent Shri.Anil Shah for the same. Shri.Anil Shah invited Ravindra's family to visit Poona for Vardhapan day of Sai Temple there. Ravindra went there with Joglekar and there they met few other devotees like Shri.Anna Adkar, Smt.Mai Adkar and Shri.Raut. They also enjoyed the programme of Sai Baba in Poona at the base of Shivneri and met other Sai devotees as well. Smt.Jawale introduced Ravindra to Shri.Samir Phanase. He visits Ravindra even to this day. Ravindra, Shri.Sameer Phanase and Shri.Sanjay Jadhav visited Shirdi on 12th June 2007 and there they met Smt.Vinni Chitluri who is a great writer. They really enjoyed meeting all these devotees. When Shri.Joglekar informed Madhukar Joshi on phone about his first visit to Shirdi, he told him to take this first edition to Shirdi and give it to them and all his arrangements of staying at Shirdi was done. This way Shri Sai Baba got all his devotees together.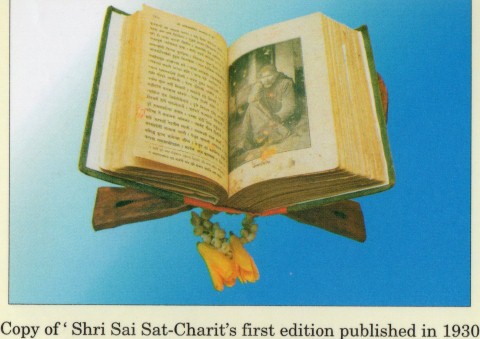 Whenever Ravindra goes to Shirdi, He will not forget to pray near the board where Shri.Anna Chinchanikar and Smt.Chinchanikar's name is written. He has read in Baba's book regarding Baba and Anna Chinchanikar. Baba saved Nana from attack of a mad man as mentioned before but it was Anna Chinchanikar to whom he said if I was even a second late then Nana would have died. If I will not save my children then who else will?
Shri.Chinchanikar wanted to build a Sai Temple and when he asked permission from Baba, He replied to build in Chinchani only and He assured that He will be there. After reading that Ravindra felt like visiting Chinchani Temple.
Suddenly on 6th June 2007 at 9 am Ravindra felt like visiting Chinchani. So by 9:30 bus he went to Bhynder. He immediately got Virar train of 11:18. From Virar at 11:55 he got a shuttle train going to Dahanu. He got down at Boisar station at 1:15 pm. He was confused now wether to go to East sie or West side to look for the temple. Ravindra saw one man sitting there and so he asked him. He told Ravindra that he was asking the right person as he was also a Sai Baba Devotee. He also informed Ravindra that the temple is on the West Side only. Then he explained to Ravindra how to get there. Then that person went home. Ravindra had bought some Pedha's from Thane but he did not have scented sticks or garlands of flowers. There was no shop to be seen around. Also that Sai devotee had told Ravindra that the temple would close at 12:30 and reopens only at 5:30 pm. He had also told Ravindra that if he had that dedication to Sai Baba then he might find that the temple is open. On his way to the bus depot, Ravindra saw a shop of Betel Leaves. There he found scented sticks. Further on when he peeped in one of the lanes, he saw a lady buying garland of flowers. So Ravindra went there and bought a lovely Jasmine flower's garland. Further on his way, he could get a vehicle used for 10 people to go upto the border of Vangaon Naka and Boisar. The man sitting near him asked where he wanted to go. Ravindra answered to him that he was going to Sai Temple at Chinchani. So he asked Ravindra whether he was looking for the temple built by Anna Chinchanikar alias Babare. Ravindra nodded "yes". Then both of them went by another Rickshaw and that person did show me where the temple was. Ravindra climbed the steps of that temple but it was closed. He decided to wait until evening when it opened. At the door of the temple the priest and a few people were sitting. The priest opened the main door of the temple. Ravindra washed his hands and feet and then entered the temple. The inner part of the temple was locked. So he kept the sweets, scented sticks and flower garland in a plate kept there. After seeing that of the ladies said if he has brought the garland, then it is better that he put it in front of Sai Baba. So the priest opened the inner door as well. Ravindra prayed with scented sticks, flowers and gave sweets, then came and sat outside. The priest told Ravindra that generally they don't open the door unless it is Thursday, however, it seems like Baba instructed him to open it. Also, usually the temple closes at 12:30 but that day they were just chatting outside and that was the reason why Ravindra could find part of the temple open. It was as if Baba's orders to them. Even Ravindra's return journey was safe and happy. Ravindra reached home at Thane at 5 pm. It was as if Shri Sai Baba took ravindra by holding His hands and brought him safely back home.
This incident happened on 13th July 2007, Friday. Shri.Prakash Joshi from "Saikripa Industrial Cleaning" phoned Ravindra on Monday. He was told by Shri.Anil Shah that the 1st edition of the holy book published in 1930 was with Ravindra. He wanted to know Ravindra's convient time so that he can come and see that holy book and pray. Ravindra told him to come anytime convenient to him. So he agreed to call Ravindra before coming to meet him. On 13th July Ravindra was going out for some work. His wife Usha was praying in the Prayer room. The family had decided that only on Thursdays they will pray the photos so it will not be very time consuming procedure. However, when Ravindra returned, his wife Usha was praying the photos of Shri.Gajanan Maharaj. Ravindra got angry at her for that. The couple had heated arguments over the matter. However, Baba did show Ravindra his mistake on the same day. Shri.Prakash Joshi phoned and came that day. He prayed in the front of the holy book and the holy Silver Padukas. Then, before leaving, he gave Ravindra 2 CD's on Sai Baba - 'Sai has called you' and a book called 'Peeun Ghe Re Samast' (Drink & finish it all). While glancing at the book on page 36 a chapter called 'A bowl of nectar' mentioned the following lines and Ravindra was amazed to see the lines that were saying: "You should not stop anyone from praying their favourite God and should not say anything to them". Ravindra immediately asked forgiveness from his wife and God Shri.Gajanan Maharaj. This incidence clearly showed Sai Baba's present existence in this world and experience of His proper guidance at the right time.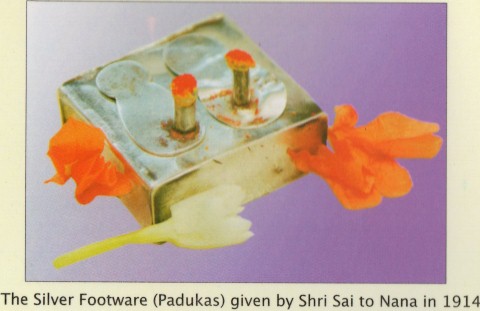 On 4th October 2007, after finishing his prayers at about 11 am, Ravindra went to receive a phone call and was sitting on the chair which was underneath Baba's photo. However, he could not hold the receive in his hands. The glass of water spilled over his body. Immediately after praying to Baba's photo, he went to Dr.Dayanand Kumbala (a cardiologist) and told him about this condition. He examined Ravindra and explained that it was a mini stroke. He admitted Ravindra in the hospital and started treating him. When Ravindra's wife came to know about this incidence, she gave him Udi to drink in water and also applied all over the body. She regularly did it until he was staying in hospital. With that Udi and Baba's blessings, he was completely cured and returned safely home from the hospital. Now even if Ravindra tells people that he had a stroke, they find it unbelievable!. Due to Baba's Udi and His blessings, Ravindra got completely cured.
Ravindra Nachane's grand daughter Tanvi, also called by the name Tejal, was studying in 10th Standard. As she was weak in studies, Ravindra's son Atul used to scold her. She had full faith in Shri Sai Baba. Standing in front of His photo she prayed to Him, "Why am I weak in my studies and how will I clear my 'O' level or 10th Standard?" Baba. appeared in her dream and told her not to worry about it and also added that she would pass her exams. After the exams, she asked her parent's permission to go to Shirdi with grandparents. So Ravindra and his wife, Atul and Tejal went to Shirdi. She touched her head, bowed before the Samadhi and promised Baba that after passing the exam, she will visit Shirdi again with sweets. At the same time, Priest touched her head and gave blessings with a rose flower bouquet. 26th June 2008 was Nana's 49th Anniversary and by coincidence, her result was also on the same day. None of the family members felt that she will be successful but to the surprise of all the family members, as if a miracle had happened, her dream and her prayers came true and she had passed in the examination. This was an example of Baba's blessings on the entire Nachane's family. One day Ravindra's two grandchildren Akhilesh and Prathamesh were sitting in the lounge. Suddenly, the tube light fell down, but on the chair beside them and they were saved. Also the tube light did not break; it stayed on the chair as it was.
Ravindra's brother Vasudev has a son called Sachin. His friend has some handloom equipment at a place called Yevale. He told Sachin to start a business of making Paithani Saris and reassured him that he would help him. Sachin decided to start work with Baba's blessings. He printed some business cards and went to Shirdi with his wife Snehal. There was separate queue for gents and ladies. However, when they reached Baba's Samadhi they were again together. They wanted their business card to touch the Samadhi so they requested the priest (Uday Valunjkar). When the priest saw the name he asked them whether he was related to Ravindra. After he said that Ravindra was his uncle, he took that business card, touched the Samadhi and returned it with blessing of "Be Successful" and told him to bring 1 Sari to Shirdi if the business runs well. When he was doing well in the business, as per his word, he took the Sari to Shirdi and he met the same priest Shri.Valunjkar. He kept the Sari on Baba's feet and returned it to him as offering.
Sachin had another experience. When Sachin went to Yevale to bring saris, he had a wish to visit Shirdi. However, he could not go that time and felt uneasy due to that. When he was sitting in the bus from Yevale to Manmad he met passengers who were from Mumbai. They were returning from Shirdi and kept their bag of the offering on the upper shelf in the bus. While travelling, due to uneven roads, the bus was shaking vigorously. The bag of the offerings and the flowers fell in Sachin's lap. When he returned it to the passengers they offered him some of that offerings from Shirdi. Sachin really felt better as he thought although he was unable to go to Shirdi, Baba had sent him the offerings! On his further journey from Manmad to Kalyan by train, he met other passengers. A lady got in the train, accompanied by her daughter. They took the food out and had sweet rotis. They offered to Sachin and when he was hesitating they explained that those roits were made in a special way and requested him to taste. He then realised that Baba has arranged for his food as well and ate those rotis.
At Kojbad-Dahanu, near Talasari, there was an Ashram run by Godatai Parulekar. Ravindra's brother Sainath was working there on behalf of Tadgul organization. Kojbad was a place with dense forest and local tribes were staying there. On his first night, he was unable to sleep due to drums and noise made by the local tribes. He was scared and started sweating. Then he began to chant Baba's name asking him for help. In a short while, Godatai came there and realised his mental state. Then she kept one of the men with him for company. After that, Sainath was allright and realised Sai Baba had come to help him.
Sainath's daughter, Shubhangi, was travelling from Tyayambakeshwar by Tata Sumo with her husband Anil Sabnis, father-in-law, daughter Amrita and son Sanket. They were returning from Trayambakeshwar to home (Badalapur). Suddenly the driver realised that the brakes were not working. She started chanting Baba's name. Fortunately, that Sumo vehicle struck a tree and except minor injury to her father-in-law, everybody else were safe. Now they were all stuck at night in that Ghat. However, one car came there and on enquiry told them that they were also going to Badalapur and they could go in that car to reach Badalapur safely. This way Baba came to protect the family.
Nana's elder brother Anandrao also had an experience which was narrated by his son Sharad. On the insistance of others to visit Shirdi, Anandrao decided to go with his wife and 2 sons namely Datta and Sharad. They reached Kopergaon station at night. There was no vehicle available to go to Shirdi. Suddenly, one horse cart came there when they all were sitting at the station. He charged Rs.11.25 and dropped them at the Shirdi Temple. When they knocked on the door, Dr.Gawankar opened it. He told Dr.Gawankar that he was Nana's brother and that on his request he has come to Shirdi. When doctor asked him how he reached Shirdi at that hour of night, he told about the horse cart to which Dr.Gawankar said that it must be Baba who arranged that horse cart for the family and then of course it was needless to say that Dr.Gawankar did the rest of their arrangement at Shirdi.
Ravindra, his wife and four children were staying in two rooms of 10'x10' size until 1984. When the children started growing up, the place looked very small. It was not enought for 6 of them. However, due to difficult circumstances, Ravindra was unable to buy a bigger place and he used to feel hopeless about it. The family started praying and requesting Baba everyday. One day, as if Baba heard their prayers, the accounts officer of the company where Ravindra was working, without any provocation on his own asked Ravindra why he should not ask for a loan to buy a bigger place for himself. Ravindra explained that since he was a Marathi man he thought that it would be difficult to get that loan. The accounts officer dismissed ravindra's thoughts and allowed him to take a loan of Rs.70,000. Then Ravindra started looking for a place. He liked one flat but the price was Rs.1,60,000. Ravindra had only Rs.70,000 with him and needed Rs.1 Lakh more. Hence, it was impossible for Ravindra to save that much. One day he narrated his problems to Shri Sai Baba. That day when he was going to the market, he came to know that one of his friends is the chairman of a bank. He knew Ravindra's problems and hence told him that the bank cannot give loan if he applied individually but since Ravindra's wife is working with Thana's Collector's Office, if they applied jointly theh they will be in a position to disburse the required amount. The couple did accordingly and were able to purchase the flat where they are residing since 1984. This way Baba completed Ravindra's wish.
On 24th August 1986 Ravindra's first grandson was born. When he was 4 years old, he had diarrhoea. The family members took him to a paediatric hospital run by Dr.Pradip Hajirnis. Doctor said that the boy was dehydrated and needed intravenous saline. However, it was difficult to find the vein and they had to venesection on the leg for giving him the saline. Doctor explained to the family members the dangers in doing the procedure. Listening to it the family decided to apply Udi to his whole body and started praying Baba's name. The family members had full faith in Baba and gave consent to Doctor for that procedure. The boy recovered well and is a grown up man now and his name is Niket. He is hotel management graduate and has gone to UK for further studies. He received his Visa just within 5 days of application. Are all these things possible without Baba's blessings?
Smt.Sadhana Nitin Shringarapure, daughter of Ravindra's elder brother Vasudev narrates her experience as follows: They were staying in Bhynder. Her son Sumed was studying in the 9th standard. One morning, he was getting ready for school. He had his shower and wrapped in his towel, ent to his wardrobe to take his clothes out. Suddenly, he felt dizzy and fell down on the floor, unconscious. Smt.Sadhana was busy preparing lunch. Her husband was shaving. Her younger son called out for them but she thought they must be fighting with each other. So, she ignored him. However, her husband realised something had gone wrong and went, saw his son unconscious and immediately went to Dr.Desai and brought him home. He examined Sumed and advised to get him admitted to the hospital immediately. The family took him to a nearby hospital. He was kept in the Intensive Care Unit and it was a Thursday. Doctors had given up hope for him Smt.Sadhana kept on applying Udi to him and chanted Baba's name. On Friday morning Sumed passed a bucketful of Urine, regained his consciousness and called out her name. After that, the family took a decision and shifted him to Nanavati Hospital. There he recovered very fast and today he is well and works after finishing his Hotel Management Course. She opines that this great favour on her family was only done by Shri Sai Baba".
Smt.Sadhana at present stays in Dombivali. Her Younger son Tanmay had just finished his 12th Standard Exam. Until the time of result he was free and started doing many experiments at home. He was working with electrical instruments and was tryint to get the wire thinned out by his teeth. Suddenly the piece of write stuck to his soft palate. He could not get ghat out even after trying hard. When he told Smt.Sadhana about it then she immediately took him to the doctor. Even doctor tried but was unsuccessful. So he advised us to take him to an ENT Specialist. Even they could not take it out by simple means and hence advised to undergo operation under Anaesthesia. Sadhana got scared and called her husband to return home immediately. That day again was a Thursday. Tanmay was standing in front of Baba's photo. He requested Baba that if he helps him to get that piece of wire out without operation, then he will bring a garland of flowers and pray him otherwise he will not. While he was bringing the garland, he started coughing and saw the piece of wire coming out of his sputum. Since that day he has complete faith in Sai Baba.
We are giving below the contact details of Shri.Ravindra Shantaram Nachane son of Late Shri.Shantaram Balavant Nachane for the benefit of Sai Devotees:
Shri.Ravindra Shantaram Nachane
Sai Sadan Co-Op Housing Society Limited
Near Pratap Cinema,
Thane (West),
Mumbai-400 601,
Maharashtra,India
Phone: 022 2547 3496
Mobile:99872 43967
(Source: Personal Interview with Shri.Ravindra Shantaram Nachane Son of Late Shri.Shantaram Balavant Nachane, and Akhanda Shree Sai Krupa Marathi Book written and published by Shri.Ravindra Shantaram Nachane)