Santa Mahipati (1715 - 1790) was a Marathi language hagiographer who wrote biographies of prominent Hindu Saints who had lived between the 13th and the 17th centuries in Maharashtra, India. His name finds a mention in Chapter 2 of Holy Shri Sai Satcharitra written by Late Shri.Govind Raghunath Dabholkar alias Hemadpant.
The padukas below used by Santa Mahipati are still being preserved at Vittal Mandir in Taharabad. The shankh (Conch used in Pooja) is placed beside the holy Padukas.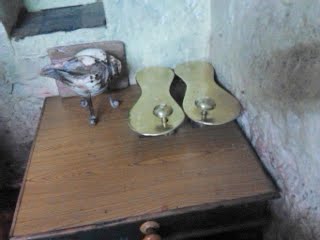 Padukas used by Santa Mahipati
Santa Mahipati worked for some time as a scribe for the village of Taharabad in Ahmednagar District in Maharashtra and also for a Mughal Llandlord. Although he played down his abilities, his hagiographies of the Varkari Sants, based at least in part on earlier works by Nabhadas and Uddhava Ciddhan, are still considered to be the most authoritative.
The Vittal Mandir is there in Taharabad, Taluk-Rahuri District-Ahmednagar since 17th Century. Due to his ripe old age, Santa Mahipati could not go for pilgrimage by walking. Hence, he requested Lord Vittal to pardon him for not meeting Him.
Devotess believe that Lord Vittal comes to meet his bhaktas on Ashada Ekadashi. Devotees come to see the program of Pavoolghadi (a festival ) in large numbers. During this program, Panduranga's footprints in kumkum are imprinted on white bedsheet.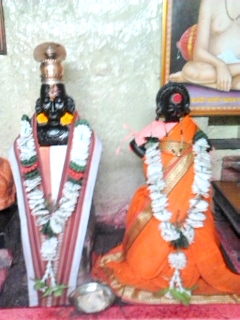 Vittal Rukumai Idols
An English translation of Bhaktavijaya, originally written by Mahipati around 1762,was published under the provisions of the will of Justin E. Abbott in the year 1933.
There is a small well behind Vittal Mandir believed to have been built by Santa Mahipati. The well was built behind the Vittal Rukamai Temple. The water from the same well is used for Pooja on daily basis. Even today, the water from the well is still used by the descendants of Santa Mahipati.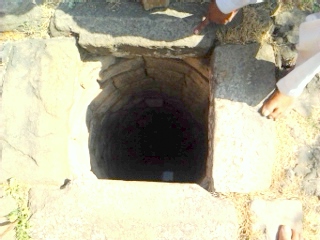 Well behind Vittal Rukumai Mandir
(Source: Wikipedia, Photo Courtesy: http://mahipatikrupa.blogspot.in)