.
Sakharam was a farmer, a wealthy landlord, and was devoted to Baba. His house is near Baba's Chavadi with a west facing entrance.
Sakara Bai the wife of his grandson, Hari Bau, states that Baba loved Sakharam very much. Baba would stand at the crossroad between Vaman Rao Gondkar's house and Shelke's house and call out "Sakharam Roti de". She also stated that his son Triambak (Hari Bhau's father) donated some land to Baba's Sansthan. The land for the Shirdi Bus Stand was donated by him. Triambak's Samadhi is inside the compound of the Narasimha Temple which is adjacent to Sakharam's house. The other two Samadhis are of Thana Bai (Triambak's wife), and Ramgir Bua whose name is mentioned in Sri Sai Satcharitra Chapter 33. There were many Gosavis living in Shirdi at that time, and their samadhis are in the same compound. Unfortunately, their names are not known.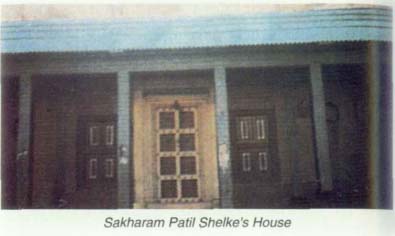 The Narasimha Temple was constructed by the Shelke family. Narasimha is the Kul Devata of the family. A priest performs puja daily along with Aarti and offers Bhog.
Around the year 2000, this house was sold by his descendants, and a multi-storey shopping complex now stands in its place.