Sai Mahabhakta Late Shri.Raghuvir Bhaskar Purandare's brief mention has been made in Chapter 9 of holy Shri Sai Satcharitra. Detailed Information about this great devotee is available in Devotees' Experiences of Shri Sai Baba by Late Shri.B.V.Narasimha Swamiji and Shirdiche Sai Baba by Dr.Keshav Bhagawant Gawankar.
Shri.Raghuvir Bhaskar Purandare Son of Late Shri.Bhaskar Purandare was born in the year 1872. He hailed from Bandra, Mumbai and belonged Deshastha Shukla Yajurvedi Brahmin Community. He was working as a Clerk with Railways Department at Bandra, Mumbai. Baba had given him the name "Bhau".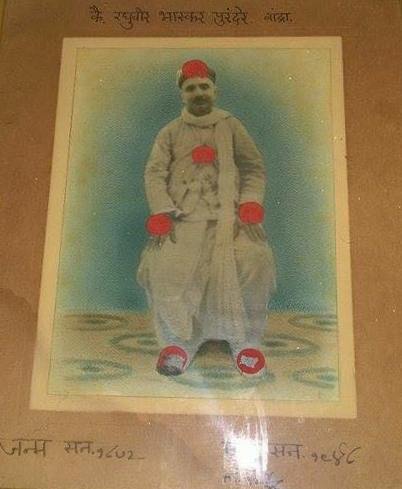 Raghuvir Bhaskar Purandare
Raghuvir Bhaskar Purandare heard first of Sai Baba in 1909 and went to see him. R.B.Purandare was always desirous of association with Sadhus, saintly people. He heard that Sai Baba was a Saint, so he felt attracted to him. He appeared in R.B.Purandare's dream and called him to Shirdi. At that time his elder daughter (aged then six months) was very ill and so his mother objected to his going to Shirdi. Purandare still persisted in going to Shirdi and took his wife, that child and his mother with him to Shirdi. He remained there (first visit) for thirteen days. On the third day of his visit, the child got alright. Baba did not permit Purandare to go back till the thirteenth day. Sai Baba told Purandare's mother that for seven centuries, Sai Baba was connected with her son.
Purandare had surrendered to Baba totally in their very first meeting. He was a middle class person. Hence, he could not offer costly material things to Baba. Whatever he had, he offered at the Lotus Feet of Sai Baba. He was a determined and loving person. Whenever possible, He would go to Shirdi. For him, Baba was his mother, father and everything.
Once Purandare went to Shirdi without prior planning. So he could not take anything as an offering. He thought he would buy some mangoes on the way; but somehow he could not. Empty-handed he went to Baba, who asked him, "Who else has come with you?". Purandare replied: "No one, Baba. Only I have come". Then Baba asked him: "Ok; you said, you would bring mangoes for Me. Then give Me". To which Purandare replied: "Baba, I did not get good quality fruits. So I did not buy". Then Baba said: "Doesn't matter" and continued: "Mangoes will come tomorrow. We will have them tomorrow". Next day, as Baba had prophecied, really a parcel came by post. At that time, Kaka Purandare was busy fencing the Lendi Baugh with barbed-wire. Baba sent word to him through Bapusaheb Jog and told him to fetch hundred rupees from Rambhau. Kaka said "Ok", but did not go anywhere. Again he received a message from Baba, "Go and bring Rs.125/- from Vishwanath".
Then Purandare requested Babusaheb Jog to explain his difficulty to Baba as follows: "I am unwinding the coil of wire. So I cannot leave it and come. If it is left half done, it will entangle and create a mess for me". But Baba again sent Bapusaheb Jog to him saying: "Ask Kaka Purandare to bring Rs.150/-. Bring him with you or do not come". It was 1:30 in the afternoon and it was a very hot sunny day. Bapusaheb Jog came to kaka Purandare and said: "Take Rs.150/- and come along with me. I will not return to Dwarakamai unless you accompany me".
Bapusaheb Jog convinced Kaka that Baba did not want him to work in the hot sun. That is why he is insisting. Secondly, the parcel was in the name of Kaka Purandare. Knowing this too, kaka completed the remaining work of fencing and went with Bapusaheb Jog. When they reached Dwarakamai, Baba asked, "What did Kaka say, Bapu?".
Bapusaheb replied: "See, he is here. Now, you You can ask him". Baba said: "Bapu, Kaka (Bhau) has gone mad. He does not sleep at night or rest through the day. What should be done. I have to protect him. He is My child. My Baby". Then Baba asked Purandare Kaka: "Have you taken lunch?". Purandare answered in the affirmative. Baba further said: "Then sit calm and quiet. Do not go out in the hot sun and eat some mangoes". Kaka refused and said: "Baba these mangoes are not for me. No one would send it for me. I don't know how the parcel came in my name. It must be for someone else". Then Baba said: "I am not ill mannered. I cannot take away that which does not belong to Me. I am saying these mangoes are yours. Come on, eat now".
Thinking that Baba would be angry, Purandare opened the parcel. He took out the two mangoes and stretched his hands towards Baba, who said: "You eat first. Give it to Fakirbaba also".
Purandare Kaka was still not ready. "Baba, unless You have it, I am not going to eat. Otherwise, let me go for my work. I have left it halfway. There is nobody in my house, who will send it for me. I don't understand all this". Kaka Purandare was in tears. Baba consoled him saying, "Why do you cry? These mangoes are for you only. Believe Me". Saying like this, Baba Himself squeezed two mangoes, gave one to Fakirbaba and He tasted the second and gave the same to Purandare. Kaka ate the fruit as "Prasadam". Baba asked him to take the basket to Radhakrishna Mayi's house. Accordingly, he delivered the basket of Mangoes to Radhakrishna Mayi and came back to Dwarakamai. Upto five o' clock in the evening he was sitting with Baba, who compulsarily detained him. Baba did not want him to work in the harmful hot sun. Kaka then asked for permission to go to Radhakrishna Mayi's house. Baba said: "No" to Kaka and told him to bring snacks from Radhakrishna Mayi. He did so. After that Baba did not allow him to go elsewhere.
Next morning, Purandare was on his way to Baba, who had already left for Lendi Baugh. People were prostrating and taking darshan. Baba was in cheerful mood. But as soon as He saw Kaka, He flew into anger. He ran towards him threatening to beat him. He kept on shouting, "Wait there! Don't come near Me. You neither allow Me to sit in Dwarakamai nor in Chavadi. You are vexing Me too much. Your eyes are very very bad". He still wanted to show His aversion. He turned to Kakasaheb Dixit and said in an irritated tone, "Kaka, get me a dagger; I want to remove his eyes. Then I am going to drive him out. He is exasperating Me too much".
Purandare had a different kind of darshan of Baba. Dixit tried to comfort Purandare saying: "Do not get annoyed at Baba's words". He invited him for breakfast. Instead of being angry at Baba's pinching words, Purandare was laughing to himself. Only he knew why! Kaka Purandare then went to Radhakrishna Mayi. She told him that the palanquin was kept in open Chavadi; and its four tassels had been stolen. Both were therefore, discussing as to where it should be safely kept. Kaka said, "We will erect a shade of metal sheets and keep the palanquin in it, under lock and key. When needed it can be taken out and put back in the same place".
Radhakrishna Mayi approved the idea. She said, "Take the permission of your Mother Sai; and implement your idea immediately. Do it tomorrow. Once you leave Shirdi, no one else would do it". Just then, Kakasaheb Dixit also came there. He too supported the plan. He said he will seek Baba's permission. When Aarti was over, Kaka Dixit took Baba's consent and informed Radhakrishna Mayi about the same. She said, "My Tai (Purandare Kaka) is always busy at work. Tai comes to Mother Sai for peace but does not get leisure time. But Mother loks after her and protects her (him)"(Radhakrishna Mayi used to call Purandare Kaka as Tai, i.e., Elder Sister).
Dixit again invited Kaka for dinner, "You are coming, no?" Kaka replied with a question, "Who will say no to Baba's Prasadam?".
Next day the work of Tin sheet room was started, when Baba had left for Lendi Baugh. Fakira, Dixit's servant, was there to help Purandare. He collected the pieces of tiles. Kaka cleaned and levelled the clay floor. While cleaning, he found scorpions under each and every clod. But fortunately Kaka and Fakira were saved. Kaka then fixed the tile pieces properly. The tin room was being made just by one of the walls of Dwarakamai. Kaka had to make three holes in the wall for fitting the wooden shafts which would support the top sheets. He had completed two and the third hole was in progress, when Baba came directly to that spot. On seeing Baba, all who were the curious observers ran away. Fakira also disappeared. Only Kaka Purandare was left there. He was standing on easel-like ladder. Besides, there was a metal sheet on his head. The two clay holes were freshly plastered. Therefore, not hardened enough to sustain the weight of the sheet. Baba flew into anger to see Kaka working. He caught hold of his neck and came forward to beat him with a brick. Somehow Kaka stepped down the ladder. His neck was still in the hand of Baba, who was shouting at Kaka, "So much you are troubling Me. See, I will kill you. Now go away, go out of My sight. Will you go or not?".
Kaka said calmly but firmly, "Unless I complete this room for palanquin, I will not go. I am not causing any damage to Your masjid. But I have to make the holes for fixing wooden shaft. I am going to comlete that". Baba said angrily: "Are you equating yourself with Me? I will see what to do about it. You have become over enthusiastic". After some moments, He was changed. He said: "Ok. Do as you wish. We will find out new suitable place (for palanquin). You can go now".
Then Baba washed His feet and went to Dwarakamai. Sitting there He was continuously abusing to no one in particular. By the grace of Baba, the work was completed. All the devotees gathered and the Aarti was offered. Then they went for lunch. Though the work was completed, Kaka was still standing there. Baba saw him and said to Fakirbaba, (in complaining tone) "See, Purandare is still not coming for lunch. I am hungry. But he has no concern. My people are waiting. He is showing indifference".
Baba asked Fakirbaba to call Kaka. Kaka was scared. Baba got up and caught his hand. Calmly He ordered: "Now go and have lunch. All are waiting. Why do you trouble them? You are troubling your wife, your children and Me also. Ok. Now go and eat. Carry on with your work in the evening". Kaka put his head on Baba's feet in prostration. Baba then put some Udi on Kaka's forehead and kept His blessing hand on his head. "Keep up this steadfast faith. Allah will shower His grace upon you. Your desires will be fulfilled. My Masjid Mai (Dwarakamai) will respond to your prayers".
Kaka had his lunch, took the rolled betel leaf and immediately came back. Baba said to Fakirbaba, "He does not want to rest. He should have gone to Bapusaheb, to listen to the 'Pothi' (reading of sacred book). But he is bent upon damaging My Masjid and Chavadi. He has stolen money from Masjid. Don't think of him to be a gentleman. But Allah is there. No one is superior to Allah. Now you will see, I will drive him out shortly".
Fakirbaba said, "Baba, why are You scolding Purandare so much? Day and Night he works for You. He is at Your service whenever You call him. Actually, You too become restless to meet him. You constantly keep remembering him when he is not here. Then why do you get so angry with him when he is here?".
Saying like this Fakirbaba went away. Purandare had noticed that there was a scarcity of scented flowers in Shirdi. Only wild flowers were used for Baba's worship. He always felt very sad about it. Once he brought saplings of scented flowers from Mumbai to Shirdi. He carried heavy luggage of four earthen pots. He thought if those saplings were grown in Shirdi itself, there would be fresh scented flowers available everyday for Baba's worship. Kaka's friends, H.A.Pandit, Moreshwar Pandit and Daji Pandurang Vartak were accompanying him. All of them alighted at Kopargaon railway station. By chance Hasan was present there with his horse-cart. He brought them to the town from the far away station. Though no vehicle like bullock cart was available in the town, Kaka had decided to carry the heavy load himself. His friends were there to help him. They put the luggage on their heads and started walking. When they reached the banks of Godavari river, they saw three horse carts coming from Shirdi town. The cart drivers were of acquaintance to Purandare. They agreed to take Kaka and his friends to Shirdi town. All of them took holy bath in the river, and one more horse cart came towards them. Then they reached Radhakrishna Mayi's house. Keeping the luggage there, they went to Dwarakamai to attend Aarti. Bapusaheb Jog was there, making the preparations for Aarti. Baba said with anger, "Why have you come here? Go to your Aayi".
Neglecting His anger Kaka and his friends took darshan. Baba asked, "Have you come alone? Are you staying for 4/5 days; or going immediately?" Kaka replied: "I will stay as long as you allow me to stay". Baba said, "Let's see now, and give me some dakshina". Aarti was then commenced. After Aarti, Baba gave Udi to all of them and abused Kaka saying "Don't you remain at peace in Mumbai? Why do you yearn so much to come here and see Me?".
Kaka did not answer. Baba gave them permission to go to Radhakrishna Mayi. She had made all preparation for food. She said to Kaka, "Now finish lunch and then ask your Mother Sai about the management of the saplings". Do it at the earliest, or they will soon dry up.
According to her suggestion all of them went to Baba for asking His permission. As usual Baba was in a rage. He was purple with anger. For nearly, an hour Kaka was standing below the stairs of Dwarakamai. Then he went near Him and softly asked, "Baba, I have brought some seedlings. Shall I plant them? I intended to plant them on the side of the parth from Chavadi to Sathewada. The path will get covered and there will be a shade for protection from sun. After this I am planning to plant climbers over the arch of Lendi Baugh and in a little garden near it. Actually there is scarcity of flowers in Shirdi. That is why I wish to do all this. By Your grace, Shri.M.A.Devhare has given me saplings of good quality. So please allow me to go ahead; Also, bless the plants so that they will blossom soon and give good quality and quantity of flowers".
Baba listened to him calmly but He showed His displeasure saying: "I do not need any plant or flowers. You can do gardening around your own house, if you want, and give the flowers to your beloved ones". Baba was continously abusing Kaka. Two days passed by. Somebody told Baba "Baba, plants are drying up". Baba said, "Throw them away". On the third day, Baba sent Mahadu to call Purandare, who was staying at Radhakrishna Mayi's house. Mahadu came there and gave the message. Kaka said, "It is 8:30 p.m. and no one goes to the masjid at this odd hour. I shall come tomorrow morning". Mahadu went back to Baba with the message but Baba ordered Mahadu, "If he is not ready, catch hold of him and pull him here".
Mahadu again came to Kaka. Kaka was in tears. Radhakrishna Mayi said in comforting tone, "Tai, now do not be evasive. Your Sai Mother always yearns for you. Baba scolds you, but He loves you so much. Do not cry. Your mother will not let your plants die. Even if they go dry, they will take root and bear flowers by His grace. Everybody will remember you for your work. Go, do not say 'no'. Baba is calling at this late hour. He wants to tell you something good".
Kaka got up and reached Dwarakamai. He stood near the stairs. Dadasaheb Kelkar was already sitting there. Baba said, "Come Bhau. Come upstairs. Do not cry. Have I done anything wrong to you? Why do you harass Me? I have given you and will still give you many more things. Allah will fulfill your wishes, by giving you happiness equal to the treasures of the seven oceans. Why do you fear?".
Kaka said in frustration, "Baba, I have Your grace and that is sufficient for my satisfaction. The saplings I brought are dyring up; and You do not allow me to plant them. I too do not wish to live now. Should I adorn my dead body with those plants?" Saying so Kaka burst out crying. He could not control his emotions. Baba asked him to come near Him. Baba said: "Bhau, stop crying. Everyday I am repeating your name. I remember you constantly; then why do you cry? Go and plant all the saplings right now. Bring the soil from under the Banyan tree (present by the side of Patil's field) . Then all plants will survive, because that soil is good". Holding his hand, Baba made Bhau to sit by His side and advised him. "Why should you cry? You thought plants would die. But I will not let them die. I will save them. Your wish will be fulfilled. Allah is there. Take this Udi and go. Do not be late. Plants will not take rooots in the monring. So do it now". Baba put His blessing hand on Kaka's head and smeared Udi on his forehead. Baba again said, "Your unwavering faith is worth admiration. Allah will protect you. He is Supreme". Baba smiled. Kaka was very happy. He came back contented and told everything to Radhakrishna Mayi.
She said, "Didn't I tell you, that there was something good to come? Your Mother Sai yearns for you". Then both of them went to fetch the soil from under the Banyan tree. Tatya Moreshwar and Damaji Master helped them to dig the ground. Radhakrishna Mayi and Purandare put the plants in the soil. They worked for the whole night. When they finished, it was time for Kakad Aarti. All the working men took bath and went for Aarti. But they found Baba in a rage. Nobody talked about anything. When Baba came from Lendi Baugh, He ordered Kondaji to uproot the plants. Purandare was sitting on the porch of Radhakrishna Mayi's house. He was very upset.
But nothing happened. The plants were safe. Nobody uprooted them. On the contrary, on the fourth day a gardener was appointed for watering and taking care of the plants. By the grace of Baba, all the saplings which were dried up, fook firm roots in the ground and all were alive. The plants started to bloom and then there were plenty of scented flowers available for Baba's worship. Purandare's wish was thus fulfilled!
Once Purandare decided to go to Shirdi when his younger daughter was seriously ill. Her mother was not actually in favour of going as she thought it would affect the illness adversely. But finally, he carried out his decision. He was accompanied by his wife, mother, daughters, his brother and his nephew. On reaching Shirdi, they immediately went to the Dwarakamai for Baba's darshan. They were sitting at the back but Baba asked Bhau to come forward and to massage His feet. Baba offered him chillum, but he refused to smoke. It happened for quite a few times, he turned down Baba's suggestion. All other devotees present were angry with Purandare, as he was going against Baba's wish, which was not tood. In the evening, Purandare again went to Baba, when many people were present there. Baba again offered him the Chillum and said: "Those angry devotees were right. They are not mad. You should think and then behave". This time Purandare accepted to smoke.
On his very first darshan, Sai Baba told Purandare to go to "Shala". Then Dixit explained to Purandare that "Shala" was the residence of Radhakrishna Mayi. Accordingly, Purandare went to her house. Radhakrishna Mayi did not open the door. Instead she enquired from within as to who had come and what he wanted etc.... To which Purandare replied. However, Radhakrishna Mayi did not let Purandared inside her house. After waiting for about ten minutes, Purandare went back to the Dwarakamai Masjid. Baba asked Purandare whethere he had visited "Shala". Purandare informed Baba that he had been kept outside and not allowed by Radhakrishna Mayi. But, Baba ordered Purandare to visit her again. Purandare obeyed Baba's orders and went again. This time Radhakrisha Mayi opened the door, fell at Purandare's feet, held them and started crying. Seeing this Purandare was totally puzzled, as he had not known her nature. But from that day onwards, Radhakrishna Mayi loved Purandare till her last breath with a deep motherly affection. Thus, Radhakrishna Mayi was everything to Purandare. From that day onwards, Purandare spent every minute of his time at Shirdi in service of Sai Baba in accordance with the directions given by Radhakrishna Mayi. She made Purandare work hard all day long for Baba mostly at her residence, sometimes at Masjid and elsewhere. Purandare says : "Radhakrishna Mayi was a personality of a strange sort. She would sing charminglyu and with deep emotion. Suddenly she would break into laughter or melt into tears and either continue slowly with choked voice or stop the song altogether by her sobs".
Even though Purandare was very poor and an orphan, he never went to Baba with worldly motives. Baba advised him to continue with his earlier spiritual practices. Purandare was fond of Lord Vishnu and hence continued worshipping Lord Vishnu. Sai Baba asked him several times for Rs.2 only. Once Purandare asked him what for he asked always for Rs.2. Sai Baba said, "It is not these Rupees I want. I want Nishta, i.e., concentrated faith and Saburi (patience)." To which Purandare replied that he had already offered those two things to Him. Baba told Purandare to keep up the Nishta and to be strict and anxious to fulfill all promises that he made to Baba. He said: "You should have truth always with you. Then I will always be with you. Wherever you are and at all times". Purandare promised to try his best and sought Baba's help in controlling his mind. Baba agreed to it.
The Tulasi Brindavan at the Dwarakamai Masjid was put up after 1909, 1911 or 1912. All the devotees including Purandare helped in installing the Tulasi Brindavan. The Sabha Mantap (or tin Shed) in front of the Dwarakamai Masjid was put up in 1912. Purandare says that G.S.Khaparde used to explain Panchadashi etc., in Sathewada. Upasani Baba also used to attend there. But Purandare never used to attend as he was busy with work always.
Often Baba used to detain Purandare at Shirdi even after he had exhausted all his leaves. Once in 1912, he detained Purandare from leaving Shirdi. When Shyama or some other devotee asked Baba that he needs to back or else his Boss will find fault with Purandare. Baba replied : "I am the boss" and detained Purandare. Finally, Purandare returned and went on a Thursday at 1 PM to office. Then the foreman of the shop called upon Purandare to explain and report about his absence without leave. Purandare handed over his resignation letter to the foreman. Then, Mr.Wilson, the Deputy Superintendent called Purandare and asked him as to where he had gone. Purandare promptly replied that he was at Shirdi. The Officer immediately tore the resignation letter and threw it into waste paper basket. Thus, the foreman eventhough discontented was powerless to take any action against Purandare. The Superintendent bluntly informed the foreman that Purandare was not his servant or subordinate. Within next six months time, Purandare got promoted and that very foreman became his subordinate.
Once Purandare's wife got an attack of cholera and the doctor gave her up as hopeless. Purandare gave Baba's Udhi and Tirtha to her. He saw Baba at the side of Datta Mandir in front of his Dadar house and Sai Baba ordered him to give the Udhi and Tirtha and so Purandare gave her the Udhi and Tirtha. Half an hour later, she had recovered sufficient warmth and the doctor felt hopeful of her recovery and she recovered. Since, then Purandare often visited Shirdi and statyed for long periods at Shirdi in obedience to Baba's order. Likewise, Baba occassionally asked Hari Sitaram Dixit to write a letter to me to visit Shirdi. On many occasions, Purandare accompanied Dixit to Shirdi.
Once Shri.Raghuvir Bhaskar Purandare started for Shirdi with his family. Mrs Tarkhad went to Mrs. Purandare, and gave her two brinjals and requested her to prepare Bharit of one bringal and Kacharya of the other, when she went to Shirdi and serve Baba with them. After reaching Shirdi, Mrs. Purandare went with her dish of Bharit to the Masjid when Baba was just about to start his meals. Baba found the Bharit very tasty. So He distributed it to all and said that He wanted Kacharyas now. A word was sent to Radha Krishna- Mai, that Baba wanted Kacharyas. She was in a fix, as that was no season of brinjals. How to get brinjals was the question? When an enquiry was made as to who brought the Bharit, it was found that Mrs. Purandare was also entrusted with the duty of serving Kacharyas. Everybody then came to know the significance of Baba's enquiry regarding Kacharyas, and was wonderstruck at Baba's all-pervasive knowledge (Ref: Holy Shri Sai Satcharitra Chapter 9).
Once during 1911 or 1912, Purandare went to Shirdi with one Yashwantrao, an Engineer and grandson of one Raghunath Mukund. It was Ashada Poornima or Guru Poornima time and Cholera disease was rampant in Shirdi. Yashwantrao was not willing to return from Shirdi alone without Purandare accompaying him back to Mumbai. However, Baba told him to leave and gave him Udhi. But Yashwantrao did not leave but stayed back in Shirdi despite Purandare also advising him to leave at once. The same night, Yashwantrao had an attack of Cholera and he passed away the next morning.
During the year 1913 Purandare's mother asked him to go to Pandharpur. Purandare did not discuss this matter with Baba to get the requisite permission. However Baba Himself picked up the subject of going to Pandharpur and asked her when she wanted to start. Later, Baba gave Purandare's wife and mother Darshan of Himself as Vithoba and Rukmai, at Shirdi Masjid itself. They were highly pleased and did not want to go to Pandharpur. She always replied thereafter that her God was there at Shirdi which was her Pandharpur.
Sai Baba was seriously ill in 1915. He had Asthma. Seeing this Purandare cried. Purandare went up during his illness, not knowing he was ill. He never took medicines for his illness as a rule. Even during his illness, he was supported and carried by the devotees to his begging place. There he would beg and come back and yet not eat the food. He carried on his usual routine of begging, walking, etc., even during all that illness.
One day during His illness, Baba climbed up the terrace of one house through a staircase, then went over to the next house terrace and over Radhakrishma Mayi's home. Then a man lifted Him up and brought Him down to the ground and Baba paid that man 3 or 4 rupees. Baba then said: "we must not get the labour of anyone for nothing". Purandare was a witness to this incident.
In 1916, Purandare's wife gave birth to a baby boy. The baby had long hair all over the body and his nails also were abnormally grown. It was rainy season. Baby and his mother were at her father's place. She was feared to have Eclampsia. Inspite of her tender condition, she came to her own house in torrential rain. Dr.Khadwale of Bandra advised Purandare to admit her to his hospital. But he did not listen to the doctor. He had full faith in Baba. He thought, "If He wants to save her, she will be alright with the home treatment. But if He decides not to save her, then she will die even with the hospital treatment". But because all the people around insisted, he agreed to admit her to the hospital, next morning.
As far as Purandare was concerned, pain and pleasure were Sai's Prasadam. He had reached the stage of equanimity. Kaka decided shift his wife to the hospital as per the advise of relatives and friends. on the same midnight, he saw Baba in hallucination, entering his house with His 'satka' and a shoulder bag. As usual He was in towering anger. He ran to Kaka as if to beat him. He abused him. They went to the other room where Kaka's wife was sleeping. He profusely applied Udi on her forehead. She at once got up screaming as the Udi was too hot. She also saw Baba who was standing by her bed. Purandare came to her on hearing the scream. She said, "Now you do not worry. Baba Himself has smeared Udi on my forehead. He is still standing by my side. I will not go to any hospital". She was very happy. Her only complaint was that the Udi was so hot that she got her forehead 'burnt' her whole body was also having a burning sensation.
Next morning, all the friends including Kakasaheb Dixit and Dabholkar came to Kaka's house to help him in shifting his wife to the hospital. Kaka told them everything that had happened at midnight and that he had dropped the idea of admitting her to the hospital. Dabholkar did not agree to it and advised him not to take the risk. But Dixit succeeded in convincing Dabholkar. As Purandare belived, the incident was not a mere hallucination. His wife started improving from the same day and got completely alright in a few days. They decided to go to Shirdi in Christmas vacation to get the child blessed by Baba. But all the other members of the family had made the programme of going to their native place. All including Purandare went to the station and purchased the tickets. There were twenty minutes for the arrival of train. Suddenly, Kaka changed his mind and decided to go to Shirdi. His mother-in-law requested him to escort them (wife and infant) upto the town and then go wherver he wanted. But Kaka was firm on his decision. He took the train to Kopargaon. He was eager to see Baba that he asked his family to go to their native town and that he was not accompanying them.
When he reached Kopargaon Railway Station, he was informed by Hasan Tongawala that Radhakrishna Mayi was very sick and Baba also had fallen ill. He reached Shirdi at nine in the morning. He directly went to Dwarakamai. He saw many devotees were sitting around Baba. Kaka went up the stairs. On seeing him Baba said, "Come, Bhau, I am glad to see you here. I am not well and very much troubled. Now do not leave Me. Stay here. Last 3/4 days I have been waiting for you. I have told Kaka Dixit too, to stay at Radhakrishna Mayi's place. You also go there but do not go away from Me".
Accordingly, Purandare Kaka went to see Radhakrishna Mayi. Her conditionn was worse than Baba. Baba had gone very weak; still His daily routine was unchanged. He could not walk unless 2-3 people supported Him. But He used to go for alms as usual. Seeing His condition Kaka was in tears. He said, "Baba, I will carry You on my Back". Baba said in consoling tone, "Do not cry. I will be allright in a few days. It is Allah-Miyan's Will, so He has made Me suffer. I accept whatever He has given. Stop crying and go. Good times and bad times come in rotation. What is there to be scared off?".
Kaka then asked about the medicine for Radhakrishna Mayi. Baba only said that she would improve. Next day Kaka again went to Baba as per condition grew worse. Baba then prepared some medicine and gave it to Kaka. Though Baba was not able to walk, he climbed up and came to Radhakrishna Mayi's house. Then he started shouting "Help Me, help Me. I cannot get out of here". Tatya Patil was there. He said, "I will help You, What will You give me in return?". Baba replied, "Ten rupees". "But why at all did you go up?" asked Tatya. Then Baba said, "Because some people aggressively came to Me. They wanted to kill Me. So I climbed up in fear". After this event, Radhakrishna Mayi came out of her illness.
From 25th December 1916 to 14th January 1917, Purandare was on unpaid leave. Baba was all the time detaining him saying: ""I am not well. So don't go. Don't leave Me. And don't be afraid. Allah will manage everything. No one is superior to Him". Purandare Kaka joined the duties again. To his surprise, his leave was sanctioned and he got the full salary without any deduction. Few days later, Kaka again went to Shirdi with his wife and the baby, who had then become seven months old. Baba jokingly said to others, "Do you know, Bhau was searching for Me since a long time? And finally he reached Me". Most probably Baba might have been referrring to Purandare's previous birth and His connection with him. Baba's words were always mysterious. Purandare's son was born at such a time which was supposed to be an inauspicious omen, Moola Nakshatra. Many well wishers told Purandare to perform the traditional ritual for "Shanti" of the child. But Purandare did not pay attention to such hints. Someone told Baba, "He does not listen to anybody's advice. You tell him to perform the shanti for the son". Baba said to that person, "Anna, why should Purandare take other's advice when I am here? He is an eccentric. He sees Me everywhere. You may call him insane. But this is his steadfast faith in Sai Moula. I will see to it. Let him not do that ritual". For Purandare, Sai Baba was the God, the Lord and the Supreme!. Sai was his Hari, his Krishna.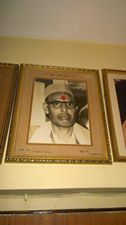 Vittal Purandare
Purandare claims that he has seen a hole in Baba's ear and when He bathed naked, He had not been circumcised. Sai Baba's Aarti very cliearly states that Sai Baba took birth to obliterate the difference between Hindus and Muslims.
Baba during His sojourn advised Sagun Meru Naik to put some ghee on the rice and palce the rice with ghee in the Dhuni as an offering and then bring the rest to Him. Ever since then Sagun Meru Naik used to prepare food in his house, brought and offered first to Dhuni and then to Sai Baba. Baba partook that food offered by Sagun Meru Naik. Previous to this, the Naivedya offered had no ghee. Sagun Meru Naik's family is still continuing this tradition. Purandare states that he never saw Baba eating any animal food. Baba used to tell Fakirs to utter Fatya when Muslims made offerings.
Once Baba asked Purandare to give Him all the old copper coins that he had. Purandare promptly gave him all he had and he does not know what he did with them. Baba had old coins tied neatly in a cloth and kept them in His side pockets. Once Baba asked him to give Daskhina. Immediately Purandare gave up everything. Purandare thought he had no coins left with him. But Baba said: "You still have two anna piece in your pocket. See". Then Purandare checked and found two anna in his pocket and offered that as well to Baba.
Just twelve or fifteen days before Sai Baba's death, He drove away Purandare and Dixit to Mumbai. He told them: "I will go further and you follow me". He gave permission to them at the Masjid to go to Mumbai saying: "My Turbat (Tomb) will speak; my name also will speak, My mutti, i.e., clay will give you replies" and told them to leave masjid. Accordingly, Dixit and Purandare went away in a bullock cart. Baba was not suffering from any disease at that time and thus Dixit and Purandare did not expect his death at that time. Baba never spoke about the Goal of Life or about Mukti or Swarga or Paradise in front of Purandare. But, Baba once said: "I will take my Kaka in Vimana".
Sai Baba once said to Purandare : "Bhau, buy a plot and construct a house". Purandare had to again neglect Baba's suggestion. He was in severe financial crissis. Purandare was getting a paltry salary of only Rs.35 per month. Hence, he was not in a position to even think about buying land or building a house. So, he did not give any response to what Baba said. Baba then turned towards Fakir Baba who was sitting by his side, and remarked: "See, people do not pay any attention to what I say. They are engrossed in their own worries. You go and ask that Rambhau whether he is convinced and ready to do what I am telling".
Fakirbaba tried to find out who Rambhau was. There was nobody with that name. He went back to Baba and told about it. Baba said: "If there is no Rambhau, then ask Vishwanath". Fakirbaba again took a search and told Baba, "There is no one here, with the name Vishwanath".
Then Baba pointed out to Purandare and said: "Ask this Brahmin". Purandare lowered his head on Baba's feet and requested, "Sorry Baba, but doing what you say is out of my capacity. I cannot buy a land and build a house".
Baba calmed him in reassuring tone, "I will make it possible, whatever seems impossible to you. I will get it done". Still Purandare had doubts in his mind. Knowing this Baba cheered him up saying, "I will give you lots of money. More than your needs. Then you will be able to deposit it aside. I will make you happy. I have already purchased beams for your house. Now just say yes".
Purndare's refusal was somehow dissolved and he said, "Baba, when you are there and Your blessings are with me, I have no fear. But only you will have to do it; because... you know everything".
Baba smiled and took the responsibility. He said: "Allah Malik Hai". Baba put His hand in His pocket and took out fistful of paise and gave it to Purandare. It counted to six annas in all.
Purandare's mother wanted to go to Nasik. When asked for permission. He said, "Why hurry? Go in the afternoon". In this way Baba postponed departure from Shirdi for eleven days. When Purandare asked for permission on twelfth day, He detained him saying, "Do not travel with empty stomach. Have a lunch and then go". Again they unloaded the luggage from the cart and the ladies got engaged in preparation of lunch. After the Aarti, Purandare's mother requested Baba, "Baba, please look after him (Purandare); he is your child".
Baba comforted her with the words, "Mother, why do you worry? I will never forget my Bhau (Purandare) even if he is a thousand miles away from me. Without him I have never eaten anything and will not do so in the future. You are his mother. but have you raised him? No; Allah is there. Since my childhood I am close to him, with him and behind him. Go; do not worry at all. Allah will look after his welfare. Take this Udi and go".
After a month or so, one of Purandare's friends came to him with a proposal of buying a piece of land in Bandra. Purandare was not in a position to spare money for land. But Sai Samarth Leela is inscrutable. Purandare went to his another friend for help. Surprisingly, the friend readily agreed to give money and said that Purandare could return the amount according to his convenince. He did not even do any paper work like a promissory note etc., On completion of the formalities, Purandare took the possession of the plot. But he could not think of construction for want of money.
When he went again to Shirdi, Baba would insist on building a house. In Decemvber 1912, he went again for darshan. Baba was in "morning Darbar" i.e., there was a congregation of people, in the Dwarakamai. Nanasaheb Chandorkar, Hari Sitaram Dixit and others were there. But put a complaint before them, "See, this man; Bhau. He does not follow My orders. He neglects Me as if a brute is talking to him. Am I a Brute?"
Later Nanasaheb inquired with Purandare, "What has Baba told you?". Purandare told him the whole story and clarified without hesitation that he had no financial capacity to spend for building a house. Nana asked Baba, "If you give us an order, all of us who are here, will share the expenses and build a house for him".
Baba compassionately said to Nana, "My Bhau is a simpleton and naive person. People trouble him. They just fry him. But he is such a good hearted man that he bears it without blaming anybody. He does not even talk to them in singular. How long should I see this? I have ample money. I want to give him that. But he is not ready to listen to me. Why should he demand money from others? I will give him. Now he must listen to Me". Everybody was stunned by Baba's words.
Once there was Rama Navami festival in Shirdi. Purandare, Advocate Ganapatrao Nandedkar were sitting on the stairs of Dwarakamai. About 20,000 people were there. Shirdi town was packed with crowd. All were eager for Baba's darshan. Group by group people were allowed to go inside for darshan. Suddenly, Baba rushed from inside in frantic rage and directly came to Purandare. He started shouting at him.
"You send people to kill Me. You do not let Me sit in the masjid, nor in the Chavadi". Then Baba caught Purandare by his nose and kept on pushing him out of the crowd. He had His "Satka" in one hand. Helplessly, Purandare started running. Baba was behind him. Then Baba picked up stones and started throwing them on the door of the grocer, Andu Wani. He kept babbling, "Where will you go?. You cannot escape from Me. I will catch hold of you and bury you in Dwarakamai. I will not leave you like that".
Next day, Purandare was standing near the stairs and was organising the crowd as if nothing had happened the previous day. That time Baba was in a happy mood. But He again scolded him in the evening. Purandare and H.A.Pandit were busy fixing a bracket on the ceiling meant for supporting a bell. Baba then, was coming back to Dwarakamai, finishing His daily walk to Lendi Baugh. On seeing Baba, the people who were holding the rope tied to the bell, ran away. They were sure that Baba would beat them. But the two, Purandare and Pandit, who were standing high up to work near the ceiling, could not run or do anything else. As people had left the rope they had to take the whole burden of the big bell, which did not allow them to move. Both were praying to Baba in their minds. Baba came closer and stood leaning on the pillar. Worriedly He said, "These children of mine are dying; still nobody is coming to their rescue". At the very moment they could fix the lever of the bell in proper place and the burnden of the heavy bell was released. They felt the weight lighter. Baba was standing and watching them; they got down. With fear in mind both prostrated at Baba's feet. For a moment Baba frowned at them but then He lovingly said, "Do not behave like mad persons. Why should you take such a risk? If you would have died; then? You have seen, how people ran away. How shall I come to your rescue every time? There is only Allah who will care for poor people like us. Only Allah, no one else. Now go, and take rest at Wada. Do not go out".
In the night, there was a meeting in the Chavadi. After the meeting Purandare had a severe headache. Baba was distributing Naivedyam to the devotees present there. Purandare took a part of it for Baba. He was again displeased with Purandare and started abusing him. Neglecting it he fearlessly kept the dish near His bed. He said to Purandare, "You have become too audacious and arrogant. You do not allow Me to sleep or sit in Dwarakamai or in Chavadi. You try to equate yourself with Me. Take away this dish; otherwise, I will throw it off".
Purandare calmly requested, "Baba please accept the Naivedya. Then only other people will eat". Baba was furious. "Do not trouble Me any more. You can have it and ask others also to eat go". "Baba will you have it in the morning? He asked humbly. Baba answered, "I told you to take it away. I do not promise anything for tomorrow". The dish was kept covered in the cupboard. Purandare's headache was worsening.
Next morning, Fakirbaba said to Baba, "Malik, Purandare is so much suffering. Because of headache he could not sleep. Please do something for him. He is doing hard work even under the hot sun". Baba said, "He is having extra energy. He does not allow Me to sit in Chavadi or Masjid". Fakirbaba pleaded "But Baba, whatever he does, he does it for you. The whole day he is in Your service. Please give him some medicine at least".
Baba said, "Allah will make him allright". But the headache continued. Then Kakasaheb Dixit also requested Baba; "Baba please relieve Purandare from pain. Day and night, he is crying out in pain". When Kakasaheb came back from Baba, he saw that the headache had become unbearable. He said to Purandare, "Now let us go to Baba. He will do something for you".
All of them went to Baba. Bapusabheb Job, Fakirbaba and Kaka were accompanying Purandare. But Baba did not allow Purandare to even sit down. He started abusing with the Satka in hand. With disappointment Purandare got up and went to Radhakrishna Mayi. She tried to soothe him by covering his forehead with cologne water strips. But it was in vain. Six days he somehow sustained the suffering. After two days, Baba gave him Udi and blessed him by keeping His Divine Hand on his head. He also said, "Allah Achcha Karega". Then, taking Baba's permission, Purandare returned to his house in Bandra. When he was leaving Baba reminded him, "Build a house as early as possible. I want to come there".
After coming to Bandra, Purandare undertook the construction work though he had no relief from his constant headache. Two months passed. But he did not go to any doctor or medical practitioner. Such deep faith he had in Baba and His Udi. He thought, "Baba wants to finish my ''Sanchita Karma'. That is why He is giving me suffering. He is also giving me enough strength to bear it. Whatever He does is for my own good".
With all this, he had a terrible frustration. He wrote to Radhakrishna Mayi, "I cannot endure the pain any more. Ask Him either relieve me or let me die. I shall come there (to Shirdi), serve Him and wait for my death".
Accordingly Radhakrishna Mayi conveyed the message to Baba. He then gave some udi alongwith some "Bhuki" (a powder medicine) to Dr.Pillay and asked him to send it to Purandare. Baba also supplied an envelope. He asked Pillay to write the instructions: "Apply this Udi and inhale the medicine" Pillay, then wrote a letter and conveyed Baba's blessings. "Do not worry! You shall be alright. Allah is there to look after you. Why fear when He is there? To fear is a characteristic of women. Do not groan like women".
Purandare applied the Udi and inhaled the medicinal powder as per the instructions. Immediately he got sneezes. And then he had a sound sleep. Next day he worke up at 10:00 in the morning. He was almost cured of the ailment. But still a trace was remaining. It remained there till the construction of the house was not complete. But the headache was not so severe and he could easily ignore it.
Purandare informed Baba about the completion of the house building. He asked Baba as to when he should enter the house. Her preferred to enter before the rainy season. Baba granted permission saying: "On the coming Thursday you will enter the new house and I will be there accompanying you".
Accordingly, the house warming ceremony was fixed on Thursday. Purandare had a slight headache. But neglecting it, he finished his daily rituals like worship and Aarti. Then taking the photo frame of Baba in his hands and singing bhajans they started for the new house. To his surprise, Baba was walking with him all the way. He was there till the moment he kept His photo in the decided place. Then He vanished miraculously. The religious ceremony of house warming was carried out. Since that very day, Purandare Kaka got a complete relief from his long troubling headache. He was cured forever. It was all because of Baba's grace. Baba wanted him to buy a land and build a house. He got it done from him through His grace. Then He finally relieved him from the pain.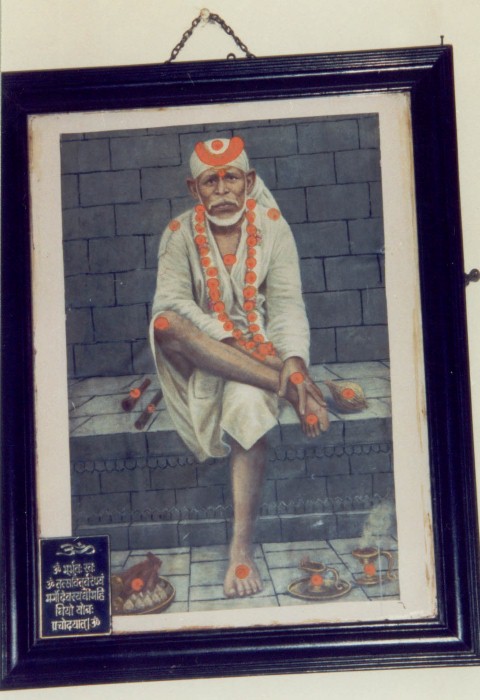 Baba's Photograph worshipped by Purandare Family
When Purandare's wife was ill once before her delivery, Baba appeared in a dream and applied Udhi and she got up. In due course she got alright. When in great difficultly, Purandare always cried before Sai Baba's picture at home. Sai Baba would then appear before him at once and comfort him.
Whenever Purandare Kaka went to Shirdi, Baba used to enquire about all the members of his family. He would then ask for special dakshina and also for eatable he brought. Purandare's wife would always send some "Naivedyam" for Baba. When he could plan to return home, Baba would say, "Bhau return after 2/3 days. Talk to Me for a while and then go. I will not mind you will stay now. Go, do not be scared. Allah Malik Hai. I am there with you". But at the last moment of departure, He would ask him not to go. Then Purandare would alight from the horse-cart with his baggage and stay with Baba until His final permission to go.
One day Purandare Kaka was sitting with Baba massaing His feet. Baba demanded dakshina from him. Purandare said: "Baba I do not have any money". Purandare's wife was there. She went to Wada, and brought all the money, which was collected at the Laxmi Pujan. She offered it at His Lotus feet. Baba jokingly said, "You have emptied the money box before Me. This chap is going to beat you". She answered, "Never! He will never do that. Even If I give it to someone else, then too he won't get angry. Morever, I have given it to You. It is a good action, by which he will be happy". Baba was in a good He added: "Okey, Okey Allah is there. You are fortunate that you got a husband like him. Remember what I say. Never hurt him. Do not cause him pain. He is Mine". Purandare's wife immediately asked: "Baba, whom I belong to?". Baba said, "You too are Mine. I will see that you will not be short of anything. You will not face scarcity. Be always broad-minded. Then Allah will be glad. He is the Protector. He is almighty. Nothing is superior to Him". After giving them Udi, Baba gave them permission to go.
Purandare Kaka was working in Railway workshop. Once, He planned to go to Shirdi and secured passes being a railway employee. But his superior requested him not to go as there were chances of some riots in the workshoop. He also agreed to issue him fresh passes for the postponed journey. But Purandare was eager to see Baba. He decided to go as per his own plan and went to sleep. At the break of the dawn, he saw a dream, in which Baba ran towards him with a cudgel in His hand. He was furious. Showing cudgel he shouted, "Mind well! Do not come. Why should you come every now and then? I am there with you always. I never go away from you. Do not be stupid. Try to understand". Then Purandare cancelled his programme.
Next day a strike was called in the railway workshop. Kaka could not go to Shirdi for the next whole month or so. But when he went, Baba said, "Bhau, do not be so impatient to come here. We have many things to do. Stay calm wherever you are and chant My name. I will meet you there. Ok! who else has come with you?". Purandare replied: "No one, Baba. I have come alone". To which Baba asked: "How long you will stay?". Purandare replied: "I will stay as long as you do not allow me to go". Like this four days elapsed. Baba permitted him to go on the fifth day. Purandare leaned on His lotus feet and broke into tears. Baba calmed him saying, "Why are you so nervous? You have to stay at both the places. Here and there, at your job too. Do not worry. Do your work. Allah will look after you". With Baba's consoling words, Bhau resumed his service.
During one Good Friday, Kaka again went to Shirdi, along with his family members. Baba said, "Bhau, I am coming to your place for lunch (that time Purandare's daughter Babi was ill). Kaka said to Baba, "Who else should be invited?". Baba replied, "your daughter is not well. So let us cut it short. Only 2/3 fakirs, with you and Me". Then Purandare asked "And what would you like to have for lunch, Baba?". Baba replied: "Some rice, Khichadi, rava-halwa and a subji! Thats all". Accordingly, Purandare asked his wife to cook the items. She was very happy as Baba was coming on His own. Before cooking she went for His darshan, with her sick daughter Babi. Baba blessed her with Udi and sent them back. Purandare's wife cooked the food for expected number of persons. Kaka placed the dishes. Just then 5/6 fakirs came. One of them said, "Many more are coming. Baba has invited all of us to your place for lunch". Kaka was confused and scared also. Because the food was sufficient for a few people only. He served all those who had come. More fakirs came in tens and twenties. But it was Baba's Leela. There was no shortage of food. Instead the food was left over. Bhau then went to Baba with Paan Vida and Dakshina. Baba was talking to Fakirbaba. He said: "Today I have over eaten at lunch". Then He told Kaka to go home and take his lunch. Balaji Patil Newaskar (in his house Purandare used to stay when he visited Shirdi) then went to Dwarakamai. Baba asked him, "How are you Balaji?. Was there enough food for all who came?". Balaji said, "Baba why do you test poor fellows like us?. You had said 2/3 fakirs. Actually they were more than thirty. But Your Leela and Your grace is limitless. Sadguru, It was sufficient for all and still lots is left over". Then, Baba smilingly said: "Allah looks after one and all. And look, Bhau is My devotee. I know that he is not a beast of burden. How would I pressurize him? I helped him. It was not a test. I did it for the pleasure of My devotee". Balaji Patil Newasakar was dumbfounded and unable to speak. Purandare and all others stayed at Shirdi for another three days eating the Prasadam, and then they returned home happy and contented.
In 1920 when Purandare's wife was seriously ill of influenza, she felt sorry, she could not attend the Urs Ramanavami. That night Sai Baba appeared in her dream and told her that he will take her for the Urs. Illness still continued and she expired on Ramanavami crying "Baba, Baba" to the last. Thus, Purandare lost his wife in 1920. Purandare had on several occasions heard Sai Baba sing a song once or twice. He would gladly hear people sing to him.
Shri Sai Baba had bestowed many Silver and Brass Coins to Raghuvir Bhaskar Purandare. His son Vittal Purandare thought that if the coins are kept as it is, over a period of time, it will be lost somewhere. Hence, he got all the silver coins melted and got a Silver Idol of Sai Baba made. The Silver Idol of Sai Baba is still kept in the pooja room of his house and pooja is being performed every day even to this day by Vittal's son Shri.Narendra Vittal Purandare.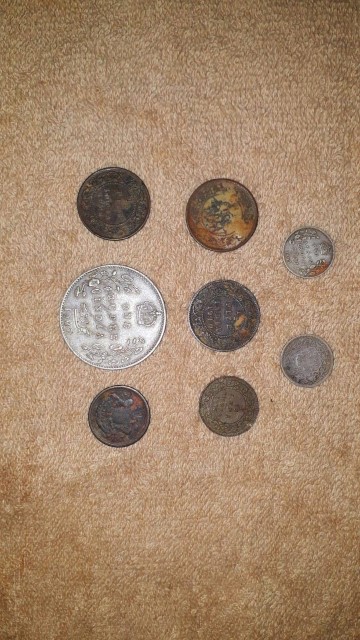 Coins bestowed by Shri Sai baba to Purandare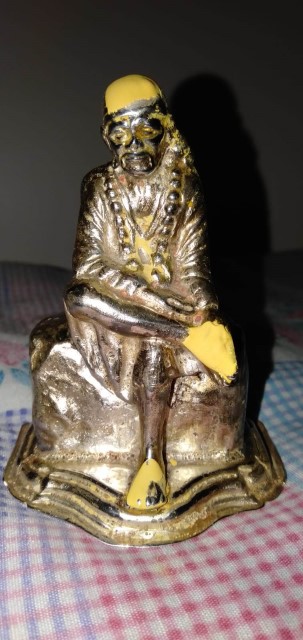 Silver Baba's Idol worshipped by Purandare Family
In 1926 on an Ekadasi in perfect peace and talking of Baba, Kaka Dixit suddenly expired. Purandare saw some devotees dying at Shirdi on Ekadasi.
In 1932 Purandare was hopelessly ill of Sciatica and Rheumatism and was battling for life. But Sai Baba saved him from the jaws of death. Purandare was very passionate, i.e., hot-tempered. Sai Baba told him often, "If anybody comes and abuses you or punishes you, do not quarrel with him. If you cannot endure it, speak a simple word or two or else go away from the place. But, do not battle with him and behave like that. I feel sick and disgusted when you quarrel with others". Baba said this to Purandare and to many other devotees several times.
Once Sai Baba prevented Purandare from going away to Bombay even after 4.30 P.M. The last train at Kopergaon for Manmad would leave at 6.30 P.M. It was a Bazaar day (Monday). Purandare got a bullock cart. Baba told Rege to go with Purandare. Both of them reached the river at 6.45 P.M. and reached the Kopergaon station at about 7.45 P.M. The train had gone away. There was a special train however, running that night which stopped at 8.15 P.M. at Kopergaon and took them to Manmad and thence they reached their homes. There were no trains to Manmad from Kopergaon at night, i.e., after 6.30 P.M. in those days.
Purandare worked as joint-treasurer of Sai Baba Sansthan. Even after Baba's demise, he used to appear in the dream of Purandare and asked him to go to Shirdi and attend to the duties related to Shri Sai Baba Sansthan. In this way Baba took total control of Purandare's day to day activities. He directed Purandare to cooperate with Kaka Saheb Dixit and likewise told Kaka Saheb Dixit to cooperate with Purandare. The two thus worked in close coordination and discharged the activities of Shri Sai Baba Sansthan.
Baba never told Purandare about Meditation. He never asked anyone to pray Him alone. Instead Baba said: "Continue your usual prayers be it Shankar or Vishnu". Baba used to give darshan to His devotees in the very form whichever the devotee adored.
After leading a totally devoted life to Sai Baba, Raghuvir Bhaskar Purandare passed away peacefully in the year 1948.
Raghuvir Bhaskar Purandare had two sons. Elder son's name was Vivek R.Purandare. He was married to Sonali V Purandhare who is no more. His Younger Son's name was Vittal R Purandare. He had a son by name Narendra Vittal Purandare.
His grandson Shri.Narendra Vittal Purandare is still living in their ancestral house at Bandra, Mumbai along with his wife Smt.Sowgbhagi N.Purandare. They have a son by name Sri.Mandar. The family is following the legacy left by their Grandfather Late Shri.Raghuvir Bhaskar Purandare.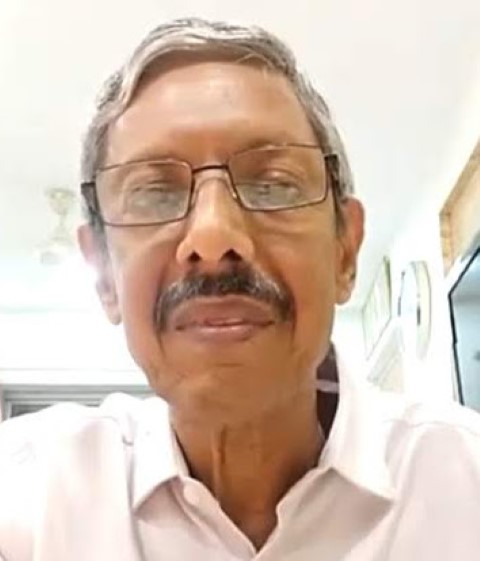 Shri.Narendra Vittal Purandare, Grandson of Late Shri.Raghuvir Bhaskar Purandare
We are giving below the address of Shri.Narendra Vittal Purandare for the benefit of Sai Devotees:
Shri.Narendra Vittal Purandare
Flat No.202, Bldg No.21, Ashiana, St.Paul Road,
Bandra (West),
Mumbai - 400 050.
Maharashtra, India
Mobile No: +91 98694 43354
(Source: Holy Shri Sai Satcharitra Chapter 9, Devotees' Experiences of of Shri Sai Baba by Shri.B.V.Narasimha Swamiji, Shirdiche Sai Baba by Dr.Keshav Bhagawant Gawankar, Photo Courtesy: Shri.Nagaraj Anvekar, Bangalore, Smt.Shreya Nagaraj, Pune and Shri.Jignesh Rajput, Surat)