Gholap Swamiji was the staunch disciple of Swami Samarth of Akkalkot. His name finds a place in Chapter 12 of Sai Satcharitra. He was the Guru of one Shri.Moolay Shastri of Nasik.
One day when the afternoon Aarti was going on, Baba asked Booty to get Dakshina from the Nasik Brahmin Shri.Moolay Shastri. Booty himself went to get the Dakshina; and when he gave Baba's message to Moolay Shastri, he was sorely perplexed. He thought in his mind thus: "I am a pure Agnihotri Brahmin, why should I pay Dakshina? Baba may be a great Saint. I am not His dependent." But as a great Saint like Sai Baba was asking for Dakshina through a millionaire like Booty, he could not refuse. So leaving his routine unfinished, he forthwith started with Booty to the Masjid. Thinking himself holy and sacred, and the Masjid otherwise, he remained at a distance, and joining his hands threw flowers at Baba. Then lo! all of a sudden, he saw no Baba on the seat, but saw his late Guru Gholap Swami there. He was wonder-struck. Could this be a dream? No, it was not, as he was wide awake; but though awake, how could his late Guru Gholap be there? He was speechless for some time. He pinched himself and thought again, but could not reconcile the fact of his late Guru Gholap being in the Masjid. Ultimately, leaving all doubt, he went up, fell at his Guru's feet and then getting up stood there with folded hands. Other people sang Baba's Arati, while Moolay Shastri chanted his Guru's name. Then casting off all pride of caste and ideas about sacredness, he fell flat at his Guru's feet and closed his eyes. When he got up and opened his eyes, he saw Baba asking for Dakshina. Seeing Baba's blissful form, and His inconceivable power, Moolay Shastri forgot himself. He was extremely pleased, his eyes were full of tears of joy. He again saluted Baba and gave the Dakshina. He said that his doubt was removed and that he saw his own Guru.
Ramachandra alias Gholap Swami was the son of Dundiraj. Ramachandra under the tutelage of one Shri.Nathu Appa learnt Palmistry, Astrology, Vedas and Hindu Law and became proficient in these subjects. Because of his proficiency many rich people often consulted him. Thus, Ramachandra was quite affluent and famous and people consulted him to get their problems resolved.
During the later years, Ramachandra's father became his spiritual guru and under his guidance, slowly Ramachandra's attachment for materialistic things, name and fame totally disappeared. He started performing Maha Rudra Yaga, Suryopasana, Sandhya and Agni Sevea regularly at Tilbandeshwar Mandir in addition to his practice of Astrology and Palmistry. He also wrote many religious books on various subjects. Upon his father's insistence, he got married and had a daughter and two sons. His wife passed away after sometime. Then he took up Agni Seva and married twice. As both his wives died, he gave up Agni Seva and took Sanyas and from then onwards he was known as Adveyndra Saraswati alias Gholap Swami or Baba Swami.
After he took sanyas, he was looking for a Sakshatkari Mahapursh to be his Guru. Since he was living in Nasik, he met many Sadhus and Saints but none of them were able to create any impression in him. One day he got up at 3:30 a.m., bathed in the Godavari river and did his daily morning rituals and pooja. Immediately after he complted his Sadhana he was electrified by the presence of a Satpurush, who had magnetic personality, whose lustrous eyes spoke of his self-realisation. Gholap at once went and prostrated before him. The satpurush spoke gently "To give you the fruit of your karmas, I have come all the way from Akkalkot". Gholap instantly came to know that this Avarar Purush was his Guru. To get this confirmed he said to that Satpurush "you have come all the way from Akkalkot to give me refuge". At the very sight of his guru, his mind attained a profound calm and peace, got answers for all the questions in his mind and he was overwhelmed with love and gratitude. He wished to invite the Satpurush inside his hermitage, but before he could do that the Satpurush disappeared.
Soon after this incident, he went to Akkalkot. At that time Swami Samarth was lying on a cot in the Garden. He immediately prostrated before him. Swami Samarth asked him, "And when did you come from Nasik?". This confirmed that the guru had chosen him as a disciple and he was speechless. Gholap spent some very fruitful time in Akkalkot and he progressed spiritually very rapidly. Then he returned to Nasik and brought Padukas of Swami Samarth along with him. He regularly worshipped them and did seva of Swami Samarth. Finally, in Shake 1809 (1887) on the auspicious day of Ashada Trayodashi he took Samadhi. His Samadhi is in Nasik along with the Padukas.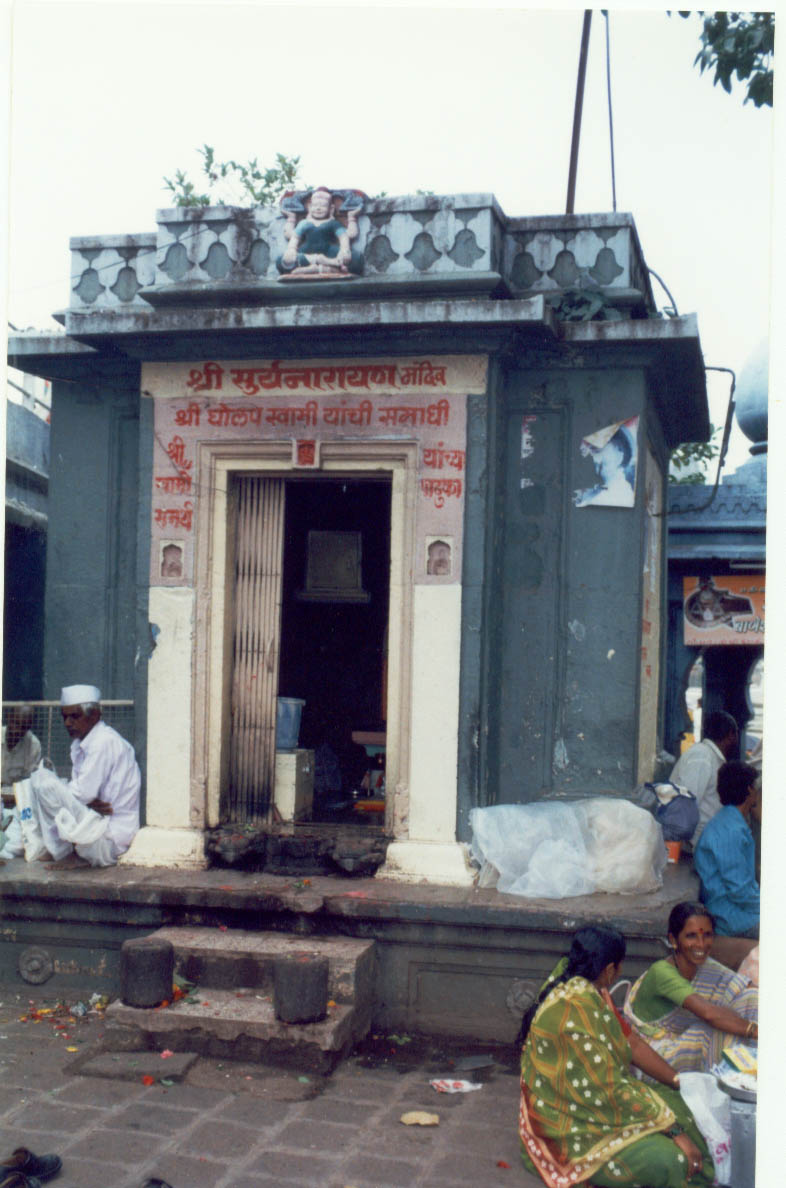 Samadhi Mandir of Gholap Swami
(Source: Shri Sai Satcharitra Chapter 12 and Baba's Rinanubandh by Vinny Chitluri)