.
Dattatreya Damodar Rasane alias Nana Saheb Rasane was the first son of Damodar Savalram Rasane. The family diety is Devi Renuka- Jagadamba Maata of Rashin village and hence the Surname Rasane has been associated with all the family members and the descendants. In his fifth year, in 1900, Dattatreya Rasane was taken to Shirdi for his tuft ceremony and given his first initiation into the mysteries of the Alphabet. Sai Baba held Dattatreya's hand and wrote on the slate etc. Thereafter Dattatreya Rasane was taken to the school at Shirdi. When Dattatreya Rasane was to be married, four girls were offered to him. His father never acted in any serious matter without previously consulting and getting the sanction of Baba. He went to Sai Baba and placed before Him all the four horoscopes (i.e., of the offered girls) one of which had 2,500 or 3,000 rupees dowry and asked Him which was to be chosen. Baba selected a poor girl's horoscope and gave it into the hands of Dattatreya Rasane's father. That was the girl Dattatreya Rasane finally married. Dattatreya Rasane's father invited Baba to attend the marriage which was to take pace at Pandharpur. But Baba replied, "I am with you. Do not fear. Whenever you think of me, there I am with you". Dattatreya's father pressed him further to attend the marriage. Baba, however, declined the invitation with these words: "Without God's permission nothing can be done by me. I will send Shama (i.e., Madhav Rao) to attend it as my deputy". And Shama attended it at Pandharpur. Even Dattatreya's younger brother was named according to directions of Baba.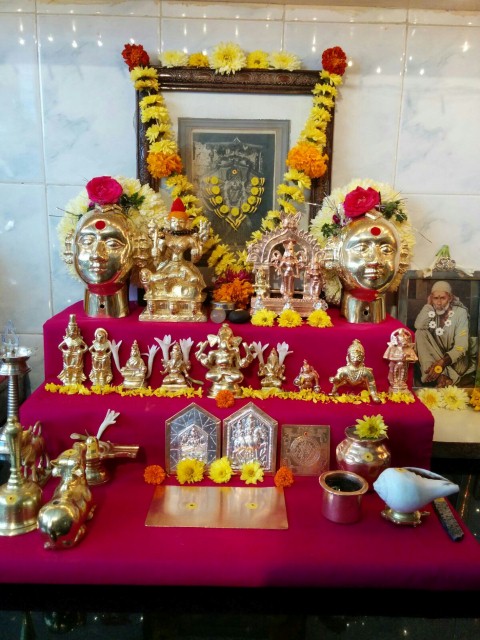 Pooja Room of Nana Saheb Rasane's descendants
Dattatreya Rasane had two girls and a boy but they expired within a few months of their birth owing to fits. The male child died in 1926, his wife's health was bad and he was in great depression of spirits and in that state he prayed to Saibaba. When he was sleeping there at Shirdi, Baba appeared in his dream and said that the male child he was grieving over was born in Moola Nakshatra (i.e., under the constellation Moola) and that was harmful to the parents. Dattatreya saw in that dream a bright circle like the Sun on Baba's breast. Or rather inside the Sun, Baba was sitting with Dattatreya's deceased child on his lap and he said, "I took away this dangerous child from you. I will give you a good child. Do not fear". Before this time Dattatreya's family had migrated from Ahmednagar to Poona. When he went home he looked up the dead child's horoscope and noticed that Moola was really the constellation under which the child was born. In fifteen months of the visit Dattatreya got a son as prophesied by Saibaba. This was in 1918.
Dattatreya's faith in Sai Baba increased. He looks upon other Saints as Sai Baba and he bows to them thinking that he is bowing to Sadguru Samartha Sainath. In 1927, he visited Khedgaonpet and bowed to Narayan Maharaj with this thought or these words. He told Dattatreya, "Your guru is Paramaguru. He is of higher sort than me. Why did you come here? Your prarabdha – Sanchida - is there. Your choice is excellent. Go there and you will achieve your purpose".
In 1927 Dattatreya's stars were not auspicious and his health was bad. He went up to the temple of Sitaram Uttareswar (i.e., Siva) 2 miles of Junner (about 40 miles from Poona) and worshiped the God every Sunday. One Sunday at 9 p.m. when he placed flowers on the God with the words, 'Namaskar (i.e., Salutation) to Sai Baba', he saw a light at the image of the God and in that light the form as Sai Baba, whom he was always thinking of. Then his health improved and his drooping spirits revived. A saint, Janaki Das, was living there. Every Sunday Dattatreya went and bowed to Him also with Sai Baba's name on his lips. He then told Dattatreya, "You have resorted to a great saint. Why do you come to a poor saint like me? People like me seize the feet of Sai Baba." Then Dattatreya went to his lodgings and slept. Sai Baba appeared in his dream as a fakir and said, "You are full of anxiety. Give me biksha, your entire body and mind as biksha".
Then Sai Baba took Dattatreya's body up in his palm and put him into his breast pocket. Dattatreya was filled with bliss at the thought that Saibaba was so kind to him as to put him near his heart.
When Dattatreya woke up he found himself to be very happy and his mind at once attained indifference, Udasinata or Vairagya. In 1928 (Phalgun Vadya) a son was born to Dattatreya at Pandharpur. Fifteen months later, when Dattatreya and his father went to Shirdi, his father prayed to Baba that Dattatreya should have one more son.
In 1931, Dattatreya got another son and that child was named Saidas. On the second day of its birth, it had high fever. Baba's Udhi and Tirtha were given to it and cloth relics of Baba were enclosed in a Tayath and tied to it. It recovered and got alright. When it completed its first year, it was taken to Shirdi; abhishekam was done, clothes presented to Samadhi and Brahmins were fed.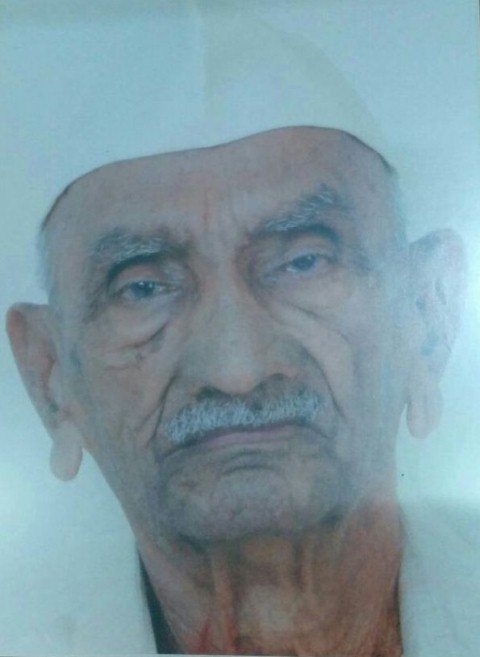 Sai Das - Son of Nana Saheb Rasane
In 1931 Dattatreya was placed in charge of the bangle business. He insisted that it should be named after Baba. It is called (after getting Baba's permission by casting lots before his picture) Sri Samartha Sainath & Co. It is conducted on lines of probity and God conscience.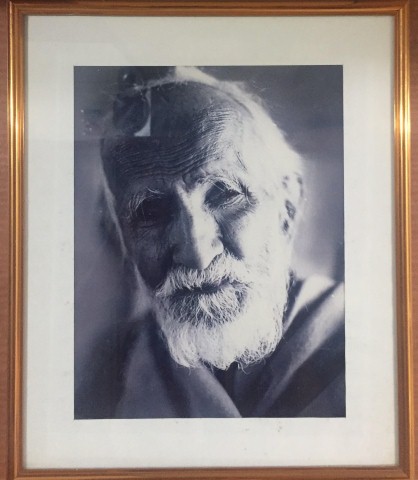 Nana Saheb Rasane
On 1st September 1932, Dattatreya was on pilgrimage at Mathura and had an attack of cholera. Death appeared imminent. His father asked him what his last wishes were. Dattatreya said he merely wanted to be taken to Shirdi, to be burnt there if he died as Sai Baba was his Krishna. But with Baba's photo placed over Dattatreya's head (Udbatti being burnt before it) and with the frequent application of Baba's Udhi and Tirtha at Mathura, he was somehow pulling on. At midnight, Dattatreya's sister-in-law Subadrabai who was there had an avesam. That is, the spirit of Miradatar, a saint of Unava (in Gujarat near Sidpur), spoke through her mouth. Miradatar was a renowned Mohammedan Wali (i.e., Saint) and spoke thus (through her), "You are calling on Sai. He is old and cannot easily move. He is my uncle (Kaka). On his behalf and as he sent me, I have come. Have no fears. You will have his blessing. You will see him in spirit tomorrow. Prepare a cup of coffee and give it to the patient". Coffee was prepared and Dattatreya took it with a little of Baba's Udhi in it. Thereafter fever ceased and he had no more motions. The cure was so sudden as to surprise the doctor whom Dattatreya went to see the next day. "Yesterday, this man was at point of death and how does he get so quickly cured as to come here today?" was his question. Dattatreya replied that Sai is a doctor of doctors and that His sacred udhi saved him.
When Dattatreya was a young boy of seven years old, he went to Shirdi and was massaging Baba's foot. At that time Baba began the distribution of sweets with His own hand to the children present. Naturally Dattatreya's attention turned to the sweets and he grew slack in massaging. Dattatreya's mother was at his side and she beat him saying, "You are thinking of sweets and neglect the service of Baba" "You, old woman" cried Baba, "Why do you beat the boy?" Dattatreya's mother requested him to give him a good desire to perform service to Baba. Baba answered, "The boy will serve me well. God will endow him with pure desires. Do not fear, do not beat him".
When Dattatreya was twelve years, he went with an elder cousin to Shirdi. They had 100 rupees with them. Baba asked for dakshina, 10 rupees once, and 15 rupees another time etc. Only 25 rupees were left with Dattatreya's cousin in his pocket and they at once wrote home to Ahmednagar for more money to give Baba and for our return journey. That evening Baba asked Dattatreya's cousin for 25 rupees and he replied that all the money had been exhausted and that they required money for their return journey. Baba's retort was quick. "Why talk all this humbug? You have got 25 rupees in a corner of your pocket. The M.O. you have written for will come here tomorrow. Do not fear." Dattatreya's cousin paid up the 25 rupees at once.
Before his demise, Damusheth (father of Nanasaheb) called his sons near him and earnestly told them, "From time to time my Baba has given me money – totaling now to Rs 31. Take care of them even more than your life. These are not simple Rupee coins – they are Saakshaat Kamdhenu. Make sure that nothing is left wanting in your service to Shri Sai Baba." The descendants of Nana Saheb Rasane perform special pooja to the coins every year on Dhana Trayodashi day which comes during Deepavali Festival.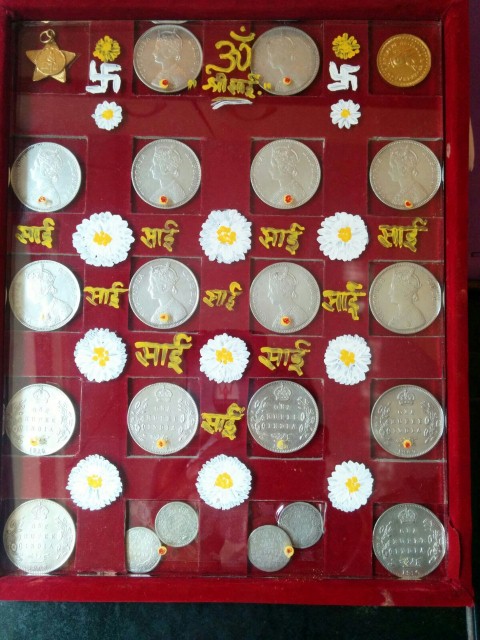 In the above picture, the first one is a Gold Sai Baba locket given by Shri Sai Baba Sansthan Trust, Shirdi to Nana Saheb Rasane and the last one in gold is a coin given by Nana Saheb's Mother...and the Remaining coins were given by Sai Baba to Seth Damu Anna Rasane.
Damusheth breathed his last at the ripe old age of 89 on 20th January 1941. His successive generations hold only Baba in esteem as their Param Aaradhya Daivat. The young and old from their household, even today follow Sai Baba's teachings. As directed by Damuanna, the senior son – Nana Aaheb Rasane gave more importance to serving Sai Baba than looking after his own family. Baba also helped him in his Parmarthik progress. He spent major portion of his life in propagating the teachings of Shri Sai Baba. He was a trustee of Shirdi Sai Sansthan.
(Source: Devotees' Experiences of Sai Baba - Part II by Poojya B.V.Narasimha Swamiji and Personal Interview Smt.Shreya Nagaraj, Pune had with Shri.Shrikant Rasane, Grandson of Nana Saheb Rasane and Dr.Parag Rasane. Photo Courtesy: Shri.Nagaraj Sham, Pune)