.
Chandbhai was a Village Officer of Dhupkhed village. This village is in Paithan taluk in Aurangabad District at a distance of about 15 kilometers from Aurangabad on the road going to Ajantha.
Baba came to reside permanently at Shirdi, making this fortunate Muslim as the reason. This well-to-do Muslim, Patil of his village, was once travelling to Aurangabad and lost his mare "Bijlee". Two months passed away and still there was no trace of the mare. Ultimately, with great disappointment, he started on his return journey. After he covered a distance of around four and half kilometers (approximately 9 miles) from Aurangabad, he spotted a young boy, sitting under a mango tree. The boy – dressed as a fakir – called out to him and asked him to smoke Chillum and proceed further. The fakir – clad in a Kafni and holding a Satka (staff) under his shoulder – was making preparations for smoking a Chillum. Seeing that Chandbhai was carrying a horse saddle on his shoulder, he enquired, "What is this saddle for?" Then, Chandbhai narrated a story of loss of his mare. The Fakir pointed out in the direction of a nearby nullah (stream) and said, "Go! You will find your mare there." And really, Chandbhai found his mare at that place. He was amazed. He immediately realized that, this boy is not an ordinary person and he must be an auliya (a unique person). He brought his mare to the Fakir. The Fakir asked him to sit near him. Then, the Fakir picked-up pliers, with his own hands he embedded it in the ground, took out a burning ember and placed it in his Chillum. When he found that water was needed to make the Chhapi (a piece of cloth required to cover the Chillum), he banged his Satka on the ground and brought out water. He wetted the Chhapi in the water, squeezed out extra water from it and wrapped it around the Chillum. He smoked the lighted Chillum and offered it to Chandbhai.
Seeing all this, Chandbhai flabbergasted. The Patil naturally felt that, he should take this Fakir to bless his home. On the insistence of Chandbhai, the Fakir went to his house either that day or the next day. He stayed there for some time and went once again to Shirdi along with the wedding procession of Chandbhai's relative.
Chandbhai did not have issue of his own. His wife's nephew's marriage was arranged with a girl, named 'Wajirbi' from Shirdi. For this marriage, Chandbhai's family and friends were going on horsebacks and carts. With this entourage, Baba was also travelling in a bullock-cart.
After reaching Shirdi, the procession put a camp in the ground, in front of the Khandoba Temple. This temple was owned by a Sonar (goldsmith) Bhagat Mhalsapati. Seeing the cute looking child Fakir, getting down from the bullock-cart, Mhalsapati spontaneously uttered, "Aao Sai (Welcome Sai)!". And the Fakir came to be known by that name thereafter.
The story of Chandbhai's mare was told by Chandbhai himself to Ramgeerbuva of Shirdi ('Bapugeer' as called by Saibaba). Later on, in the year 1936, Ramgeerbuva narrated it to Narasimha Swamiji, in an interview taken by the latter. At that time, Ramgeerbuva's age was 76.
It is said that Baba appeared in the dreams of Chandbhai and found out his thoughts.
The old house of Chandbhai Patil was demolished over a period of time and a new house was built on the same land. Here the Great Grandson Shri.Babulal Nadan Pathan (4th Generation) is residing.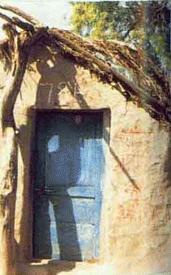 The Samadhi of Chandbhai Patil is present next to the Neem Tree. It is the same Neem Tree where Sai Baba used to sit for meditation and for taking rest.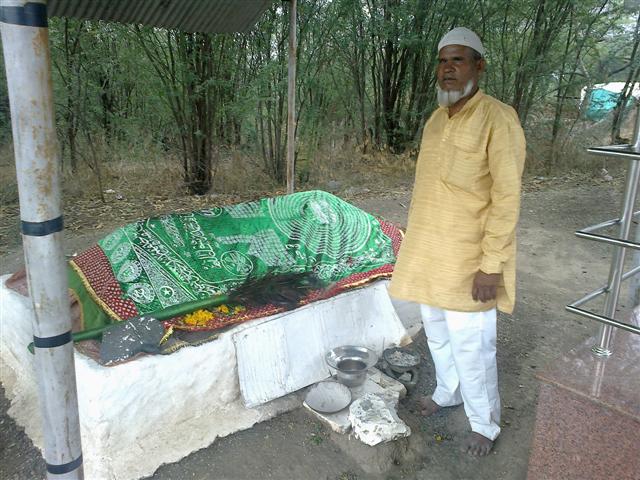 Shri.Babulal Nadan Pathan says that Shri Sai Baba stayed in this house for approximately 2 months. The Grinding Stone touched and blessed by Baba, the articles of horse "Bijlee", a painting of Saibaba with Chandbhai Patil can be seen in this ancestral house of Chandbhai Patil.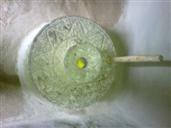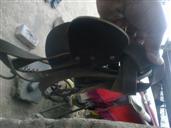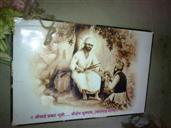 Address:
Shri.Babulal Nadan Pathan
Great Grandson of Chadbhai Patil,
Dhupkheda,
Paithan Taluk,
Auragabad District,
Maharashtra,India.
Mobile No: +91 98818 22212
(Source: Shri Saileela Magazine November-December 2005 Issue, Photograph Courtesy and Personal Interview with Shri.Babulal Nadan Pathan by Shri.Nagaraj Anvekar, Bangalore)