Bayaja Bai Ganapath Kote Pail (Bayaja Maa) came to Shirdi after she married an affluent landowner, Ganapath Kote Patil. She was a dutiful, loving wife, who did all the household chores. But most of all she loved to cook and feed various guests and relatives that came to her home. "Food is Brahma" she knew and was the first lady to feed Baba when he came to Shirdi in the early days. In Chapter 8 of the Sri Sai Satcharitra her love, devotion and caring is beautifully described. Bayaja Maa recognizing His divinity would roam about in search of the Fakir and feed Him daily. She then returned home to eat. Her trouble ended when Baba came to live in the Dwarakamai Masjid.
Daily Baba took Biksha from her house. As soon as she heard Baba's voice she left whatever she was doing. Whether it was attending to the cattle or horses went inside and prepared fresh Bhakri and curried vegetables for him. Baba was very pleased with her love and devotion.
Baba asked her once what she wanted? "Do you want Sampathi (wealth) or Santhathi (welfare of your family)"? Unhesitatingly she asked for the welfare of Tatya, who had no children, though he had three wives. True to His promise Baba looked after Tatya and his family, and even took 'niryan' for him.
When Baba was in his physical form, Aarti was performed to him. Usually during Madhav Adkar's Aarti "Aarti Sai Baba Sowkya Dathaara Jeeva" he was offered the Chillim. Baba would take a puff or two and then pass it around.
The Shirdi Saibaba Sansthan has bestowed the honor of carrying Baba's photograph during the Palkhi procession on their descendants. The details of Chavadi Procession are as follows:
Viju Kote Patil who is Tatya's grandson and Gopinath Kote who is Bayyaji's grandson goes to the Samadhi Mandir just before the Palkhi procession commences. The Pujari gives Baba's photograph to Viju and the case containing the Padukas to Gopinath. (Earlier, they would ascend the steps of the Samadhi to pick them up. But this process has been stopped about four years ago). They then carry them to the waiting Palkhi and place them inside. Then the Palkhi proceeds to the Dwarakamai. Viju then takes Baba's photograph and places it on the stone for a short while. After Baba has sat on the stone for sometime, he's taken to the sanctum sanctorum. The photograph is then placed in the Mandap for sometime. Then it is brought to the Palkhi and placed in it.
Until Viju signals to the Palkhi bearers to lift the Palkhi, it is not lifted. Just as Baba would not get up until Tatya came and lifted him and asked him to go for the Palkhi procession. The Palkhi then goes to the Chavadi, and Aarti is performed there. At that time Baba is offered a lighted Chillim by Viju.
This blessed house of Bayaja Maa is situated adjacent to "Sai Kutir".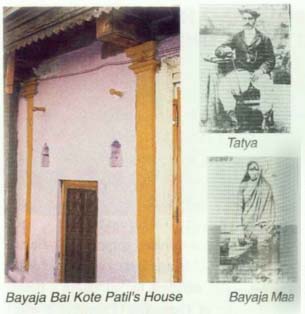 (Source: Baba's Gurukul by Vinny Chitluri)