Bapu Saheb Jog alias Sakharam Hari was born in the year 1856. He worked as a supervisor for the government and in 1909 he availed of the 'retiring furlough' and came to Shirdi with his wife Smt.Taibai. The couple had no children, and they lived comfortably on their pension.
One of Bapu Saheb's close relative was the famous satpurush Vishnu Bua Jog (Uncle as per Holy Shri Sai Satcharitra Chapter 43 & 44). Before visiting Shirdi he had visited Kabad to pay homage to Sadhu Sakharam Maharaj. He spent sometime there doing seva. Bapu Saheb Jog thought that he would stay for a few days in Shirdi and then return to Kabad, and spend the rest of his life doing seva there. But Baba had some other plans for him. At Shirdi, Jog stayed in Sathe Wada. When the other devotees said something that he did not like he threatened to go to Kabad. Then Baba intervened and said "Does the Wada belong to Sathe's father?. I will tell Dada Kelkar not to trouble you. You just stay peacefully there. Okay!". Baba spoke so sweetly that Bapu Saheb stayed back at Shirdi.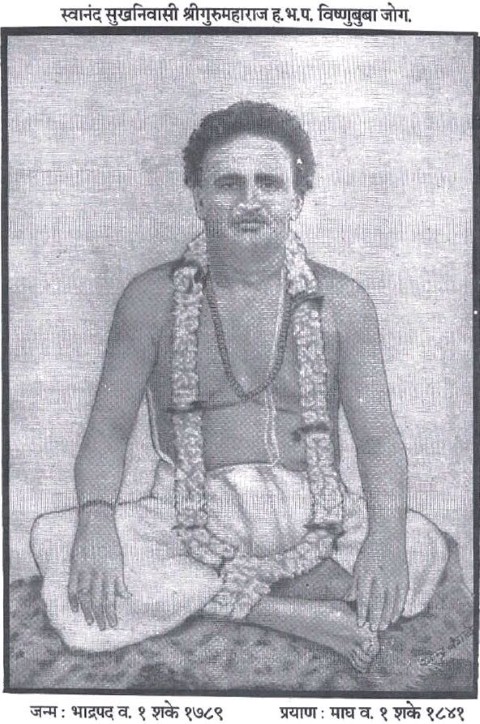 Vishnu Buva Jog (Photo Courtesy:Smt.Shreya Nagaraj, Pune)
Bapu Saheb was a 'Chithpavan Konkani Brahmin', very orthodox and strictly followed the 'Sovale' (state of purity) ritual. He was righteous, honest and straightforward in his dealings. His wife Taibai was of a similar temperament and thus they were made for each other. Her name was 'Taibai' and Baba called her 'Aayi'. Bapu Saheb was a 'Datta Upasaka' (staunch devotee and follower of Datta Sampradaya rituals). He silently went about doing his sadhana. The Pooja room in his house had the idols of all gods. He would offer a Kafni along with naivedya to Lord Dattatreya during Datta Jayanthi of every year. One year while at Shirdi he had an irresistible desire to offer a Kafni to Baba on Datta Jayanthi Day. So, he got Bala Shimpi to stitch a Kafni. On Datta Jayanthi he took the Kafni and after doing pooja to Baba he offered the Kafni to Him. Baba accepted the Kafni, and in turn gave him one of His Kafni as prasad. Happily he took the Kafni and preserved it. In the evening, he would wear the Kafni, tie a white cloth around his head, and go for Baba's darshan. He called it "Durbari Poshak" (Court Dress). At other times he wore ordinary clothes.
Bapu Saheb was kind-hearted and a thorough gentleman. But because of his position of power, and his dealings with the labour force he appeared stern. But he did have a quick temper. Baba, slowly but surely changed this attitude of Jog. He lived frugally and had a quite a bit of money saved. Baba knew that he was egoistic about his wealth. Baba kept demanding dakshina again and again from him till he was depleted of all his savings. Bapu Saheb learned a valuable lesson. His routine every month was to collect his pension from Kopergaon, pay his dues to the shopkeepers and whatever remained he would place that before Baba. Baba trusted him immensely and would often give His money to him for safekeeping. Bapu Saheb would keep the money safely and was constantly aware that it was Baba's money. When the need arose Baba would ask him to buy this or that from it. Baba would often give him hundred rupees, and a few days later jokingly say, "Bapu Saheb, I gave you a hundred and twenty five rupees a few days ago. Go and fetch it". Bapu saheb would tell Baba that He had given him only hundred rupees. This happened quite a few times, and Bapu Saheb would indignantly say, "Baba, I don't want to be involved with Your money transactions. Keep Your money with someone else". Baba would then pacify him saying, "Bapu Saheb, don't get angry! I made a mistake, it was only a hundred rupees okay". Once a devotee gave Baba a guinea. Baba gave it to Bapu Saheb and said, "What is this?". He told Baba that it was a guinea or equivalent to fifteen rupees. Baba said, "It is worth thirty rupees you keep it and give Me thirty rupees".
Bapu Saheb looked after Baba's affairs, after another Sai Mahabhakta Megha's death on 19th January 1912. He was given the honour of performing Baba's Aarti till Baba's Niryan in 1918.
All the seva that Megha used to perform fell on Bapu Saheb's shoulders – like Baba's aarti in Dwarakamai, evening aarti in Dixit Wada and Guru Paduka Sthan. Bapu Saheb took his duties very seriously. Usually there were a substantial number of devotees present for the aarti. However, if there were a few or none at all, it did not bother Jog and he conducted the aarti with devotion and zeal. Bapu Saheb and Tai led a life of austerity. They were up at the crack of dawn. After bathing in cold water, they performed 'puja' to their household deities, followed by religious rituals, and reading of the Pothi. Then they would go to the Dwarakamai for Baba's darshan. Bapu Saheb stayed at Baba's side doing all the chores required. Tai went home, and prepared the prasad for the aarti, and looked after the innumerable guests that Baba sent.
One Day when Tai took the breakfast prasad to the Dwarakamai, Baba called her and said, "Aayi today a Buffalo will come to you. So make a lot of Puran Polis (a chapathi filled with cooked Daal and Jaggary and Cardamum). Top it with lot of ghee (clarified butter) and give it to the Buffalo to eat". Aayi readily agreed to do so. But she said, "Baba I will surely make a whole lot of Puran Polis with a lot of ghee. I will feed the buffalo, but where am I to go and search for this buffalo. And how am I going to recognize him?". Baba replied, "Aayi why do you worry about this? As soon as you finish preparing the Puran Polis the buffalo will come to your door". In dismay Aayi replied, "Baba the house that I live has two doors. Everyday a whole lot of buffalo's pass that way on their way to graze. Often they stop at my door for food that I may give". Baba explained, "Aayi as soon as you have prepared the puran polis and applied ghee this particular buffalo will come to the rear door and wait".
Satisfied with Baba's answer, Aayi went home. With great care she made a lot of delicious puran polis. Making sure that they were laden with ghee. It was about 12:30 when she went to the rear door and found the buffalo waiting.
She was surprised, but happy that Baba's words were true. Then she returned with a whole lot of puran polis and fed the buffalo. The buffalo ate all the puran polis and then died right in front of her. Aayi was frightened, distraught and sad at the turn of events. Aayi felt that she was responsible for the death of the buffalo. She went inside the kitchen and carefully examined each and every ingredient that she had used, but could not find anything wrong with them. Her mind was in turmoil. She said to herself, " I made these puran polis with lots of love and happiness. Then how did this happen? Why did this buffalo die? Though I did not kill him, everyone will hold me responsible for the death. What will everyone think and say about me. I just followed Baba's orders. Whose buffalo was it anyway? When the owner comes to know about this he will say I killed the buffalo. If the owner asks for payment, how much must that buffalo have cost? What if he registers a complaint? What will be its outcome? Baba is the creator of this cosmos, I followed His instructions, so if the outcome is bad, He will forgive me for it". Thinking like that she pacified herself.
Later she went to Baba and told Him in detail what happened. Baba said, "Aayi do not be afraid. What happened is not bad. It had to happen anyway. That buffalo had only this desire (vaasana) left. Once that desire was satisfied he got free from that womb. Now he will get a good rebirth. Now you go home without fear. Don't feel bad or sad as you have freed him from a lower birth. When you have freed him from the rebirth of a buffalo and given him a chance for a better birth then why should you be unhappy?" With these words Baba comforted her and she went home happily.
Once during the auspicious time of Parvani Bapu Saheb Jog and his wife Taibai wanted to have a bath in Ganga at Kopergaon. Baba called the Godavari river as Ganga. Hence the rest of the devotees did the same.
Jog went to take permission from Baba who said, "Bapu Saheb, Baghu Thyacha Vichar Udhya Sakali" (meaning : Bapu Saheb, look we will think about it tomorrow"). Bapu Saheb replied "Baba the auspicious time is at seven in the morning. We will have to get up at about four in the morning to reach Kopergaon. Only then will it be possible to have a dip in the Ganga". Again Baba repeated the same words. Jog pleaded with Baba many times in various ways. But Baba had only one reply, "We will see tomorrow". Jog and his wife were quite disappointed, as such a Shubh Kaal came only once in a lifetime.
Bapu Saheb was such a staunch devotee that he would not go against Baba's wish. That night he was very restless, and it was the night that Baba slept in the Chavadi. In the morning he performed Kakad Aarti, and had just finished the ritual when the villagers came running. They were shouting that the canals were filling up with water from the Ganga. Baba looking at Jog said, "Tu Sagli Rath Leye Shive Dileyas, Pan Devache Daya, Ganga Aaplapashi Aale. Jaa Atha Angole Karun Gheye" (meaning: "The whole night you hurled abuses at Me. But due to God's kindness the Ganga has come to us. Now go and have dip in it"). Thus Bapu Saheb, his wife Taibai and the rest of the villagers had a dip in the Ganga.
Bapu Saheb used to have bath both in the morning and noon in the Canal. Seeing his delight Baba said, "Arre Bapu Saheb, see how kind God is. But we do not place total faith in Him nor do we have 'Saburi'". Saburi means unfailing concentrated faith.
Bapu Saheb was very orthodox and strict about his way of eating. He observed Ekadashi and other fasts. On such days he would not touch onions. Baba respected this and never forced him to eat with Him. In fact, Baba would make him go home for lunch, often with some other devotees. Whenever the devotees offered sweets and fruits to Baba he would hand the whole basket or box to him.
Bapu Saheb Jog's mother died in Shirdi. He wanted to perform the ceremonies with all the religious rituals. He decided to go to Nasik, as the Brahmins from his caste were not available at Shirdi. He went to Baba and asked for permission to go to Nasik, and find out if the Brahmins would be available on that particular date. But Baba kept putting it off. In desparation Bapu Saheb said, "come what may, I have to go today. There are no Brahmins from my caste here". To which Baba said, "We will decide about this in the evening".
In less than an hour since Baba had spoken these words, an extremely learned Vedic Brahmin from Jog's caste came to Shirdi to have Baba's darshan. He later performed the ceremony to Jog's satisfaction. Thus there was no reason for him to go to Nasik. Kaka Saheb Dixit was present when Jog was taking permission. Kaka said, "Baba, let us – you, Bapu Saheb and me – go along. We will leave Jog at Nasik, then you and I will go to Mumbai". To which Baba replied saying that "Mee Kadi Konnala Soodnar Manush Naahi" (meaning: I never ever desert anybody. I am not such a person). Baba in His typical manner had given an ordinary conversation such extraordinary meaning.
Once Bapu Saheb asked Baba, as to when He would give him Sanyas. Baba replied, "As soon as you are free from your worldly responsibilities". Thus Bapu Saheb was now free. He stayed on at Shirdi for a few years and looked after Baba's Samadhi.
After Kaka Saheb Dixit's death the other devotees left Shirdi. Being quite alone, Bapu Saheb decided to go to Sakori. There he wore a Kafni, and took Sanyas. His decision to go to Sakori is perplexing, as he and Upasani, another disciple of Baba never had a cordial relationship. Once he dragged Upasani and brought him to Dwarakamai. Then he proceeded to tell Baba about the disagreement and asked Baba to be the judge. Nevertheless at Sakori he attended to Upasani with the same devotion as he would to Baba.
Tai was the epitome of bhakti. She was intensely devoted to Baba. Her love for her 'Guru' was so passionate that after Baba's niryan she lost self-control. She wandered the streets of Shirdi aimlessly, as if searching for her Guru. She had a vacant look on her face, oblivious of her surroundings. So desolate was she that she died two months later.
This incident happened just six months before Bapu Saheb took Samadhi. Kaka Saheb Dixit took Samadhi on Ekadashi day in the Jyeshta masa of Shake 1848 (1926). Bapu Saheb took Samadhi exactly six months later. It so happened that a devotee had a vivid dream. In the dream the devotee saw a group of devotees seated before Baba. These devotees were had their eyes open. Next to them sat Kaka Saheb Dixit but he had his eyes closed, as if he was in meditation. Next to Dixit was a seat that was vacant. The devotee in his dream asked Baba why the seat next to Kaka was vacant? And why did Kaka have his eyes closed? Baba replied, "That Dixit was a new comer and the empty seat was reserved for another dear devotee who would follow six months later". In this way, Baba had forewarned Bapu Saheb Jog's death.
As Bapu Saheb died as a Sanyasi his Samadhi lies in front of the Upasani Ashram in Sakori.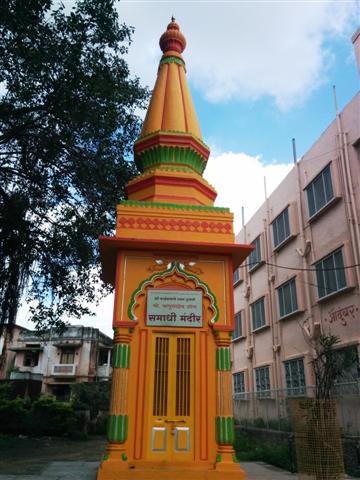 Samadhi of Bapu Saheb Jog (Photo Courtesy: J.Subramanya)
(Source: Baba's Rinanubandh and Baba's Vaani by Vinny Chitluri. Photo Courtesy:J.Subramanya, Bangaloreand Smt.Shreya Nagaraj, Pune)