About four months prior to His Mahanirvan, Baba called Appa Bhill of Shirdi and told him ''Bring 4 chicken. Guests are expected.'' He brought the chicken. Baba cooked them with His own hands. He also prepared Chapatis. After sometime, Bade Baba's son Kasim arrived there. He gave him Rs. 250 and the food cooked by Him and said, ''Go to Aurangabad ! Meet Shamsuddin Miya there ! Perform Maulu and Kawwali ! Then go to Banne Miya ! Put garland of Shevanti around his neck ! Tell him, ''Nine days. Ninth date. Allah Miya will take away His Dhuni. It is His wish"
As told by Baba, Kasim met Shamsuddin Miya. A program of Maulu and Kawwali was performed. Then this group (Kasim, his servant and Imambhai Chhotekhan of Vaijapur) went to Banne Miya.
Janab Banne Miya was a respected Sufi saint of Biyabani tradition. He had settled down at Khultabad near Werool, Aurangabad. He was fortunate to spend some time in the midst of Shri Baba. When the group neared Banne Miya, he was standing with one hand raised in the air. There were some Arabs who were standing around him. They requested the group not to go near him. However, after waiting for an hour, the group gathered courage, went near Banne Miya and conveyed Baba's message. Imam Bhai writes, ''Hearing the message, Banne Miya stared at the sky and tears welled in his eyes.'' He further adds, Four months thereafter, Baba laid down His mortal body. According to Muslim calendar, that was the ninth day of the ninth month and the night was Kattal Ki Raat. (Sai Baba & His Devotees' Experiences - by Narasimha Swami).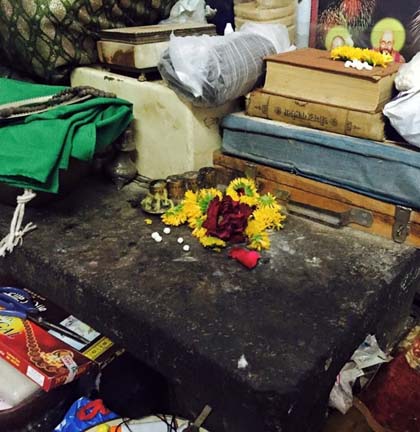 Dargah of Banne Miya
If you look back at the Shake 1840 Hindu calendar, we find that, when Baba left His Sthool Deh it was the Pratham Maas (first month) of Dakshinayan (southern phase of sun's journey). At that time, Dashmi (first ten days) had passed and it was Ekadashi (11thday) and it was the day of Dassera. It was the ninth day of Nav Ratra, a day of Durga Saptami Pooja of Bengali folks. It was also the Birth Anniversary of Bhagwan Gautam Buddha. Thus it was a holy day of many religions.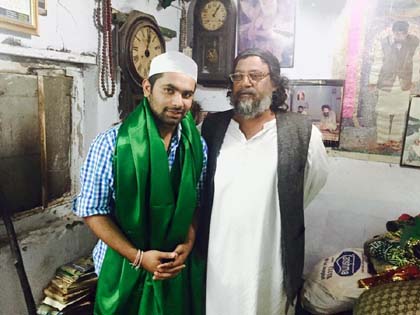 Kashim Bai - Great Grandsonof Banne Miya
After Nirvan of Baba, a dispute arouse as to whether Baba Muslim Peer or a Hindu Sant. On 15th October 1918, Baba told the people around Him to go and have their lunch. He then laid down His mortal body while He was sitting. The major dilemma before everyone now was – what next ? Muslims said, Baba is Muslim. So, according to our religion, He should be buried as per our religion.
Bade Baba, Ameer Shakkar, Maulawis and other Muslims from Shirdi held on to the body of Baba. In their eyes, He was a 'Mahan Aulia Peer'. Ameer Shakkar used to very proudly declare, ''Sandal cannot be taken out without a great Peer.'' Therefore, they intended keeping Baba's Samadhi under their control and build His Kabar (tomb) in a large place.
On the other hand, devotees like Kakasaheb Dixit averred that ''Baba is a great saint. In case of such personalities, the question of religion – Hindu or Muslim – does not arise. Further, His last words were 'Take me to the Wada'. Therefore, His further arrangements must be befitting His greatness.'' The issue went up to the district collector. However, the Muslims conceded that they were in a minority as far as this issue was concerned. Till now Muslims and Hindus had lived harmoniously. Hence, Muslims should not be adamant now. It will spoil the atmosphere in the society. The Muslims thought wisely and joined the Hindu devotees. The love and affection continues between these communities till today in Baba's Darbar.
(Source: Shri Sai Leela Magazine September-October 2007, Photo Courtesy: Smt.Shreya Nagaraj, Pune)