.
In Shri Sai Satcharita, late Shri. Tatyasaheb alias Laxman Krishnaji Noolkar has been only referred to at few places. (Ch. II, Ch. XXVII and Ch. XXXI). Shri. Nagesh Gunaji in his English Saicharita has added a few lines on his life and spiritual achievement in brief. Perhaps both of them had no access to more information about Tatyasaheb Noolkar.
Luckily, the writer of this article came across Tatyasaheb's grandson Shri. Raghunath Vishwanath Noolkar from whom he received lot of reliable information (personally observed by his father and written down for an article in Sant Kripa magazine) not known to Sai devotees. He also produced some proofs viz a letter from Shri.Madhavrao Deshpande (Shama) in his own hand-writing and a letter written by Tatyasaheb Noolkar to Shri. Nanasaheb Chandorkar about his spiritual experiences. Based on all this and also on information procured from other sources, this writer has collated this article in detail to describe the great spiritual progress of Shri. Tatyasaheb Noolkar and his final beatitude at the feet of Shri Sai Baba at Shirdi in March, 1911.
Early life and first meeting with Sai Baba
Tatyasaheb was born in the latter half of the 19th century and educated at Pune High School. In government service and other activities, he was known for his firmness, truthfulness, selflessness, benevolence and self-control. In spiritual mailers, his study was great and he used to read Upanishads and other religious books regularly. He had "darshan" and intimate association with quite a few saints.
In 1908, Tatyasaheb was Sub-Judge at Pandharpur (famous place of pilgrimage of Sri Vithoba in Maharashtra) and Nanasaheb Chandorkar was the Mamledar (Revenue Officer, in charge of a sub-division) at the same place. Nanasaheb as per his usual habit, used to urge Tatyasaheb to visit Shirdi at least once. At last Tatyasaheb agreed to go to Shirdi on two conditions, (1) he must get a Brahmin cook and (2) he must get good Nagpur Oranges for presentation to Shri Sai Baba. On this Nanasaheb said, "Yes, with Baba's grace you will get them also".
Surprisingly, the same night one Brahmin cook came to Nanasaheb for a job and he immediately sent him to Tatyasaheb. next day morning, Tatyasaheb received a parcel of excellent Nagpur oranges, the name of the consigner not being mentioned. Thus Tatyasaheb was convinced of Baba's divine powers and he went with Nanasaheb Chandorkar to Shirdi. Tatyasaheb was physically short and fat. As he bowed down at Baba's feet, Baba placed his hand spreading all five fingers on Tatyasaheb's head lightly but with a slight push. As a result, Tatyasaheb collapsed a little towards the nearby pillar, but at that time quite different feelings appeared in his head and having been convinced that this was the real and ultimate place of his Guru, he was in the state of unparalleled joy.
That night Tatyasaheb while asleep in Sathe Wada, suddenly woke up and started asking Nanasaheb for betel (a roll of Piper-betel leaves with areca nut, clover, lime etc. chewed after meals) which Nanasaheb was not in the habit of chewing. Just at that time Baba at the Masjid said to someone present, "Take these four betels and give them to the old man who has come with Chandorkar at Sathe Wada." Seeing that man suddenly come with the betels, Tatyasaheb was convinced about Baba's powers of knowing secrets of others' mind (Antargyan) and his faith in Baba was further established. Tatyasaheb came back to Pandharpur but whenever he got leave or had holidays, he started visiting Shirdi for Sai Baba's darshan and company.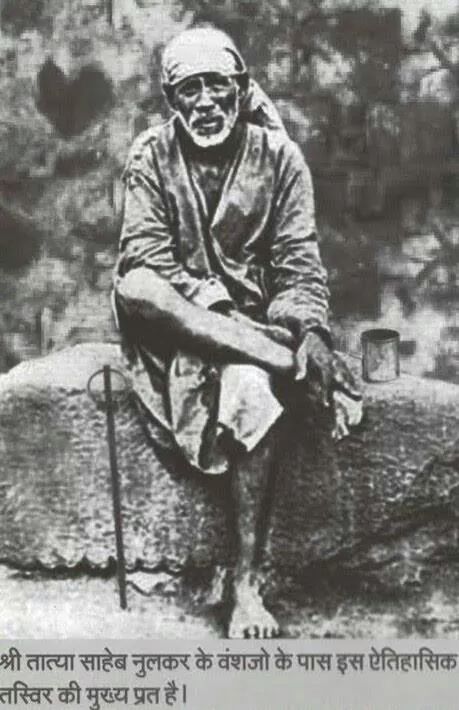 Baba's Photograph in Noolkar's House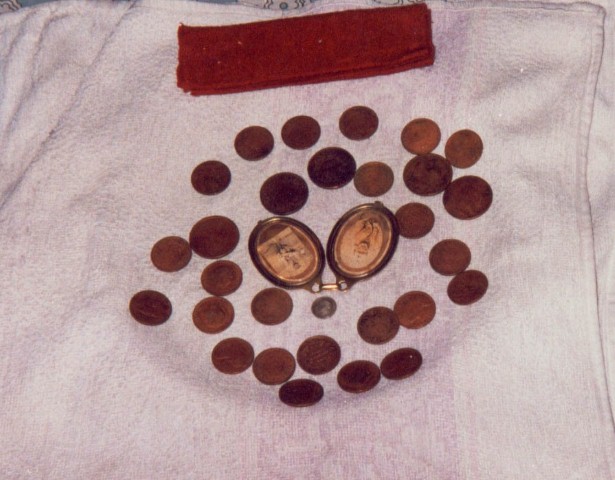 Coins given by Baba to Noolkar's Family
Severe pain of eyes cured
Once Tatyasaheb had some dangerous disease of his eyes. He could not see properly and pain was unbearable. When no improvement occurred in spite of treatment from well-known eye specialists, Tatayasaheb as a last resort went to Shirdi. Two days he sat in Sathe Wada praying Sai Baba and continuously repeating Sai-Nama. On the third day Baba placing His hand on His own eyes, said to Madhavrao Deshpande, "Shama! Today My eyes are paining severely". As soon as Baba said these words, Tatyasaheb's pain started becoming less and less and soon the eyes were cured completely. (In Shri Sai Saicharita Ch. XXI, Sai Baba's taunting a pleader from Pandharpur and teaching him not to indulge in any scandal or slander of others, was in reference to that pleader's criticism and discussion in the Bar Room of Tatyasaheb Noolkar's above stay at Shirdi for cure of his eyes only).
Baba's favors to Tatyasaheb
In earlier days Sai Baba was not getting Himself worshipped. If somebody brought a garland, He did not accept it. But later on due to love of various devotees, He started permitting devotees to apply sandal-paste to His fore-head, offer Him flowers and perform Aarti (waving of burning lamps). It was Tatyasaheb who had the privilege of first performing such Pooja on Guru Pournima Day. Tatyasaheb describes this incident in his letter to Nanasaheb Chandorkar thus:
"On Saturday just as I got up in bed, I remembered it was GURU POOJA DAY and made preparations. After Bhiksha (begging round of Sai Baba) we were permitted to perform Guru Pooja. Baba allowed us to do upachar (particulars and points of worship) quickly. He returned all Dakshina that was given at the time of Pooja. Then He sent word to Radhakrishnamai and Dadabhai (Dada Kalkar, father-in-law of Rao Bahadur Sathe) that Pooja and Aarti was being done and they should come. So Radhakrishnamai sent her Pooja articles and Dada came with his Pooja articles."
Thus, with Tatyasaheb Noolkar, the congregational worship of Baba with singing of Aarti and playing of musical instruments started which was continued further first by Megha and then later by Bapusaheb Jog.

Sai Baba's and Tatyasaheb's mutual love was really incomparable. Sai Baba used to call Tatyasaheb Tatyaba or 'mhatara (old man)'. At worship time, many dishes of different food items used to come and sometimes Sai Baba used to say, "Today I want Tatyaba's 'poli (wheat cake) and so saying He would accurately pick out poli received from Tatyaba's house out of the heap of pollies received.
Tatyasaheb once had a desire in his mind that he should get some words from Baba's sacred mouth for reciting. Baba having known this, once uttered some special words to satisfy Tatyasaheb who continued to recite the same till the end of his life. Tatyasaheb also wished to receive some article from Baba for placing it in his Pooja room and worshipping. Then unexpectedly on Datta-Jayanti Day (Birthday of Sri Dattatreya in the month of Margasirsh), at about 9 p.m., Sai Baba sent a messenger for Tatyasaheb. The messenger had not even reached the Wada when Baba was in such a hurry that He sent two more messengers one after another. When Tatyasaheb arrived, Baba pulled out one 'Kafani' (a long robe such as used by Baba Himself) from the heap of kafanies and placed it on Tatyasaheb's body saying, "Let it be with you. It will protect you from severe wind and cold". Tatyasaheb felt that this was a sort of 'sanyas diksha' (initiation into the fourth stage of life, i.e. abandonment of all worldly possessions and earthly affections) as per his own liking and with tears of joy in his eyes he placed his head on the feet of Baba and resumed. Such were the many favors Tatyasaheb received from Sai Baba.
Desire to stay permanently at Shirdi
While working as Sub-Judge at Pandharpur, a court case regarding "Aarti" rights of the famous Vithoba Temple came before him and as per his usual truthful nature gave a decision generally not expected by the public. Then he took leave and went to Shirdi along with his family. When Tatyasaheb went to see Sai Baba, He lovingly said, "Tatyaba! It's good you have come. How long are you staying?" There upon Tatyasaheb replied, "Baba! I do not feel like leaving this place. Now please let me stay here. In the court I have decided a case concerning Lord Vithoba Himself. Now do not make me hold the pen again to write decisions on cases concerning human beings. It is enough now." On this Baba uttered, "Yes so will it be" as if prophetically.
Arrival of a school-friend
Tatyasaheb Noolkar and Babasaheb alias Nilkanth Ramachandra Sahasrabuddhe were close friends while studying at Pune High School. But afterwards for 25-30 years they never came across each other. Now while Tatyasaheb was sitting in Sathe Wada, one gentleman came near and wished him. So Tatyasaheb said to him, "There is no doubt that you have recognized me but I am sorry that I cannot recollect you". There upon the gentleman said, "You are physically such that having seen you once nobody can forget you, while like me there must be hundreds of individuals. We have also not met for 25-30 years. So it is quite natural that you cannot recognize me. But now see if you can remember a person called Nilkanth Sahasrabuddhe known to you from Pune High School." No sooner Tatyasaheb heard this; he jumped and embraced Babasaheb lightly. After inquiries about each other's welfare and whereabouts were over, Babasaheb narrated to Tatyasaheb as to how he landed up at Shirdi from Bombay on insistence by Nanasaheb Chandorkar and Kakasaheb Dixit, who not only paid him the railway fare but also gave a note to Shri Madhavrao Deshpande. On this Tatyasaheb said, "We will of course send for Madhavrao Deshpande, but from now onwards you are my guest and making all arrangements of your comfortable stay at Shirdi is my right only."
After finishing morning ablutions, they all along with Bapusaheb Jog went to the Masjid for Aarti. When Sahasrabuddhe bowed to Sai Baba, He said to him, "Serve Tatyaba". This order to Sahasrabuddhe was repeated by Baba on second and third day also. Both Tatyasaheb and Babasaheb could not understand the implication of such order. Later on when Babasaheb, time and again, started jokingly asking Tatyasaheb, "What service should I do to you as per your Guru's orders?" Tatyasaheb once replied, "What is the implication of His orders, Baba alone knows. We will know when the time comes. Both you and I are of the same class and after coming here I am absorbed here completely. Perhaps you may also be similarly absorbed soon. However, please stop your joking manners. I feel very hurt thereby."
In between, Madhavrao used to open the topic with Baba about Babasaheb's going back from Shirdi, but every time Baba used to say, "He will go after 4 days." Then at last one day he said, "Let him lie down in front of Masjid like a dog. We want him here in future for some big job. You do not know. He has not come here without any reason."
Last sickness mid service of the school friend
Ten fifteen days after this, Tatyasaheb because of his diabetes, got a carbuncle (inflamed boil) on his buttock and became sick. Slowly the number of carbuncles increased and Tatyasaheb's sickness started getting worse. Babasaheb, his school-friend was always ready to serve others. Moreover this was a friend's cause and ordered by Sai Baba Himself. So Babasaheb placed himself day and night next to Tatyasaheb and decided not to fail even slightly in serving Tatyasaheb and not to think of leaving Shirdi until Tatyasaheb was completely cured.
Tatyasaheb's two sons were present and were also serving to their best ability. The elder son Wamanrao was a doctor having passed his L.M. & S. degree recently. In that small village there was no possibility of getting neither any allopathic medicines nor any facilities for carrying out an operation. Dr.Wamanrao therefore wired to Bombay and got medicines and equipment, operated on the carbuncles and bandaged them. Babasaheb also like an expert hospital nurse was very alert all the time. Even if Tatyasaheb at night called out in a slow voice, Babasaheb would get up immediately and asking what is required, would attend to accordingly.
A wonderful divine vision
Tatyasaheb's sickness was getting worse and worse, but his mental state was surprisingly calm. He had no earthly desires left and probably he did not wish to be cured also. He never appeared to be praying Sai Baba for cure. Slowly on his body there appeared altogether eleven carbuncles, which while being treated and dressed used to cause acute and unbearable pain to him. Yet he used to bear all that calmly and without any complaints. Except Sai Baba's subject, he did not like any other talk. He had to lie down at one place in the Wada and even for turning his sides, he required other's help. But there was not even slightest irritation in him usually seen in a sick person. He used to all the time, inquire as to what happened at His Masjid, what did Baba say etc, and go on repeating Sai-Nama constantly. His mother, brothers etc. were at Jalgaon and if asked whether they should be called by sending a telegram, he used to say distinctly and disinterestedly, "Do not trouble them. I do not wish to see anybody."
After this, Tatyasaheb had a wonderful divine vision. Being forced to lie down in bed in Sathe Wada, Tatyasaheb could not go to Masjid for Baba's Darshan and Baba also, except His walk along the fixed route towards Lendi Baug twice a day, did not normally visit anybody's residence in Shirdi. This route was along the rear door of the Wada and at the time of Baba's rounds every body used to go out of this door and take His Darshan.
Because Tatyasaheb could not even get up from the bed, he had no Darshan of Baba's feet for many days. As mentioned above, Tatyasaheb had no other thought in his mind except that of Baba. Hence his mind was greatly agitated and distressed over lack of darshan of Baba's concrete (sagun) form. Ultimately one day he told his elder son (Dr.Wamanrao) to go and tell Baba accordingly. Wamanrao went to the Masjid and conveyed Tatyasaheb's request to Baba. When Wamanrao told Baba that Tatyasaheb desired to have His Darshan, Baba replied, "O.K. He will have Darshan. Allah Bhala Karega."
When Wamanrao went to the Masjid, there was nobody else there except one or two small boys. Whenever boys used to get into the Masjid, Baba used to play with them with great delight. Baba would crack jokes with them, pinch them and even kiss them with love. At that time Baba was in the same playful mood and Laxman Mama's (village astrologer and maternal uncle of Shama - see Shri Sai Satcharita, Ch. XLIII) son Bappaji was also there. On the village-road one hawker selling cloth was passing through. Some villagers called him and sitting on a verandah they started looking at the various pieces of cloth. Bappaji went there and seeing the cloth pieces, he wished to have a brocade square piece of cloth for tying round his head. So Bappaji picked up one red colored brocade piece and coming to Baba said, "Baba, may I take this?" Baba replied, "Yes, take it." So Bappaji unfolded the cloth and tied it round his head and bowed down at Baba's feet.
Baba then fondly pinched and pulled Bappaji's cheeks and Bappaji removed the cloth from his head, placed it on Baba's head and started laughing. Baba also allowed it to remain on His head for some time and pompously looking all round gave a smile. Then He removed it and placed it on Bappaji's head. Bappaji again placed it on Baba's head and Baba again returned it on Bappaji's head. After this was over, Wamanrao returned to the Wada. As usual, Tatyasaheb asked him as to what happened in the Masjid and what all Baba said. Since the above happening was not important enough for narrating, Wamanrao replied, "Nothing special" and told Tatyasaheb that his request had been conveyed to Baba.
But Tatyasaheb was not satisfied. He again and again probingly questioned Wamanrao and ultimately asked him to narrate exactly all that happened from beginning to end at the Masjid. So Wamanrao narrated the above incident about Bappaji's brocade cloth. While listening to the narration, tears of affection started flowing from Tatyasaheb's eyes and he became absolutely motionless. On inquiring the reason, he said, "Go and tell Baba that I had His Darshan." When asked to explain, he told us that lying down in Wada he actually saw Baba doing the same Leela (sport) in front of his eyes. He saw a boy placing a big red 'Jasvandi' flower on Baba's head and Baba placing the same back on that boy's head. Baba pinched and pulled that boy's checks fondly. Then the boy again placed the flower on Baba's head and Baba again returned it on the boy's head. Thus a long craving desire of Tatyasaheb was -fulfilled and he became overpowered with excessive emotion.
Death
Although Tatyasaheb's condition was getting worse day by day, his family members were hoping that with Baba's grace he will recover from it. Babasaheb Sahasrabuddhe used to sleep next to him for any service required. One night about 2 a.m., Tatyasaheb started calling his servant. Babasaheb immediately woke up and asked him what he wanted. Tatyasaheb replied, "Nilkanthrao! What should I tell you! I want to pass urine and how can I ask you to bring the urine-pot for me!'' On that Babasaheb said, "Now give up this craziness of yours! What is the sense in observing etiquettes between close friends!" So saying Babasaheb placed the urine-pot under Tatyasaheb's body and when urine was passed, removed it and placed it aside.
With tears in his eyes, Tatyasaheb said, "Nilkanthrao! When you arrived at Shirdi, did you or I ever imagined that you will have to serve me in such a manner! On your arrival Sai Baba repeatedly for three days, ordered you to stay back and serve me, does it not mean that Baba has brought a nursing expert like you here especially for me! If you were not here, what would have been the plight of me and my family members here?"
Then at 3 a.m. Tatyasaheb wanted to discharge his bowels (evacuate faeces). Babasaheb and Wamanrao both helped him and when it was over, the carbuncles were dressed again. From that time Tatyasaheb's weakness started increasing and he kept on lying on the bed repeating Sai-Nama continuously. After sometime he asked his younger son Vishwanath to be awakened.
He asked his both sons to sing Bhajans (Hymns). Everybody knew that end was approaching. The sons with 'chiplics' (pair of small chips of wood used for clapping by devotees) in hands, started singing Bhajans loudly. Some of the other voices around also got up and joined. The Bhajan continued for about 1 to2 hours. Tatyasaheb was listening quietly but he seemed to be very tired. Wamanrao, the doctor son, checked the pulse. It was very slow and for giving some stimulant injection, Wamanrao looked for a hypodermic (introduced beneath the skin) syringe, but it was found to be broken. Hence he became helpless. Bhajan was going on. At about 5 O'clock Tatyasaheb, by raising his hand, signalled to stop the Bhajan and said something in a low voice. On going nearer the sons heard him asking them to sing the famous Bhajan, meaning "O Lord! Wait and stand before my eyes and I see you new." The sons sang the Bhajan and that time Tatyasaheb seemed to be in a very happy state, as if his mind was merged with that of Lord Himself. Then Tatyasaheb asked his sons to stop singing and himself remained quiet in his bed. Tatyasaheb's wife Smt.Janaki Bai, brother-in-law, Kakasaheb Dixit and quite a few other persons were present.
Meantime Tatyasaheb's younger son Vishwanath went running to Radhakrishna Mai and brought Baba's Pada-Tirtha and Udi. When Udi was applied to Tatyasaheb's forehead, he opened his eyes clearly and looked around. Really at that time the depth, brightness and probing nature of his glance was worth observing. When the Pada-Tirtha was given in a spoon, Tatyasaheb opened his mouth. The Pada-Tirth was poured three times and as soon as the third pouring was over Tatyasaheb breathed his last. Just a few minutes before this, Sai Baba in the Masjid said, "Behind our Masjid a big star has collapsed" and stepping out in the open, He shouted loudly, beating the mouth with hands. Whenever a dear devotee passed away, Baba sometimes behaved thus.
Funeral rites and Baba's mourning
Afterwards, persons gathered there one by one paid his or her homage by touching Tatyasaheb's feet and then as per the custom the body was taken to the cremation-ground via the Masjid. In the cremation-ground when the body was kept on the pyre, Baba's great devotee Radhakrishna Mai, who was then sweeping Baba's route to Lendi Baug, came running swiftly with the broom in her hand, went round the pyre once shouting "my mother's darling child has gone away" and after kissing Tatyasaheb's face and bowing down at his feet, went away.
That day Baba's daily routine such as taking the wash and breakfast, going out for begging etc. was quite delayed and Baba Himself in a lamenting mood exclaimed, "My Tatyaba has left. Now what am I to do? I shall also leave. What for this Masjid and what for Shirdi! Tatyaba was a good man. He listened to me and I helped him to accomplish his life's goal. He will be born no more."
Then, on the third day, Baba disappeared and went to Nimgaon - a village near Shirdi. All the villagers and devotees at Shirdi were worried and after a search went to Nimgaon and brought back Baba ceremoniously in a procession singing Bhajans. At that time Tatyasaheb's bones and ashes were being carried in a cart to Kopergaon for immersing into Godavari River. When the can and Baba returning from Nimgaon met on the road, Baba stopped for a while, made some special signs with hands towards the can and then started walking further.
Amazing story of the locket
To show how much Sai Baba loved Tatyasaheb, his grandson Shri Raghunath Vishwanath Noolkar, narrated to this writer one more incident along with a copy of a letter dated 20th December 1912 in Shri Madhavrao Deshpande's (Shama's) own handwriting as a proof. Both being interesting, he has presented the letter here in the grand-son's own words:
"Our grandfather died at Shirdi in 1911 at the age of 48 years. Afterwards my father (Tatyasaheb's younger son Vishwanath) to satisfy the wishes of our grand-mother (Shrimati Janakibai) got a locket prepared, in which on one side there was Baba's photo and on the other side that of my grandfather Tatyasaheb. The locket was sent to Shirdi by registered post, the idea probably being to get it back after Baba touching it and blessing it. When the parcel reached Shirdi, what actually happened at the Masjid, was conveyed to my father by Shri Madhavrao Deshpande (Shama) by a letter in Marathi language, a photo copy of which is given below":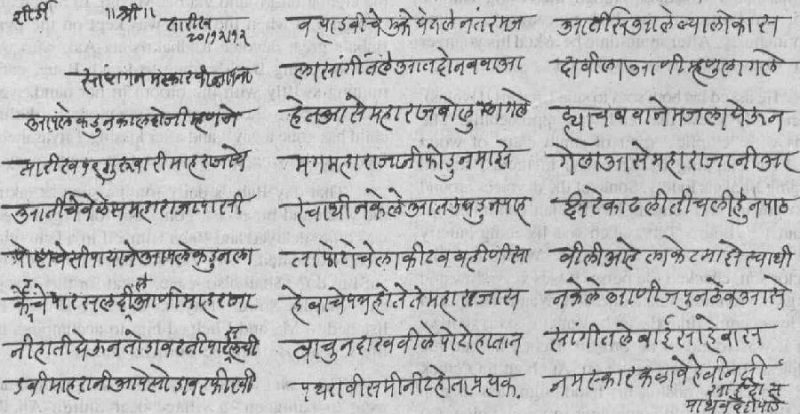 Translation of the Marathi Letter is given below:
Shirdi Date
20-12-1912
Humble Salutations,
Yesterday on Thursday the 19th instant, at the time of Aarti, the postman delivered to Sai Maharaj the locket parcel sent by you. Sai Maharaj took it and moving the box round His face, kissed it. He then said to me, "There are two persons in this" and handed over the parcel to me. On opening the box I found in it the locket with photos and the letter from your mother. I read out the letter to Sai Maharaj and handed over the locket to Him. He held the photo in His hand for about 15 to 20 minutes and showed it to almost every person come for Aarti, saying, "This person took me away with him." These exact words said by Sai Maharaj have been written down and sent to you by me. The locket has been handed over to me for safe custody. My respects to your mother.
Sai Das
Madhavrao Deshpande
From the above letter, we can imagine how much Baba loved Tatyasaheb Noolkar. By saying "There are two persons in the locket", Baba has, as if, equated Tatyasaheb with Himself and certified the advanced spiritual status of Tatyasaheb and looking at Tatyasaheb's photo in the locket, Baba said, 'This person took Me away with him", it seems as if Baba has confirmed that, after death, Tatyasaheb's soul has been merged with that of Baba.
No wonder at the end of this story in Ch. XXXI of Shri Sai Satcharita, Hemadpant sings:
"Blessed is Noolkar, who in the end, left his body at Shirdi, absorbed in repeating God's name."
"Whatever form one meditates on, at the time of death, the same form he is born with. If one is absorbed at the feet of Lord, one is not reborn again."
Shri.Raghunath Vishwanath Noolkar Grandson of Tatya Saheb Noolkar led a fruitful life for 99 years before he passed away on 15th November 2016.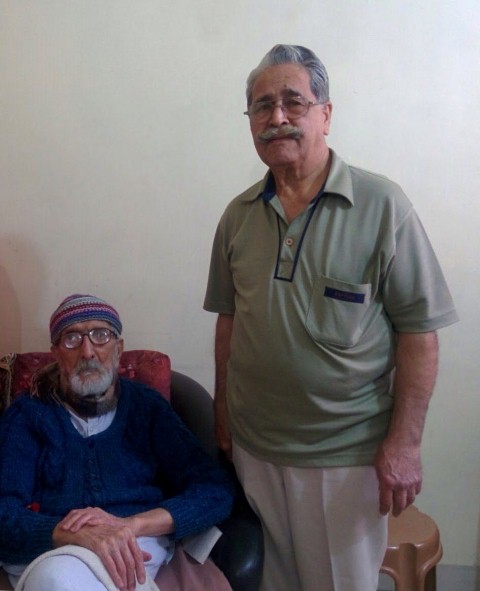 Raghunath Vishwanath Nookar with his son Captain Vivekanand Noolkar
At present Raghunath Vishwanath Noolkar's son Captain Vivekanand Raghunath Noolkar is residing at Tatya Saheb Noolkar's ancestral home at Satara.
(Source: Shri Saileela Magazine, May-June 1991, Photo Coutesy: Vinny Chitluri and Smt.Shreya Nagaraj, Pune)