Dattatreya as a devotional deity

Dattatreya is one of the oldest of the deities. The first reference of this deity is found in epics like Mahabharat and Ramayan.
Dattatreya is usually depicted with three heads, symbolising Brahma, Vishnu, and Shiva; past, present, and future; and the three states of consciousness: waking, dreaming, and dreamless sleep. He is portrayed sitting in meditation with his shakti beneath the audumbara (wish-fulfilling) tree. In front of him is a fire pit, and around him are four dogs. These are sometimes said to be or to symbolise the four Vedas.
In the Dattatreya Upanishad which is a part of the Atharva Veda, he is described as being able to appear in the form of a child, madman, or demon in order to help his devotees achieve moksha, liberation from the bonds of worldly existence.
The single head for Dattatreya can be explained if one sees the Tantric traditions which prevailed in India about 1000 years back. It was Gorakshanath who changed removed the aghori traditions and made the Nath sampradaya in the acceptable civil form of today. Shri Dattatreya must have been a very powerful sage existing before this time and over the centuries sometime he was deitified to the form of Dattatreya. The three heads have come definitely later in the last 900 years or so.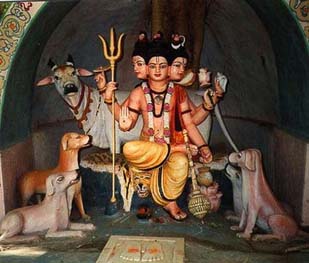 Dattatreya's avatars
Dattatreya is supposed to have taken 16 avatars. The names and their birthdate (as per the Lunar calendar) are given in brackets.
1.Yogiraaja
2.Atrivarada
3.Sri Dattatreya
4.Kaalaagni Shamana
5.Yogijana Vallabha
6.Sri Leelavishvambhara
7.Siddharaaja
8.Jnaanasaagara
9.Vishvambhaaraavadhootha
10.Maayaayuktaavadhootha
11.Maayaamuktaavadhootha
12.Aadiguru
13.Sivaroopa
14.Sri Devadeva
15.Digambara
16.Sri Krishna shyaamakamalanayana
There is a book written by Shri Vasudevananda Saraswati on these 16 avatars. In Dasopanta tradition, all 16 are worshiped and Dasopanta is considered as the 17th avatara.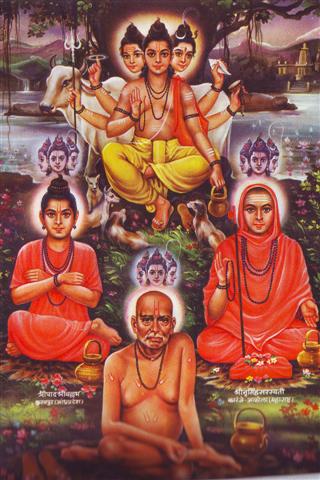 In Datta Sampradaya the first avatar is Shri Shripad Shri Vallabh and the second is Shri Narasimha Saraswati. Third being akkalkot Swami Shri Swami Samarth, the fourth being Shri Shirdi Sai Baba. These four are considered as datta avatars.

Shripad Shri Vallabha
Sripada ShriVallabha (Sripada SriVallabha) is considered as the first avatara (incarnation) of the deity Shri Dattatreya in kaliyuga. As per some of the experts (Prof. R. C. Dhere) he is supposed to have lived from 1320 AD to 1350 AD. He was born in Pithapuram, a town in Godavari district of state Andhra Pradesh in India.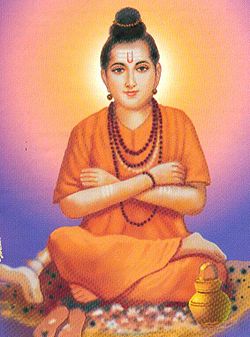 ShriVallabha was the third son of Aappalaraja sarma and Sumati. After he left their house for Kashi-yatra (Kashi or Banaras or Varanasi Piligrimage), he stayed most of his life in Kuravpur (Kuravapura).
According to some scholars, (like Prof. Dhere) he lived for 30 years. However, nothing much is known about his life. The only source of his life's information is from the book Shri GuruCharitra written by Shri Saraswati Gangadhar in Marathi around 1450 AD.
Shripada srivallabha was born to Sri Appalaraja Sarma (of Aapastambha Shakha Brahmin) and Sumathi on Bhadrapada Shukla Chouthi( Ganesh Chaturthi). Going in to his birth secrecy, when Appalaraja Sarma family was preparing for the shraaddha (a yearly ceremony to pay homage to the departed soul), around noon time some Bhikshuk came for bhiksha. Before feeding the invited Brahmins, she fed this brahmin considering him as Dattatreya. Dattatreya became quite happy and offered her a boon. She asked for a son "knowledgeable like you" for which Dattatreya said "yes". She had before two sons, who were blind and lame and several others which did not live long. Dattatreya blessed her by saying that she will have world famous son who will be guru to all. Both husband and wife became happy to hear the blessings and she had Shripada. Shripada finished his studies of Vedas, Shastras etc by the age of Seven and after his "Upanayan" (Munja) he started lecturing on these. When he reached age of 16, his parents thought of getting him married. However, he said that he is married to only one woman "Vairagya-stree" (Vairagya means Dispassion, stree means Woman) and thus he should be called "Shriya-Vallabh". Thus the name "Shripada ShriVallabha". He left their home for Kashi-pilgrimage. Before leaving he made his two elders brothers who were blind and lame, as normal humans and asked them to take care of their parents. He left Pithapuram for Badarikedar towards North. After the pilgrimage, he went to Gokarna Mahabaleshwar in South. After sepnding 3 years at Mahabaleshwar he went to Shri Shaila mountain (Sri Sailam). After staying there for 4 months he finally settled in Kuravpur near Krishna river.
"Digambara Digambara Shripad Shrivallabh Digambara"
Pithapuram
Swamy temple was constructed according to his guidelines as he told in Sripadasrivallbha charitamrutam(life history) in Srikshetra Pithapuram and is being maintained by Sripada Srivallbha Mahasansthanam. Pithapuram is located on Hyderabad-Vishakhapattanam railway line and is near to (about 10–12 km from) Samalkot junction.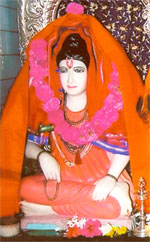 For more informaton please visit ttp://www.sreepadasreevallabhapithapuram.org/aboutpithapuram.html
Kuravpur
Shripadji stayed here most of his life. It appears that this place must have been quite well habitated. The story of Vallabhesh Brahmin shows that the village must have been quite big enough to at least accommodate about 1000 Brahmins. Now (as of 2006AD) the population has reduced and there are lot many fields in between the temple and the village. The village is at one end of the island and the temple is at the other end. There are two, frequently used, routes to reach Kuravapur. One is via Raichur in Karnataka state and another one is via Makthal in Andhra Pradesh state. Either way one has to cross the Krishna river in a small elliptical boat (Putti or Theppa) to reach this island.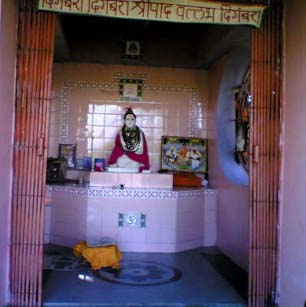 Via Raichur: Raichur is about 10 or 12 hours journey from Pune by train. At Raichur one can hire a bus/rickshaw towards ATKUR (40 km). At ATKUR one can hire a Theppa to cross the Krishna river and reach Kuravapura. There is also a KSRTC bus service from Raichur bus stand to Atkur, which leaves for Atkur at 7:30 am, 10:30am, 1:30 pm, 4:00pm and 7:00pm. The 13:30PM bus ends at Atkur(village), the other buses end at the bank of Krishna.
For more informaton please visit http://www.sreepadasreevallabhapithapuram.org/kuravpur.html

Narasimha Saraswati
Narasimha Saraswati (1378−1458) is considered the second avatar of Dattatreya. He is considered as the incarnation of Vallabha who lived in Kuravpur. He was born in Pithapuram.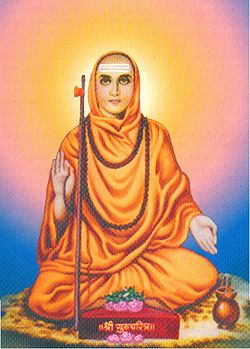 He was initially named as Narahari or Shalgramdev. His father's name was Madhav and mother's name was Amba-Bhavani. They lived at Karanjapur which is modern Lad-Karanja in Maharashtra. His surname is Kale. He was born in Deshastha Brahmin family. At Lad-Karanja there is the original house where he was born. Although the house is no longer in the original shape, but still some parts remain and have been converted in to a temple.
The only documented source of his life is Shri GuruCharitra. The writer of this book did not have direct contact with Narasimha Saraswati, but possibly had the original Sanskrit version of the Guru-charitra in front of him written by one of the four disciples of Narasimha Saraswati. The disciple is Shri Siddha. The whole book is written as a conversation between a disciple Namdharak and Siddha.
In Shri GuruCharitra Chapter 11 onwards is the description of life story of Shri Narasimha Saraswati. After he was born the first words he said were OM which are considered very holy. However, until he was 7 he did not utter any other word other than OM, so his parents were worried about his speech ability. However, he showed by hand gestures that after his Upanayana (Munja) he will be able to speak. In fact after his munja was performed he was able to speak all the vedas and even started delivering lectures on it. This was remarkable for a 7 year old kid and many senior learned Brahmins in the village started coming to him for learning!
He left home and went for Kashi-pilgrimage and took Sannyasa at Kashi from Shri Krishna Saraswati. The second part of his name comes from this guru, who eventually named him Shri Narasimha Saraswati. This is a Sanskrit name. Now he became the Guru. After visiting several holy places he returned back to Karanja, met his parents. He was possibly of age 30years that time. After that he further visited various places and finally settled in Ganagapur (now in State Karnataka) for the last few decades of his life. All of this is reported in Shri GuruCharitra.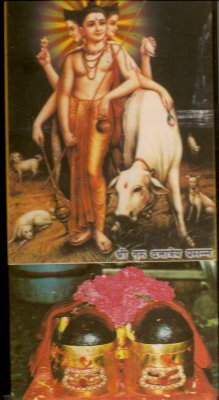 For more informaton please visit http://www.gurumandir.org & http://www.shrikshetragangapur.org
Swami Samarth Maharaj
Shri Swami Samartha is believed to be the incarnation of Shri Narasimha Saraswati, who in turn is the believed incarnation of Shri Shripad Shrivallabha. Although not much is known about Shri Shripad Shrivallabha, the life story of Shri Narasimha Saraswati is well documented.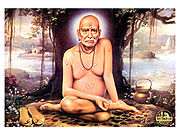 The early life of Swami Samarth like that of Shri Shirdi Sai Baba is shrouded with mystery. For that matter, even Shri Shirdi Sai Baba's advent and early life has not been established. Yet it does not really matter for those who have faith in them.
Shri Narasimha Saraswati, about four centuries before the advent of Swami Samarth is believed to be the earlier incarnation of Shri Dattatreya. The 'Guru Charitra' one of the most famous books gives lot of information about Him. As per the most popular belief, Shri Narasimha Swami, after helping and spiritually uplifting a large number of people over a few decades, went away to the Himalayas for penance and went into Samadhi. In the Samadhi state He remained for about three hundred years. With the passage of time a huge anthill grew over him and he was lost to the outside world. One day accidentally a woodcutter's axe fell on the bushes grown around the ant hill. He was shocked to find blood stains on the blade of the axe. He cleared the anthill and Lo, he found a Yogi in meditation. The Yogi slowly opened his eyes and consoled the dumbfounded woodcutter saying that it was the Divine Will for Him to re-appear in the world to resume His mission.
This Yogi, in his new role came to be known as Swami Samarth.
Prior to his settlement at Akkalkot, Swami Samarth seems to have visited far and wide. While moving in the Himalayan region he visited places like Puri, Benaras, Hardwar, Girnar, Kathiawad and Rameswaram in the South. He also stayed at Mangalvedha, a town near Pandharpur in Solapur district Maharashtra, which had been inhabited earlier by famous saints like Domojipant and Chokhamela. He came to Akkalkot in 1856 where he continued his physical existence for 22 years.

For more informaton please visit http://www.shreeswami.org/
Sai Baba of Shirdi
Sai Baba of Shirdi (1838 – October 15, 1918), also known as Shirdi Sai Baba, was an Indian guru and yogi, regarded by his followers as an incarnation of God. Some of his Hindu devotees believe that he was an incarnation of Shiva or Dattatreya. Many devotees believe that he was a Sadguru. There are many stories and eyewitness accounts of miracles he performed. He is a well-known figure in many parts of the world, but especially in India, where he is much revered.
The name 'Sai Baba' is a combination of Persian and Indian origin; Sai (Sa'ih) is the Persian term for "holy one" or "saint", usually attributed to Islamic ascetics, whereas Baba (honorific) is a word meaning "father; grandfather; old man; sir" used in Indo-Aryan languages. The appellative thus refers to Sai Baba as being a "holy father" or "saintly father". His parentage, birth details, and life before the age of sixteen are obscure, which has led to a variety of speculations and theories attempting to explain Sai Baba's origins. In his life and teachings he tried to reconcile Hinduism and Islam: Sai Baba lived in a mosque which he called Dwarakamayi, practised Hindu and Muslim rituals, taught using words and figures that drew from both traditions and was buried in a Hindu temple in Shirdi. One of his well known epigrams says of God: "Sabka Malik Ek" ("One God governs all") which traces its root to Islam in general and sufism in particular. He always uttered "Allah Malik" - Lord is the sole protector. He had no love for perishable things, and was always engrossed in self-realization, which was his sole concern.
Sai Baba taught a moral code of love, forgiveness, helping others, charity, contentment, inner peace, devotion to God and guru. His teachings combined elements of Hinduism and Islam and tried to achieve communal harmony between these religions.
Sai Baba remains a very popular saint and is worshiped by people around the world. Debate over his Hindu or Muslim origins continues to take place. He is also revered by several notable Hindu and Sufi religious leaders. Some of his disciples received fame as spiritual figures and saints such as Upasni Maharaj and Meher Baba.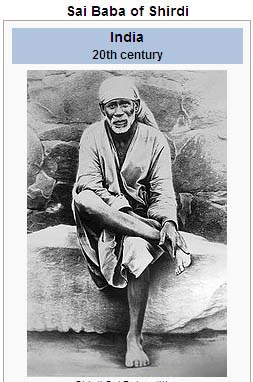 For more informaton please visit http://www.shrisaibabasansthan.org/