In the earlier days, Shri Sai Baba Sansthan Trust started Shri Sai Prasadalaya in a building opposite to the Temple Complex.

Old Prasadalaya Building Opposite Temple Complex - Photo Courtesy: Shri.Vinesh, Bangalore
Later, on 27th November 2007, Shri Sai Baba Sansthan Trust built and inaugurated what is billed to be Asia's biggest Prasadalaya, a Dining Hall with a seating capacity of 5,500, making it possible to feed more than 100,000 devotees daily. This Prasad is partaken by about 35,000-40,000 Sai devotees on a normal day, and by about 70,000-80,000 during festivals/vacations. Sri Sai Baba Sansthan Trust, on an average, spends Rs.190 million annually on feeding pilgrims visiting Shirdi. Approximately 1 Crore Sai Devotees are taking the Prasad Bhojan every year.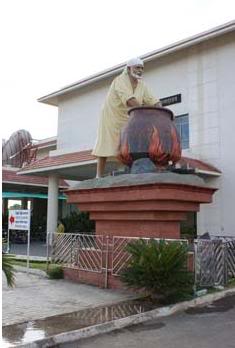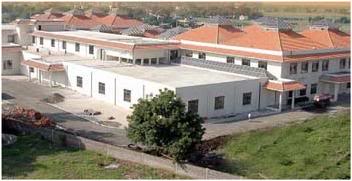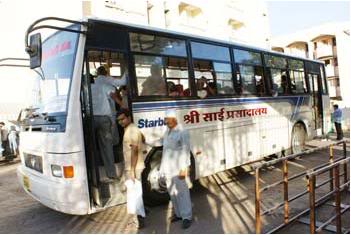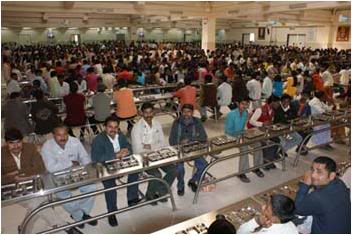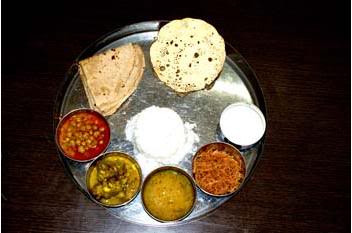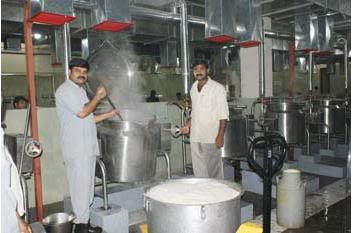 The Prasadalaya, constructed at a cost of Rs. 22,93,65,371/- was inaugurated by former President Smt.Pratibha Patil. The complex is built on 7.5 acres of land and has a built-up area of 2 hectares 85 r. It is hardly 700 meters from Shri Sai Baba Samadhi Mandir.
A gigantic hall has been constructed on the ground floor, which can seat 3,500 devotees. Two separate halls have been constructed on the first floor with a seating capacity of 1,000 each.
Fourteen domes made of polycarbonate and Mangalorian tiles have been constructed to give ample natural light to the hall, so that power cuts do not disturb the activities in the Prasadalaya during daytime.
Everyday morning between 7 a.m. to 10 a.m. breakfast packets are being distributed. Each breakfast packet consists of 5 Puris and cereal vegetable (like beans, moong, masoor, grams, peas etc...) weighing about 100 grams along with a sweet item like Burfi. It is reasonably charged at Rs.5/- only. On an average 9,000-10, 000 devotees are having breakfast in Sai Prasadalya.
Shri Sai Baba Sansthan is providing very hyginic Prasad Bhojan in the ground floor of Sai Prasadalaya freely to all Sai Devotees from morning 10:00 am to night 10:00 pm.
Special Sai Prasad Bhojan at Rs.50/- for Adults and Rs.30/- for Children is being served in the two big halls constructed on the first floor for those devotees who would like to have Prasad Bhojan leisurely. The devotees can have unlimited prasad bhojan here.
Apart from Sai Prasadalaya, the food prepared here is being made available at other places in Shirdi like Sai Bhaktiniwas, Sai Ashram Phase 1 and Phase 2 and Sainath Hospital.
Monthly pass is also issued to the devotees by Sai Baba Sansthan. Huge refrigerating rooms have been built for keeping vegetables fresh. Most of the cooking will be done with solar energy.
All the cooking here is done with modern machines, giving top priority to hygiene.
The Prasadalaya serves simple Maharashtrian food comprising dal, rice, chapatti, two vegetables and barfi-sweet.
For pilgrims who cannot afford to pay, there is another hall called "Annadaan Kaksha", which has a capacity of 150 people and the trust serves food for free.
Ganpath Tatya, Prasadalaya Supervisor, said: "Every day more than 100 people come here to make just chapattis. The Prasadalaya is always full. We like serving food to everyone who comes here, we do not want anyone visiting Shirdi to leave hungry, and they should be happy and satisfied."
Considering the Quality of food, Facilites & Cleanliness provided by Sai Prasadalay etc , ISO 9001-2008 certification was given to Sai Prasadalay in the year 2010.
The Prasadalaya's ISO Certification was renewed and ISO 9001:2009 was awarded. One of the biggest spiritual centres, the Shri Sai Baba Sansthan Trust is also known to use technology to help the environment. To promote the use of non-conventional energy sources, the Sansthan has installed the Solar Heating Cooking System in this Prasadalaya. As per Ministry of Non-Conventional Energy Resources, New Delhi, this has been identified as the World's largest solar heating cooking system.
Shri Sai Baba Sansthan's Sai Prasadalaya got its ISO-22000-2005 certification on 13th October 2013.
Shri Sai Baba Sansthan received the Biggest Solar Steam Cooking Project Award from Ministry of Non-Conventional Energy, Government of India on 17th December 2013.
Shri Sai Baba Sansthan's Sai Prasadalaya got renewal Certification of ISO 22000-2005 ( Food Safety Standard) on Friday, 16th October 2015
The Prasadalaya is open from 10 am to 10 pm. The food is first offered to Sai Baba and then served to the devotees.
Shri Sai Baba Sansthan has provided to and fro bus service to the devotees from Temple Complex and the Sansthan Residential buildings to Shri Sai Prasadalaya from 10 a.m. to 10 p.m.
Video Courtesy: National Geographic Channel
Scheme for providing free Prasad Meal to Sai Devotees at Prasadalaya:
Donations are accepted for providing free meal (Prasad Bhojan) for a day to Sai Devotees. Name of the donor will be displayed at Prasadalaya on particular day. Amount will be accepted at Sai Prasadalaya Office / Sansthan Accounts Office at Shirdi and Sansthan's Mumbai Office by Cash / DD only and online on the Internet. The amount of Donation is as follows for a particular day:
| | | |
| --- | --- | --- |
| Sl.No. | Free Prasad Meal Donation Scheme | Amount (in Rupees) |
| 1. | During Festival Days | 3,00,000/- |
| 2. | On Other Days | 2,00,000/- |
(Courtesy: Shri Sai Baba Sansthan Trust, Shirdi)